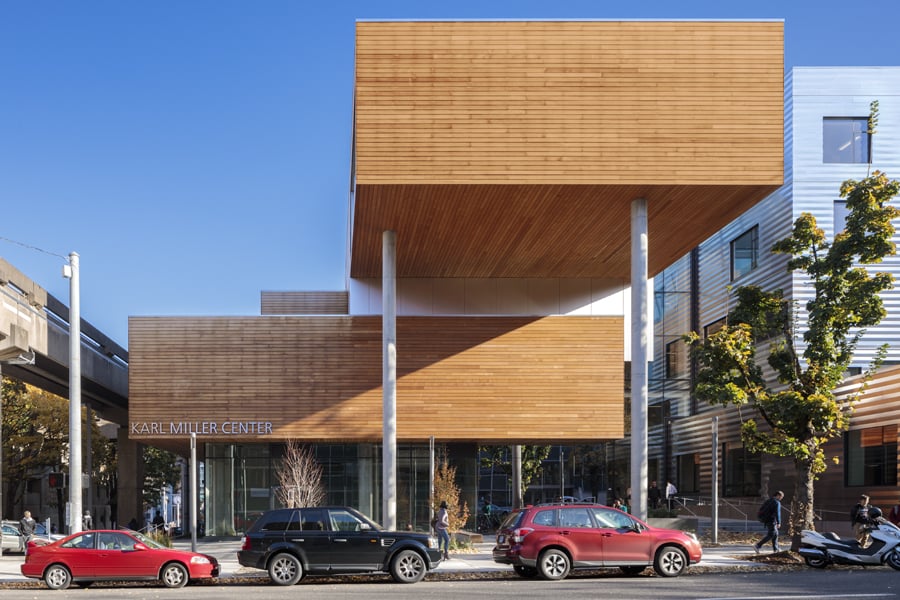 August 31, 2018
Super-Sustainable Addition to Business School Quickly Becomes Center of Portland State Campus
Even more than its newly renovated home and an expansion next door, the Karl Miller Center's five-story atrium gives Portland State University a sense of place.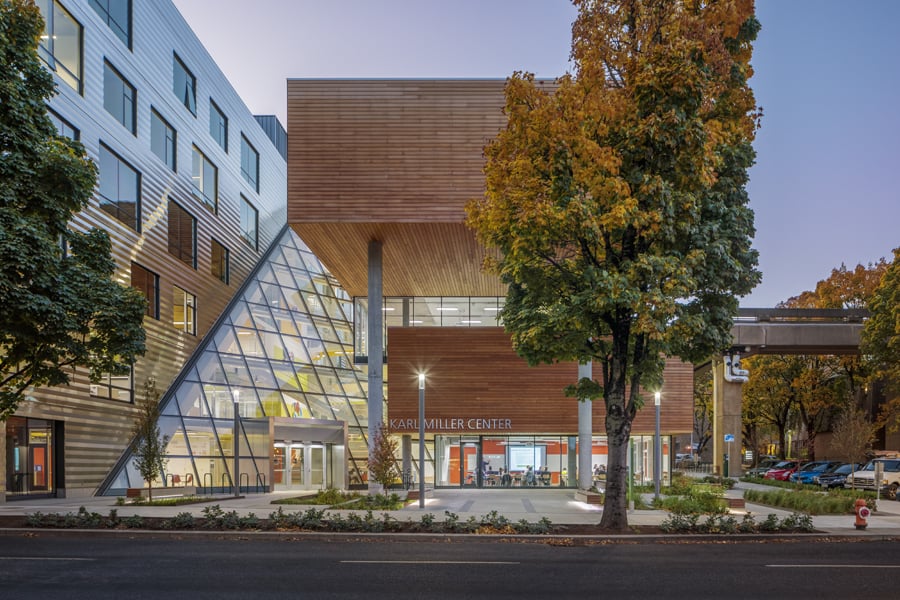 ---
Since its founding in 1946, Portland State University (PSU) has grown from a small commuter school to a population of more than 27,000 students. During that time, PSU has come to enjoy a greater presence in the community thanks to a campus-wide investment in what had been a series of dark, outdated facilities, as well as a curriculum that increasingly reflects Portland's penchant for sustainable policy and progressive urban planning.
PSU also enjoys an enviable downtown location that is, along with the 12-block public park known as South Park Blocks forming the school's spine, a leafy oasis. Yet particularly in this perennially rainy climate, students need communal indoor gathering spaces, which the university had always lacked.
Perhaps that's why the new Karl Miller Center, with its luminescent five-story atrium, has quickly become a kind of living room not just for the School of Business housed there but for all of PSU.
---
More from Metropolis
---
"We actually used to have MBA students practicing presentations in their cars," recalls Cliff Allen, the business school's dean. "We also estimate the university may have as many as 1,500 houseless students. Having this welcoming safe place on campus where students can get the support and the camaraderie they need is very important to us. That atrium is packed throughout the school year with students."
The $60-million project, designed by the primarily Stuttgart, Germany–based Behnisch Architekten through its Boston office, began with a remodel of the business school's existing home, which it had shared with the School of Education—a 100,000 square foot, six-story building dating to the 1970s, bulky and unimaginative, filled with classrooms and faculty offices and offering little else. "Grim doesn't really even begin to describe it," Behnisch partner Robert Matthew Noblett recalls.
Working with SRG Partnership, the architects implemented a multi-pronged strategy to mitigate this sense of foreboding. Not only did they re-clad the structure in stainless steel and mill-finished aluminum, but they also reconfigured corridor and circulation spaces to bring in more daylight. Most dramatically they inserted a 45,000-square-foot expansion to the north with an atrium bridging the gap between old and new. These interventions were transformational for the "fat block structure," says architect Stefan Behnisch.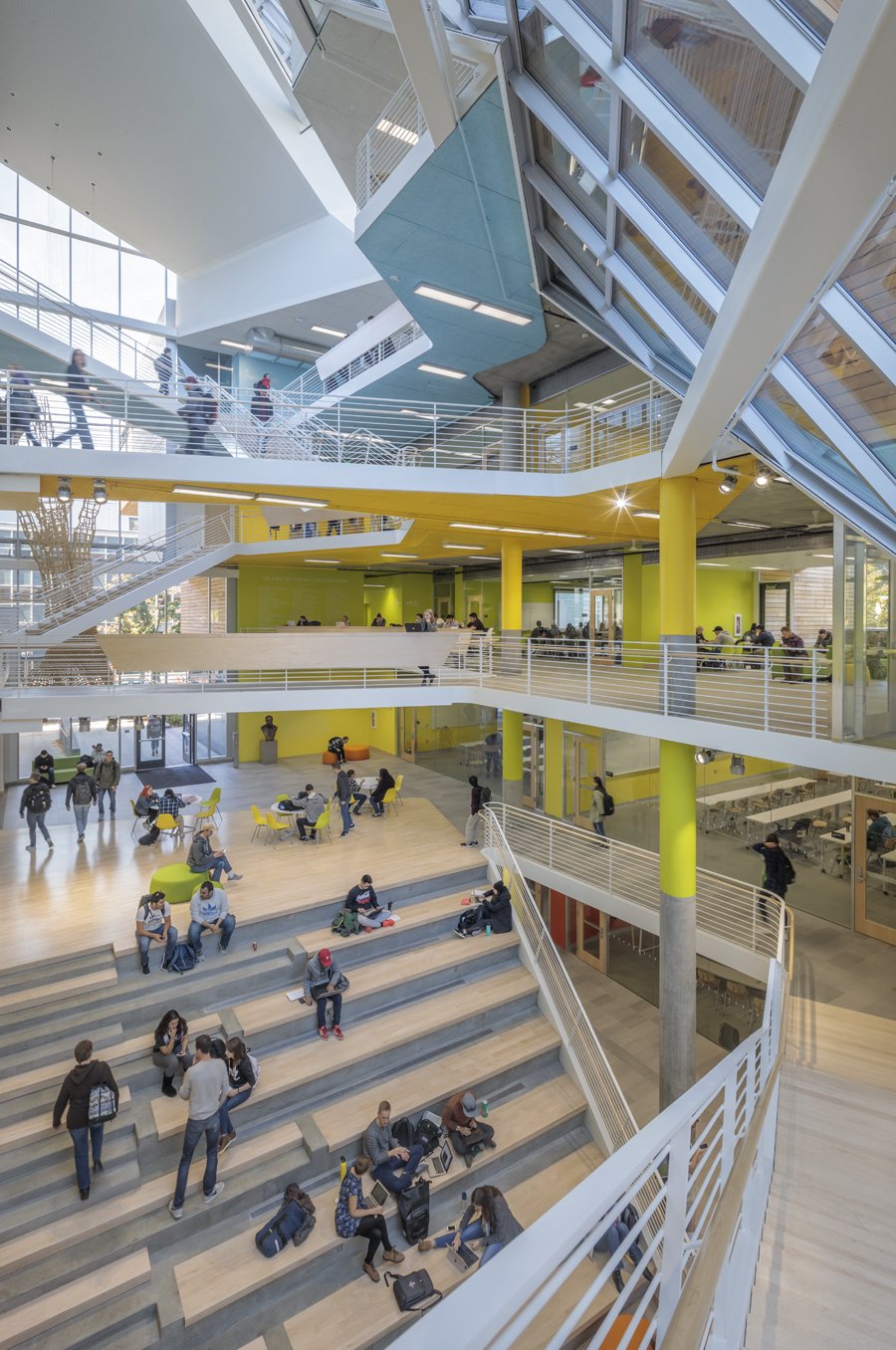 ---
Clad in Alaskan yellow cedar, the new addition presents an array of perpendicularly intersecting boxes. These cantilever to provide shade to outdoor plazas at the northwest and northeast corners of the lot, which landscape architect Tim Strand of Portland's Mayer/Reed describes as "places for lingering, for learning, for informal gatherings, but also artful expressions of stormwater management." The staggered wood oblongs are topped with green roofs that, in combination with ground-floor flowthrough plantings, treat 90 percent of the building's rain runoff. The strategy also helps extend the city's Montgomery Green Street Plan, a network of planters, swales, and pervious paving that passes along the Karl Miller Center's northern property line.
Save for its Sixth Avenue frontage, where the roof of the glass volume angles diagonally to the ground like I.M. Pei's pyramid at the Louvre in Paris, much of the atrium remains obscured to pedestrians by the buildings on either side. Yet the five-story space is the heart of the Karl Miller Center if not PSU itself. On upper floors, walkways crisscross the otherwise wide-open volume, while on the entry floor, because of how the site slopes downward, a wide, terraced stairway doubles as a venue for presentations. (Allen says it has successfully accommodated an audience as large as 150.) And since the Karl Miller Center is situated between the center of PSU and the Urban Center, a newer campus spur to the northeast, the atrium also acts as a pass-through connector.
Most importantly, the atrium fills the interiors of both adjacent buildings—especially the spaces furthest from exterior windows—with natural light. "It's structured in a little bit of a European tradition," says Behnisch, whose namesake firm is renowned for its sustainable work for universities and corporations. "Normally in Europe for good daylight we would say, 'Don't make any floor plan deeper than 14 meters.' It is something that drives us whenever we build here in the United States." The architects designed the building with the expectation of receiving LEED Platinum certification; a key to meeting that goal was to have the spacious atrium acts as a chimney, naturally moving warm air up and out the top of the structure, in addition to installing automated operable windows and ceiling fans. These allowed the new spaces and the atrium itself to be naturally ventilated, with AC only used in the original building.
"Because this is Portland, sustainability is everywhere in our curriculum. Our mantra is 'business that matters,'" says Allen, the business school's dean. "The Karl Miller Center allows us to say we practice what we preach."