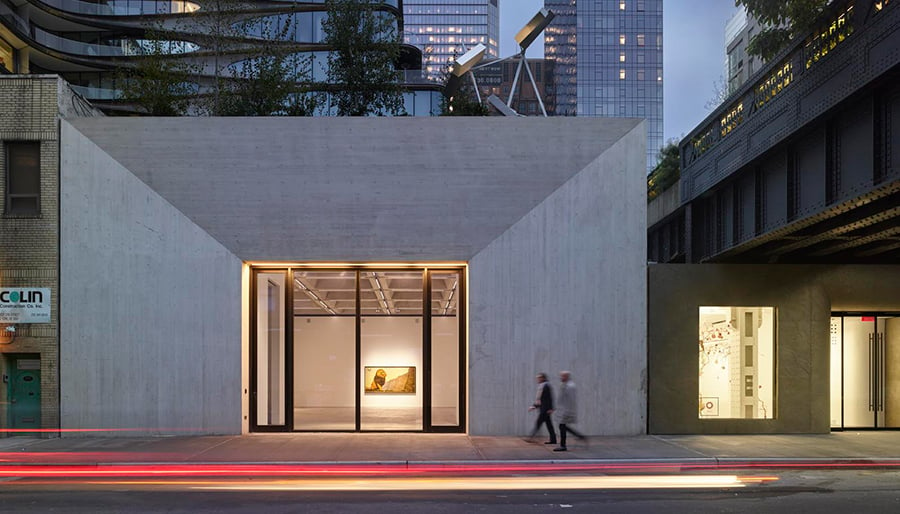 November 12, 2018
Paul Kasmin's New Chelsea Outpost Is a Refined Respite Among Its Glitzy Neighbors
Designed by Studio MDA, the new flagship art gallery makes a bold statement while maintaining a historical and aesthetic dialogue with its environs.
---
Amid west Chelsea's eclectic cacophony of low-slung converted blue chip galleries and glitzy condo developments, Paul Kasmin's new Manhattan flagship gallery manages to hold court—quietly. With its imposing, angled facade that feels like a modern interpretation on a traditional proscenium, the gallery draws visitors in to its spacious interior while maintaining a certain imposing, compressive monumentality not often seen—or possible in—storefront galleries.
Markus Dochantschi of Studio MDA, who oversaw the project, has cemented his penchant and reputation for designing galleries in this burgeoning cultural axis stretching along the High Line's northern terminus near Hudson Yards. While gallery design—with its ubiquitous "white cube" format—may seem straightforward, Dochantschi asserts that context, sightlines, program, and circulation still guide the way, as with any other type of architectural commission. "No space is neutral," he cautions.
---
Within the gallery, Dochantschi allowed the scale of Kasmin's holdings—mainly modern and contemporary artworks, especially large-scale painting—help determine its proportions. Along the waffle-like ceiling, recessed concrete skylights allow ample, segmented sunlight that illuminates the artworks indirectly. These recessed elements are extruded to different extents and at different angles, introducing depth and a raw ornamentation to the already generous room. Though this interior concrete work harks to Brutalist techniques, the facade is formed by cedar boards, giving the concrete the detailed, organic materiality of natural wood and a more refined look. All of the concrete was poured in one day, Dochantschi recalls: "It was like baking a cake."
---
More from Metropolis
---
Viewed from the High Line, a different type of exhibition space emerges atop the gallery's roof—an open-air garden with sculptures interspersed throughout the meadowlike landscaping by Brooklyn-based Future Green. (Sculptor Joel Shapiro's anthropomorphic bronze arrangements are on view through December 22.) The garden—whose elevation is flush with the High Line—undulates in accordance with the depth of the coffers protruding variously through the roof. Though the gallery is technically separate from the High Line, strolling pedestrians are still close enough to view the sculptures and their placards.
---
Just beyond this roofscape, Zaha Hadid Architects' (ZHA) 11-story 520 West 28th Street towers over the one-story gallery, a factor that conditions both the architecture and experience of Kasmin's outpost. The gallery and luxury residence, besides physically touching at points, share both a developer—Related Companies—and landscaping by Future Green. And a section of the ZHA building's first floor is to be turned over to Kasmin as administrative space once construction wraps up.
The connections are not lost on Dochantschi, who is an alumnus of ZHA, having worked on marquee cultural projects like the Contemporary Arts Center in Cincinnati: "To have built next to Zaha's Building is humbling and exhilarating at the same time."
You may also enjoy "In Houston, Johnston Marklee's New Drawing Institute Expands the Dream of the Menil."