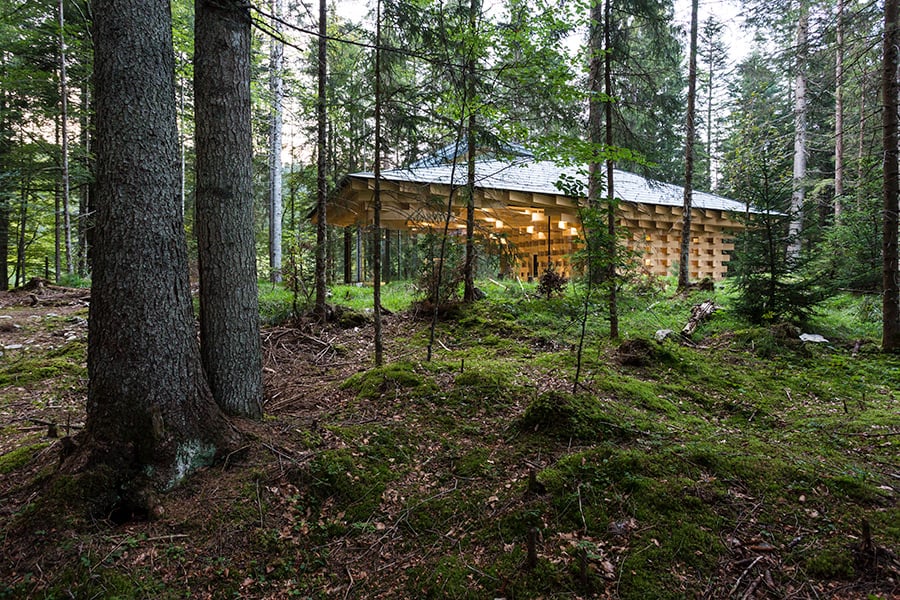 April 30, 2019
Kengo Kuma Designs a Serene Meditation House for a German Hotel
The glass-and-steel structure—designed for a well-hidden retreat in the southern Bavarian Alps—is covered with 1,550 loosely arranged planks of local silver fir.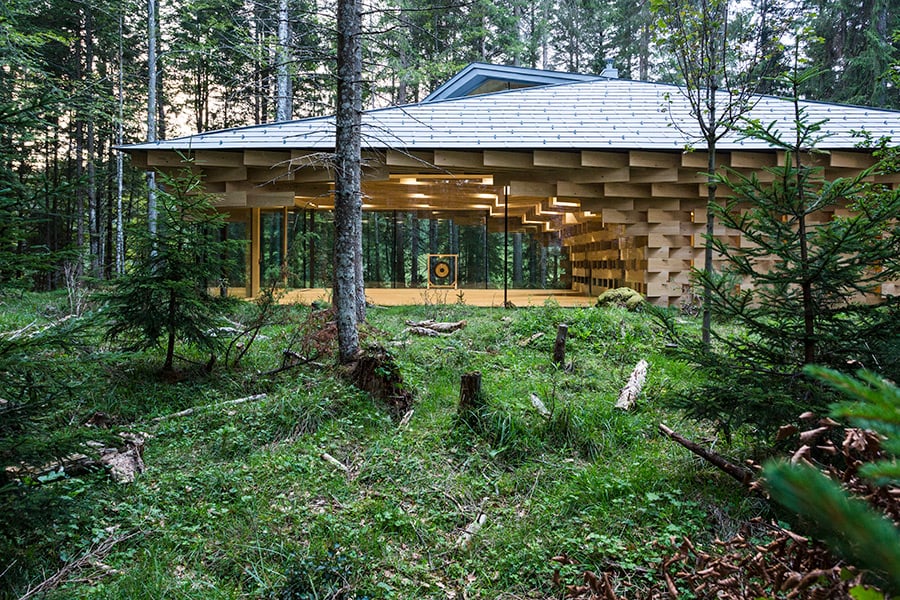 Hotel Kranzbach is a well-hidden retreat in the southern Bavarian Alps, right at the border with Austria. The hotel's main building, situated on a giant 32-acre meadow surrounded by dark coniferous woods, is an Arts and Crafts–style structure designed by British architects Detmar Blow and Ferdinand Billerey and built from 1913 to 1915. (Their client was a wealthy English aristocrat, Mary Isabel Portman.) Throughout history, the building has experienced multiple uses, but since 2007 it's been known as "The Kranzbach," a hotel that specializes as a wellness retreat for stressed-out urbanites. It's also very silent place: There are no neighbors or traffic, and children under the age of 12 are not allowed. There isn't much to do, but that's the idea: relaxation to the utmost degree. Given all the quiet, it seems all the more fitting that the hotel's latest addition is a meditation house.
With the drafting of a personal letter in Japanese, the hotel was able to convince Japanese architect Kengo Kuma to accept the commission. It is his first permanent building in Germany, though despite its size, the meditation house was not without competition for the architect's time: Kuma would be simultaneously working on two other major projects (the V&A museum in Dundee, Scotland, and the Tokyo National Stadium). Yet Kuma himself meditates regularly and is known for his interest in merging architecture with landscape, so he accepted the project. He visited the remote site and spent a few hours walking the meadows and woods to find the ideal location. He ultimately selected a plot densely surrounded by trees, only a five-minute walk from the hotel's reception.
"I wanted to create a modest house," said Kuma in a release, "as the main protagonist here are the woods." Indeed, the house is inconspicuous. Measuring a little over 1,700 square feet and camouflaged by the woods' colors, it seems to hide within the trees. Its solid steel construction, which is obscured behind 1,550 loosely arranged planks of local silver fir, opens up a large, column-free room. (This essentially creates an enclosed clearing in the forest.) A small entrance room for tea ceremonies helps visitors get into a meditative mood. Everything in this entrance area is made with light wooden planks (including the floors, ceiling, and furniture), cultivating a space that feels and smells a bit like a sauna. The main meditation room features large glass facades on three sides and a sliding door that allows in the sounds and smells of the forest. Despite the transparency and openness, triple-glazed windows and underfloor heating offer a comfort level not commonly found in such Alpine settings. "The entire concept behind this pavilion is, that the building becomes part of the forest," states Kuma. "For a yoga or meditation experience, it is important to have a connection with nature, so this space is all about being in the nature."
---
More from Metropolis
---
You may also enjoy "Paola Antonelli's Milan Triennale Seeks to Restore Humanity's Fractured Links with Nature."
Would you like to comment on this article? Send your thoughts to: [email protected]