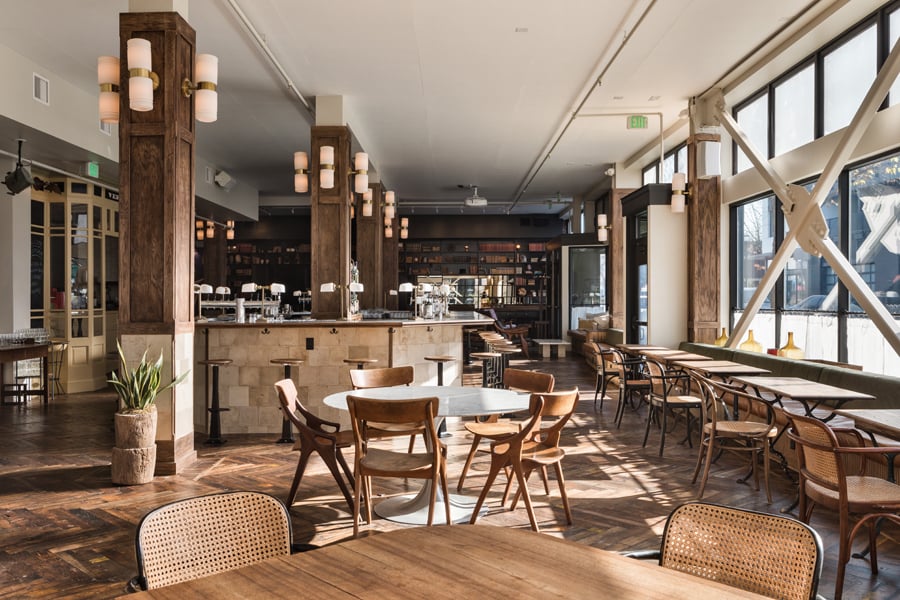 March 26, 2020
A Historic Portland Building Turns Over a New Leaf—as a Stylish Hostel
In addition to restoring its Art Deco details, KEX Portland's design team infused the space with a cool Icelandic vibe.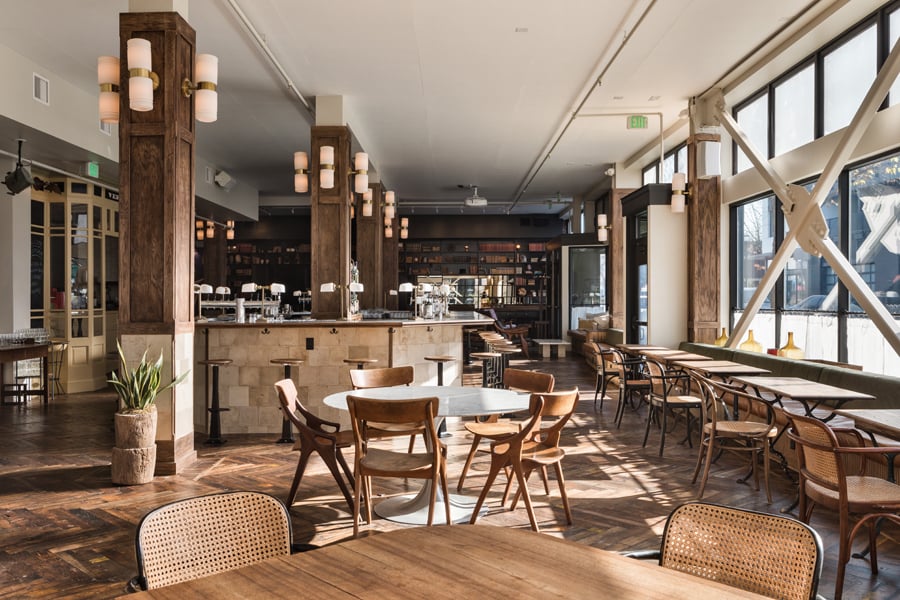 With its salvaged-wood flooring and upholstered banquettes made from repurposed army tents, KEX Portland looks right at home in the Pacific Northwest. But the design-driven hotel brand got its start 3,500 miles away in a former biscuit factory in Reykjavik. The brainchild of two Icelanders—set designer Hálfdan (Dáni) Pedersen and founder Kristinn (Kiddi) Vilbergsson—KEX melds the far-flung with the local in both concept and design, creating a social nexus for travelers and city dwellers alike.
When it came to creating a similar experience stateside in 2013, the Icelandic duo partnered with Greenlight Development and the Portland-based restaurant group ChefStable to find the right home. The search ultimately led them to a 1912 building in Portland's Central Eastside listed on the National Register of Historic Places. Once known as the Vivian Apartments (and before that, the Alco Apartments), the structure showed glints of Art Deco charm from a 1930s renovation, but had fallen into disrepair. "On the upper floors one of the apartments was packed with antique vacuum cleaners, and generations of pigeons that had made this building their home," recalls Timothy R. Eddy of Hennebery Eddy Architects, the firm responsible for the building's extensive rehabilitation.
Seven years later, the building has been fully restored: The Art Deco details in the guest corridors and common areas have returned to their former glory, and the newly reopened transom windows now let in light and views of the neighborhood on the hotel's ground floor. "I think this is one of the last buildings from that era," says Sean O'Connor, the general manager and partner of KEX Portland. "So it's nice to be able to preserve the original history and character of that Eastside industrial area."
---
More from Metropolis
---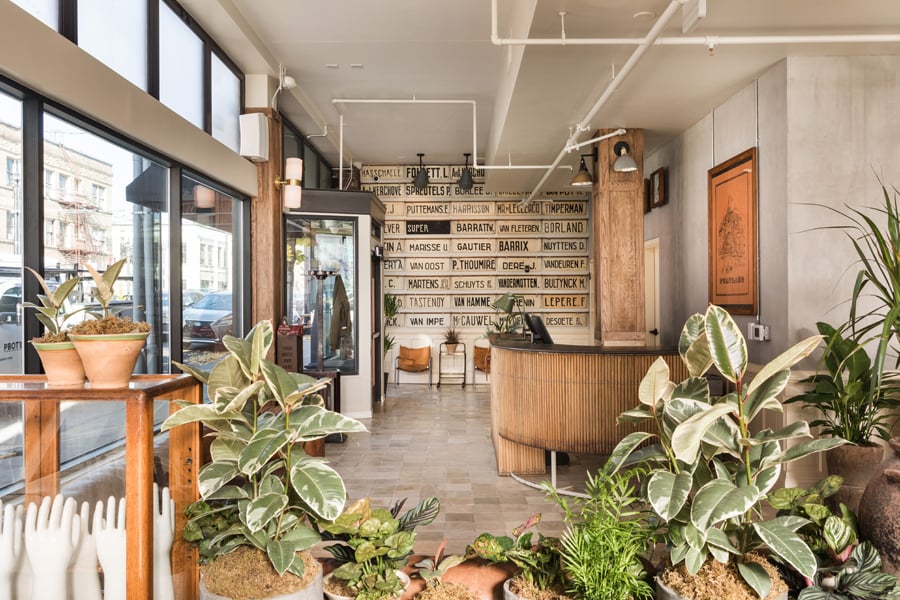 As for the interior, Pedersen, a set designer by profession, took a purposefully hands-on, sustainable approach to sourcing materials, furniture, and art. "I threw nothing away from the building which we could use in some way, shape, or form," he explains. In one instance, he used the building's original apartment doors for the wainscotting in the lobby by stripping, remilling, and turning them on their sides. On the ground level, the herringbone-pattern flooring is made of reclaimed Douglas fir beams from the Fort Vancouver train station and assembled by Portland-based Salvage Works.
To source his trove of vintage finds, Pedersen set up a base in Amsterdam, where he rented a warehouse. From there, he traveled to Belgium, France, Germany, and Sweden, bringing back objects such as glass doors from a city block in Cairo and a lamp from the Queen's Palace in the Netherlands. Back in Portland, Pedersen wove together these eclectic designs into a seamlessly crafted mise-en-scène. One memorable space is the hotel's check-in, where guests encounter a wall of horse name plates from a Belgian race track and white 1950s Egyptian tiling. "We wanted to have a general, European vibe—with design that was timeless, classic, contemporary," he says.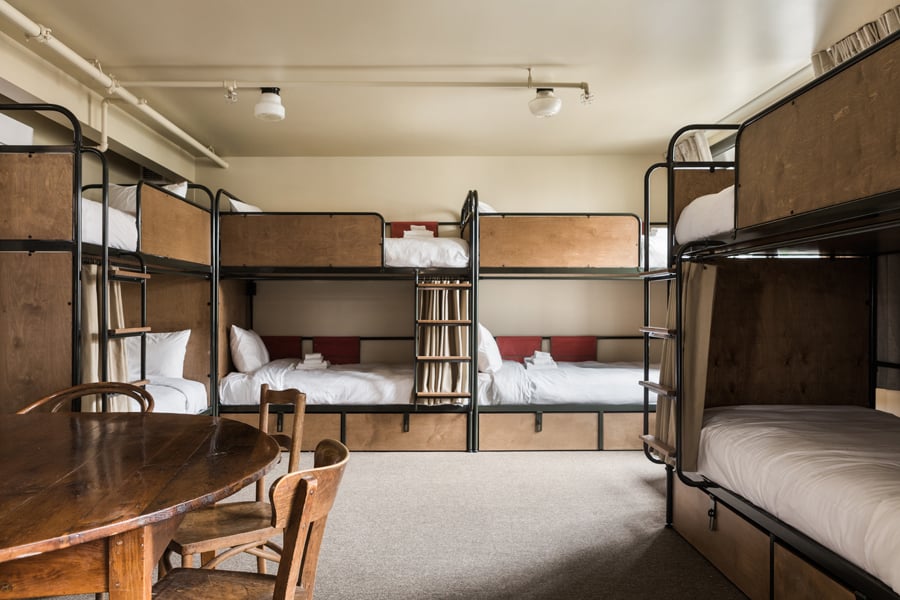 While Pedersen looked to Europe for much of his inspiration, he also tapped regional talent and resources, such as Seattle-based Blackmouth Design, who custom-fabricated the bunk beds for the 15 shared rooms. He also sourced the vintage mantels for all the beds in 14 private rooms from the architectural salvage shop, Aurora Mills.
Since opening in November 2019, the KEX Portland has already become a fixture in the neighborhood. Between its 3,000-square-foot ground floor—which includes an Icelandic-inspired restaurant, Dóttir, and comfy lounge and event spaces—to the rooftop bar opening this spring, Portlanders and travelers will have ample room to relax, drink, nosh, and get to know one another.
You may also enjoy "How One Designer Built and Furnished His Tropical Island House in Taiwan."
Would you like to comment on this article? Send your thoughts to: [email protected]