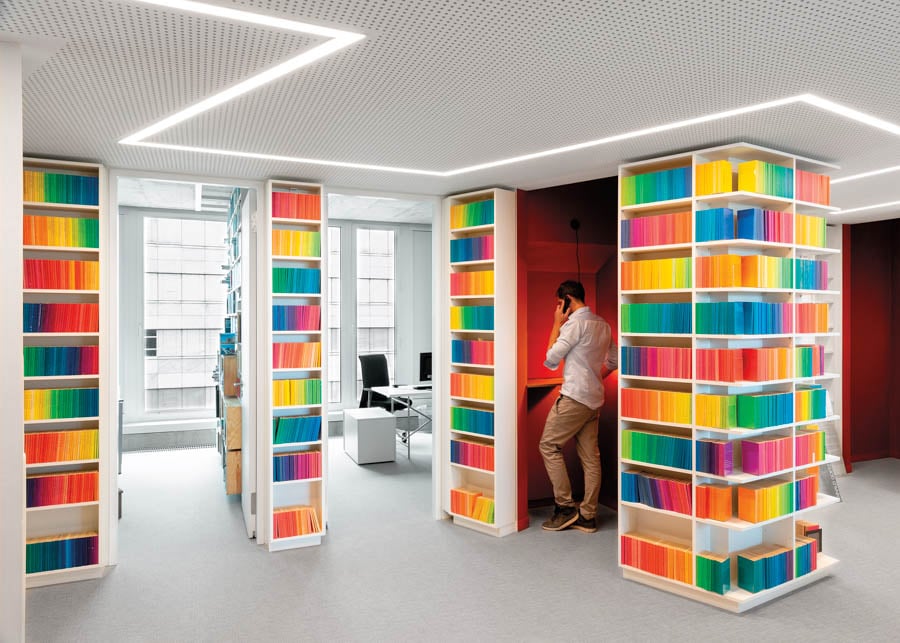 April 24, 2020
The Lighting at this Publisher's HQ Was Designed for Easy Reading
Continuing our series on lighting strategies around the world, we look at how Berlin firm Kinzo's dramatic scheme for the offices of Suhrkamp Verlag serves an important purpose.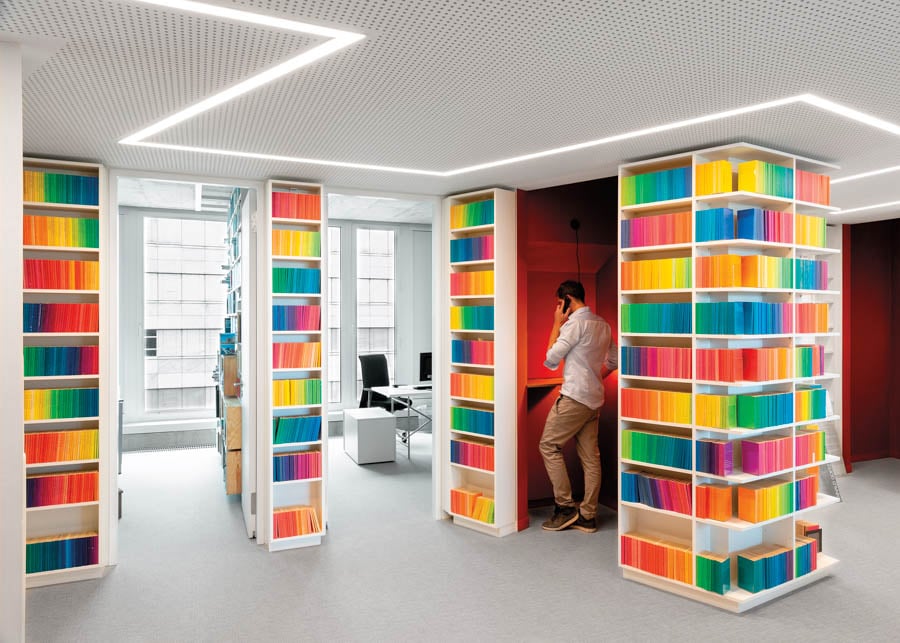 When Suhrkamp Verlag, a prominent German publishing house, approached Berlin-based architecture firm Kinzo to design the interiors of its new office, it knew it needed two things—shelves to store and display thousands of books, but also lighting that would be easy on the eyes during long days of reviewing manuscripts.
Kinzo worked with architectural lighting consultancy Lightnet to develop a system of LED luminaires embedded in the perforated ceiling. Lightnet's modular fixture works alongside ample daylight to provide direct illumination on the bookshelves. Resembling "flashes of lightning," according to Kinzo project manager Siwan Dub-Russ, the zigzagging tracks accentuate the meandering footprint of the custom floor-to-ceiling bookshelves (which span nearly three miles in total).
In addition to the direct lighting of the luminaires, the studio built in linear bracket shelf fixtures so that even the lowest shelves would remain well-lit throughout the day (and during Berlin's early-dark winters). Plus, dimmable floor lamps with microprismatic covers were integrated throughout, helping prevent reflection on computer screens while allowing employees to adjust luminosity to their liking. Every move goes back to the architects' concept of books as "emotional and atmospheric building blocks," says Dub-Russ. "The lighting allows a relaxed search for books and strengthens the impression that the ceilings are supported by the books."
---
More from Metropolis
---
You may also enjoy "This Helsinki Office Is Both Smart and Playful."
Would you like to comment on this article? Send your thoughts to: [email protected]
---
Register here for Metropolis Forums Webinars
Connect with experts and design leaders on the most important conversations of the day.