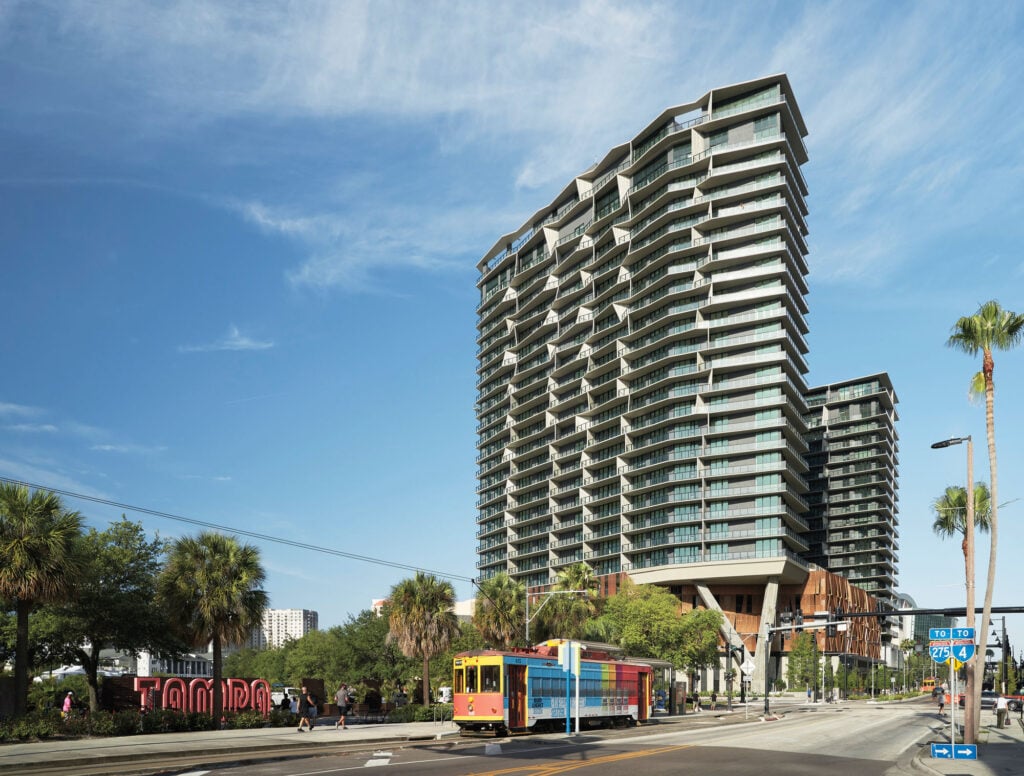 October 27, 2021
In Tampa, KPF's Heron Residence Is a Balm to Residents and Planet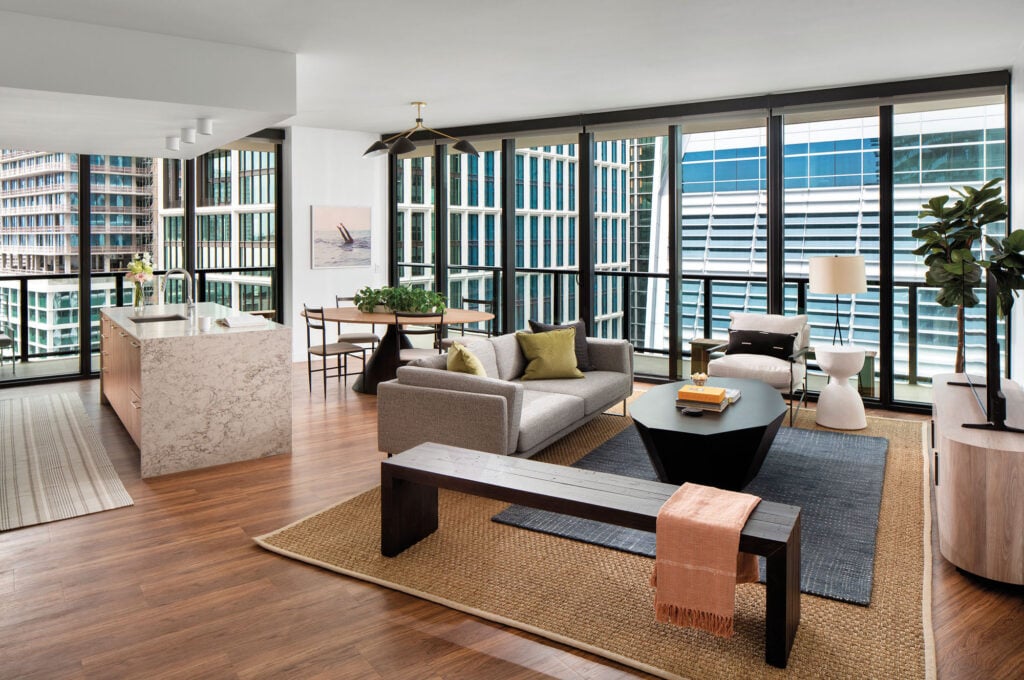 The towers' most prominent feature is a profusion of balconies. Typically conventional expressions of residential regularity, on Heron they are framed by unexpected angles that scarcely seem to repeat across the facade. 
Likewise confounding expectations, the above-grade garage is wrapped in a vented facade made of asymmetrical perforated panels that pique the viewer's curiosity. In every instance, the angles of the 420-apartment luxury development are nuanced enough to be engaging without being grating. Instead, this Water Street statement construction—with its one-, two-, and three-bedroom units ranging in size from 557 square feet to 2,179 square feet, and penthouses exceeding 2,000 square feet—appears to ripple like the Gulf of Mexico it overlooks. It's a balanced aesthetic that deftly positions itself between daring and measured.
---
More from Metropolis
---
"I like to think that our project isn't trying to do anything that is overreaching or beyond its means," Tesch says. "We tried to find a way to give it a gentle temperament that had a certain timelessness. The idea was to create a beautiful urban building that people could understand as residential—nothing overly jarring or detached."
"By tweaking the typical balcony," he continues, "we not only personalized the interior design but also achieved an organic impression on the facade." And Tesch explains that the shapes of the balconies serve a practical purpose as shading devices and light diffusers, protecting the apartments from strong direct sun while allowing indirect light to reflect into the units. As for the parking garage, which registers visually as an artistic frieze, Tesch outlines the practical and historical considerations: "Due to Heron's coastal location," he explains, "the garage is above grade in the podium that connects to two towers. The garage needed to be ventilated, and we liked the imagery of the old Tampa cigar factories with open windows and shutters. It had recalled for me the beautiful tobacco barns located throughout the South—tilted and porous barns designed for drying out tobacco leaves. Somehow the reference seemed perfect for the garage."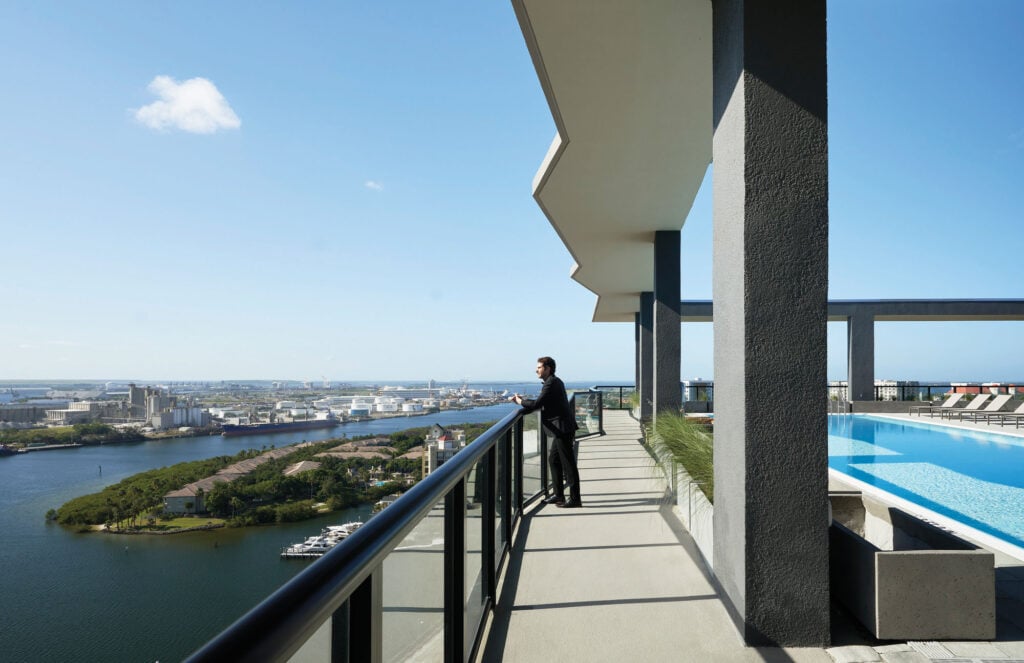 KPF used a perforated bronze-colored metal to clad this section and create visual contrast with the gray board-form concrete. The color, Tesch says, was inspired by the brickwork prevalent in Tampa. But if the perforated rust-colored shutters evoke bricks, the bricks are not horizontally but vertically positioned—turned on their heads.
Biophilic values extend to the interiors, with liberal use of Caesarstone in the kitchens and baths. "Bringing natural elements in is so important in all of our work, but seemed even more important in Tampa," Tesch says. "We avoid mechanical repetition throughout the design, and on the inside, where people linger and spend time, we wanted to use only natural materials like wood and stone." (Rooms are designed by Cecconi Simone, with influences that suggest Scandinavian crispness and Chinese feng shui.) Tesch notes that even where concrete appears, it is cast with a board-form finish so the surface evokes the organic grain patterns of wood and displays natural color variations caused by moisture levels during casting.
All of these innovations reflect the architects' intention to have Heron relate to its location in the pedestrian-focused Water Street Tampa development near the park and harbor. In addition to its WELL designation, Heron is LEED Gold–certified, a complementary rating based on building performance and optimized energy efficiency. The twin certifications reflect KPF's aim to enhance the human experience of the building with natural materials and indirect sunlight while maximizing wellness for park-goers, residents, and the planet. 
Selected Sources
• Design architect: Kohn Pedersen Fox (KPF)
• Interior designer: Cecconi Simone Inc.
• Developer: Strategic Property Partners (SPP)
• Engineers: DeSimone Consulting Engineers, Cosentini Associates, Bohler
INTERIORS
• Kitchen surfaces: Caesarstone, Stone Tile Company
• Kitchen appliances: Fisher & Paykel
• Bath surfaces: Caesarstone, Stone Tile Company, Ciot, Daltile
• Bath fittings Symmons, Kohler, Toto, Maax
• Wall finishes: Porcelain tile, Ciot
• Flooring: Interface, Stone Tile Company, Ciot
• Accessories: Symmons
• Window treatments: Mecho
EXTERIOR
• Cladding: Epsylon USA
• Windows and doors: Vitro Architectural Glass
• Exterior wall and roofing consultant: Vidaris
• Concrete consultant: Reg Hough Associates
• Vertical transportation and facade management: Lerch Bates
• Pool consultant: Bradford Products
• Parking consultant: Walker Consultants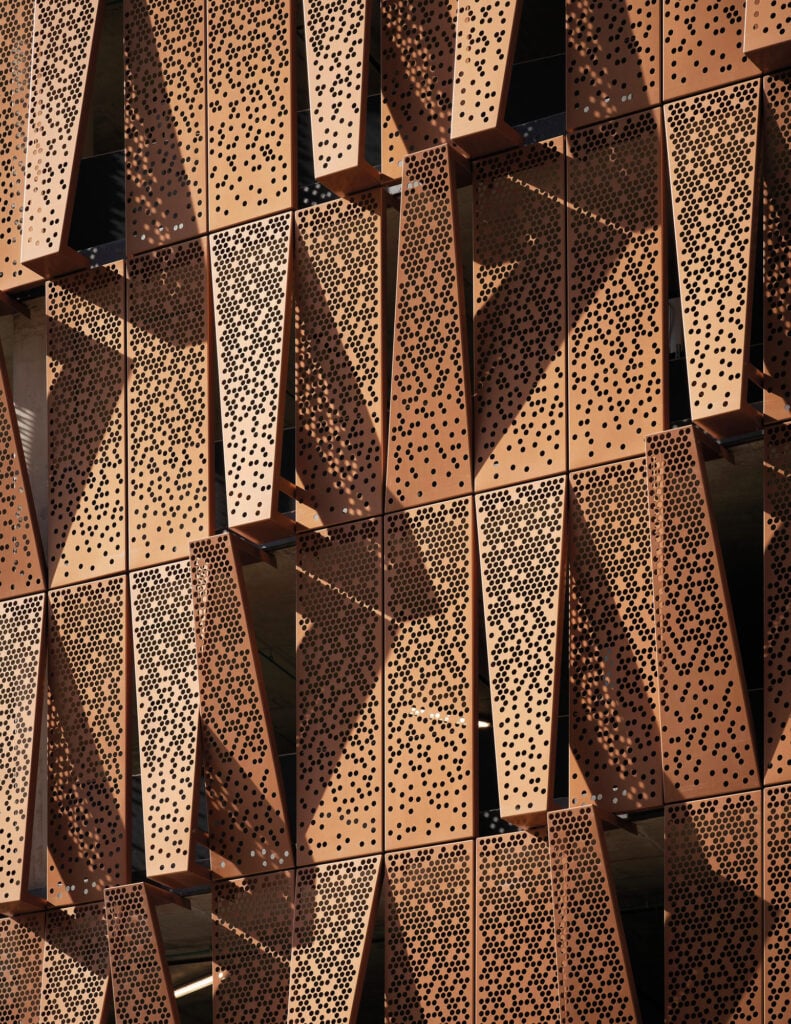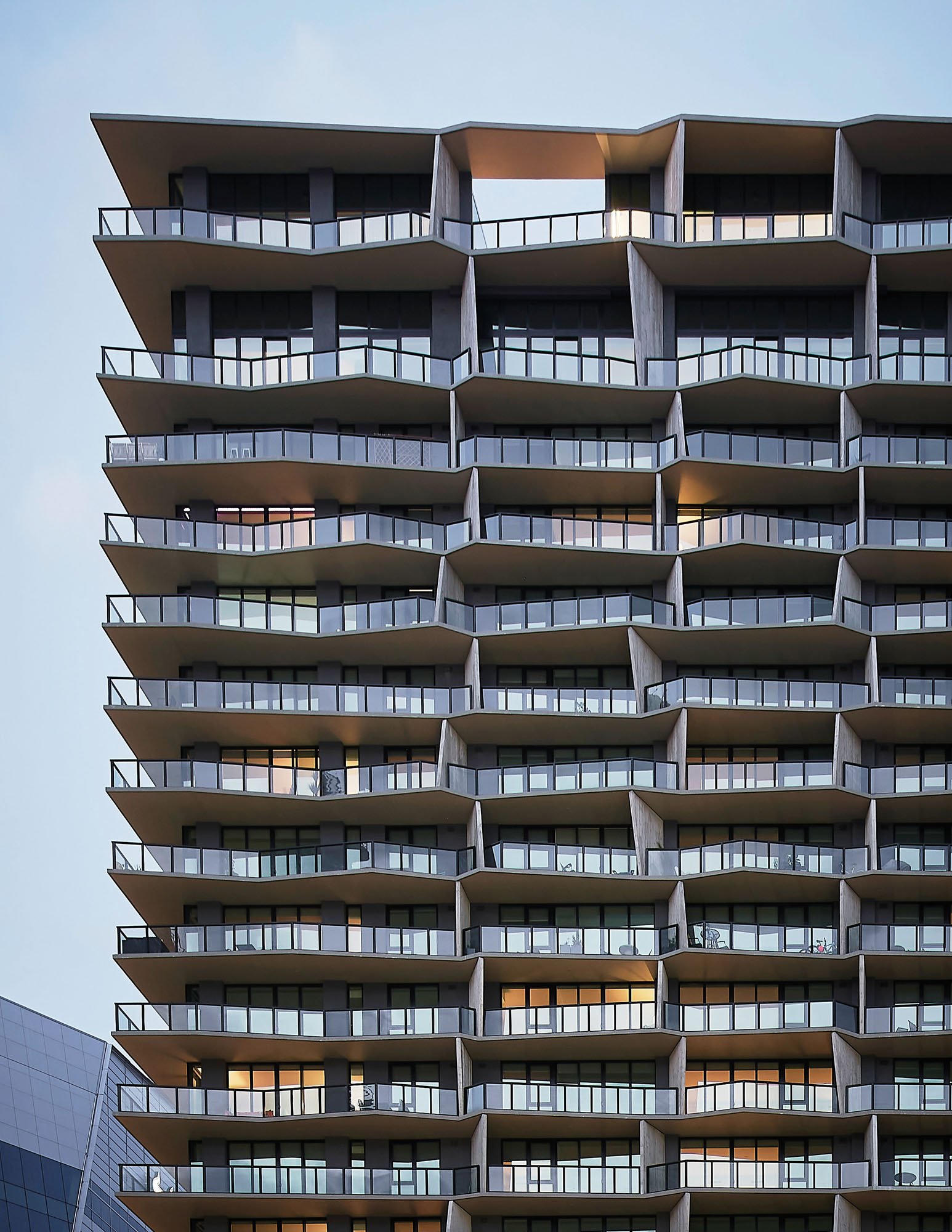 Would you like to comment on this article? Send your thoughts to: [email protected]