June 12, 2018
KPF's New Building at the University of Michigan Melds Sleek Geometries With Practicality
For the design of the school's Ross School of Business, the firm relied on a custom extruded terra-cotta rainscreen to create a highly-textured facade.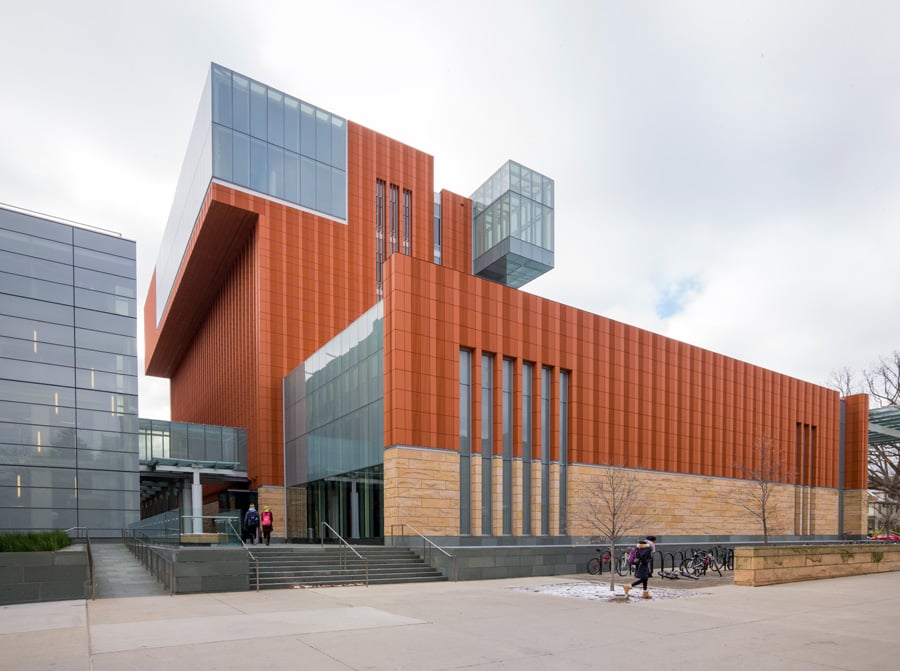 Designed by Kohn Pedersen Fox (KPF), Jeff T. Blau Hall marries a linear, contemporary style with clever practicality. The structure forms a physical hub for the Ross School of Business at the University of Michigan and comprises lecture halls, classrooms, and public spaces. The building's exterior is a thoughtfully choreographed dance of materials in which stone, terra-cotta, and glass accentuate one another.
Various patterns and geometries render it eye-catching from any angle, while the high-tech glass volumes' LEED Gold certification reflects a focus on innovation and sustainability. Energy-efficient details include spacious windows that enable maximum sunlight exposure and minimize the need for artificial light, and landscaping that helps reduce storm-water runoff. Importantly, the tiles that cover the building's exterior— an extruded rainscreen system from Shildan—prevent rain and condensation from entering the building while allowing water vapor out and enhancing insulation.
KPF created Blau Hall's striking cladding using only one color: a custom terra-cotta that complements the red brick common on the university's campus. The striped look is the result of the panels' custom texturization.
---
More from Metropolis
---
"We wanted to develop a detail that would allow the same material to provide smooth and textured surfaces and different values when both sun and shadow are added to the palette," says Jerri Smith, director at KPF. "Angling the 45-degree flutes to the right and left gave us two different readings in addition to the adjacent smooth face."
Shildan prides itself on making custom products to suit architects' needs, says Moshe Steinmetz, founder and president of the facade manufacturer. Shildan worked with KPF to create unique profiles and complex column covers for the project. "The architects really pushed the envelope," Steinmetz said, "and came up with something that has a lot of depth to it."
You might also like, "How Form Us With Love Takes an Inclusive and Passion-Driven Approach to Design."