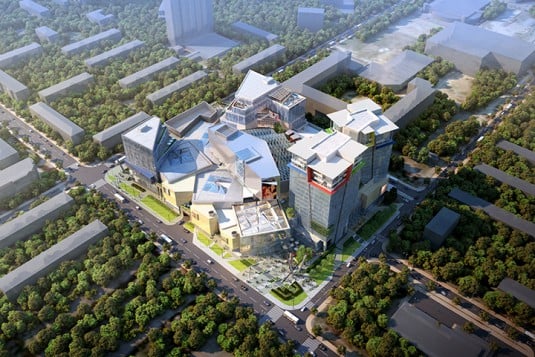 February 6, 2013
Kuntsevo Plaza Speaks to Moscow's Urban Aspirations
Kuntsevo Plaza is Moscow's first integrated mixed-use destination
Construction has begun on Kuntsevo Plaza, a pedestrian-oriented, mixed-use development in the Kuntsevo district of western Moscow. The project, designed by U.S.-based architecture firm the Jerde Partnership, will occupy an entire city block and is being touted as Moscow's first integrated mixed-use destination. The objective is to create an urban focal point, welcoming to residents, commuters, and visitors alike.
The site will be a hodgepodge of interconnected, geometrically shaped buildings, accented by vibrant colors – a nod to the Russian Avant-garde art movement. Large meandering glass roofs will allow sunlight into the interior public spaces, providing appealing, open areas for residents, workers and visitors. Combined, the buildings will be home to shopping and entertainment, an office building, and two large residential towers. David Rogers, design director at Jerde, says the goal of the project's design is to bring new life and energy to this part of Moscow.
---
More from Metropolis
---
One of the key design features is ease of access, both to the surrounding areas, and within Kuntsevo Plaza. The development is located next to a commuter transit line, linking it to the greater area of Moscow. Also, the completed site will have several entrances from different directions, allowing for the fluid movement of pedestrian traffic through Kuntsevo Plaza, and simplifying access to the surrounding areas.
The design also seeks to integrate the building into the natural landscape of Kuntsevo to create a destination that is distinctly urban, but inclusive of nature. Most notably, the apartment towers will feature landscaped, rooftop terraces, complete with trees and other plants, to provide pleasant, outdoor space for residents to enjoy. Visitors will also have access to landscaped areas at the main entrances.
Construction of Kuntsevo Plaza is expected to be completed in 2014, with the first phase scheduled to open in April of that year. Renderings courtesy of the Jerde Partnership. Model photos by Erich Koyama.
Brian Bruegge is an undergraduate student at Fordham University, majoring in communications and media studies, and history. He also studies visual arts and environmental policy, and has previously written for several other websites and publications on a range of topics.