October 12, 2021
In Canada, a Cabin Disappears into the Landscape
He is an avid snowboarder, all-weather surfer, and fungi forager. He has planted nearly half a million trees. As a child in Toronto, he was a builder of anything and everything, from Legos and landscape installations to homemade fireworks. He studied genetics and philosophy as an undergraduate, but today, dividing his time between Vancouver and Vancouver Island, the omni-talented Canadian is an architect, having founded both Leckie Studio Architecture + Design and The Backcountry Hut Company (producing prefabricated minimalist modular shelters) in 2015.
The studio's projects emphasize environmental sensitivity, passive solar design, local materials and liminal indoor-outdoor space. "There seems to be a growing movement, globally, bringing people back to nature," Leckie suggests. "A confluence of factors is motivating people to connect with nature in the short-term and, potentially, reconsider urban living altogether: the COVID pandemic, escalating urban real estate prices and technology. We are now reaching a tipping point where suburban areas are no longer affordable, and commutes are so lengthy that people are even leaving cities altogether."
Arcana is part of this tectonic shift. The walls of the 275-square-foot cabins are clad in mirror-like steel, disappearing into the colorful, ever-changing deciduous forest around them. In groups of between 25 and 40 in remote locations, the cabins will be spaced at a distance that allows each guest to feel fully immersed in nature. The prototype's minimalist, maple wood-lined interior features black steel accents, a panoramic picture window and a six-foot-square skylight for stargazing as one falls asleep. The original cabin was designed to function off-grid, with power supplied by a solar array or a back-up generator, a large storage tank to hold fresh water and grey water and an incinerating toilet.
---
More from Metropolis
---
"Fundamentally Arcana is about shifting people's perspectives to create an awareness of the importance of nature and natural ecosystems," Leckie explains. "Humans do not exist outside of nature, rather we are a part of it. In realizing this understanding of interconnectedness and awareness that we are part of something greater, we also create a wellness movement."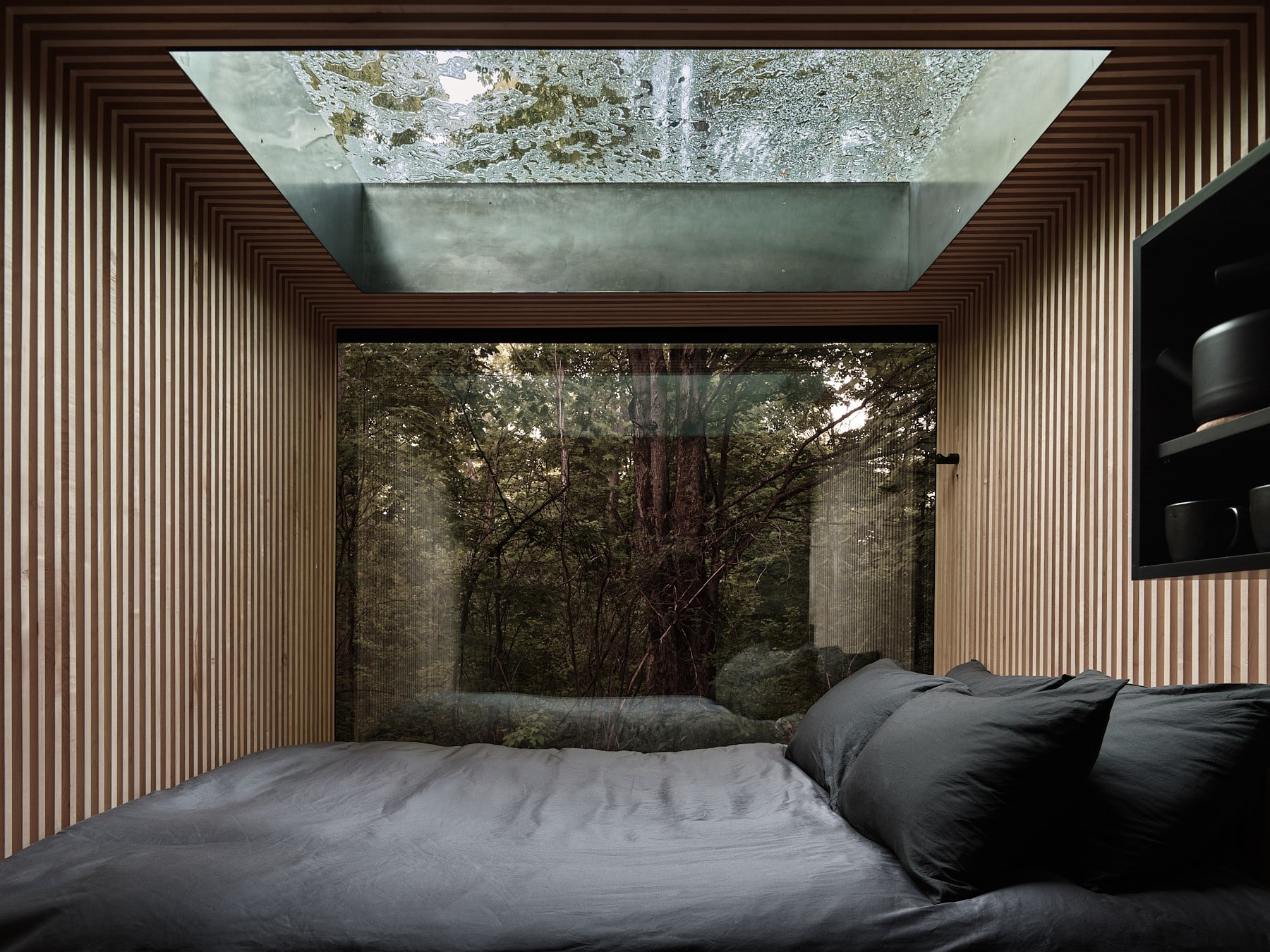 Would you like to comment on this article? Send your thoughts to: [email protected]