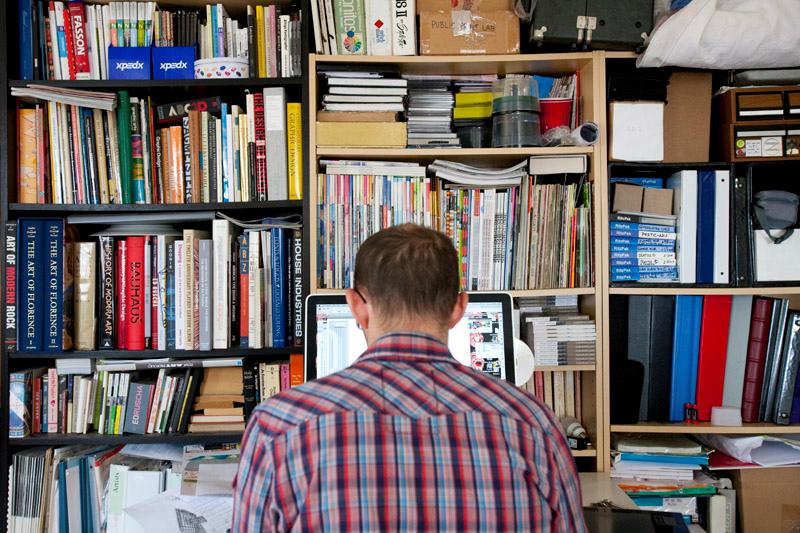 September 25, 2009
Letter from Baltimore: Studio Tour
A look at the work spaces of four local design practices
In her monthly "Letter from Baltimore," Elizabeth Evitts Dickinson writes about architecture, culture, and urbanism in a city more often associated with violent crime than with good design. Click here to read her previous posts. For more by Dickinson, visit her blog, Urban Palimpsest.
Elevation drawings of a former Baltimore mill that now houses some 90 businesses, including the author's small corner office
Last year, I spent several months working in New York and commuting back to Baltimore on the weekends. One night I sat in the audience of an event in Manhattan where the Baltimore-based firm Post Typography explained the benefit of inexpensive office rent. Freed from high overhead, the designers are able to take more personal and creative risks in their work.
---
More from Metropolis
---
In recent years, I've noticed more designers setting up shop in Baltimore in a variety of building types, from the archetypal Baltimore row house to the massive mills erected in the boom years of the Industrial Revolution.
My own office occupies a small but sunny corner of one of those converted mill buildings. Once a manufacturing center for the sailcloth that fueled Baltimore's famous clipper ships, this mill is now home to some 90 businesses—art galleries, publishing companies, artist and graphic studios, a postproduction space for filmmakers. I've got hardwood floors, exposed brick, a view of trees, and an easy walk from my home. The price tag: less than $250 a month.
This fall, I've been touring the studios of local designers to see inside their work spaces and get a glimpse into their creative processes. Here are a few highlights.
.
Post Typography
www.posttypography.com
Nolen Strals and Bruce Willen established their graphic-design firm in 2001, and this fall they will release a new book: Lettering & Type: Creating Letters and Designing Typefaces.
Nolen Strals at work in the Post Typography studio. Photos: Bruce Willen

The Plant Wall in the Post Typography studio. The "window" is a piece by the Baltimore artist Gary Kachadourian.
.
Shaw Jelveh Design
www.shawjelveh.com
Marybeth Shaw has offices in Baltimore city and the Lower East Side of Manhattan. Her firm provides a wide range of services, from graphics and branding to architecture, interiors, and product design. Marybeth's latest design is the next generation of the grocery bag: the Sac a Baguette, which includes a special sleeve for fresh bread.
Inside the materials library at Shaw Jelveh Design in Baltimore. On the desk is a prototype for Marybeth's new Sac a Baguette. Photo: John Dean
.
Inna Alesina
www.alesinadesign.com
Inna is the master at repurposing everyday materials into new products, like a light fixture made out of old CDs and the "Fill It" furniture system, which is filled with consumer waste. She has also partnered with the graphic designer Ellen Lupton on the book Exploring Materials: Creative Design for Everyday Objects, due out this spring.
Inna Alesina works from her home on the outskirts of Baltimore City. She has several work areas on the first floor where she tests product designs. Photos: Elizabeth Evitts Dickinson
Inna also has a workshop of power tools for fabricating her designs. On a workbench sits one of her Want/Need pint glasses.
.
Carrie Fucile
www.carriefucile.net
The artist and designer Carrie Fucile works out of the Load of Fun building, a former car showroom that has been transformed into studios, galleries, and theater space.
The studio space of Carrie Fucile in the Load of Fun building. She has been working on a series of pieces made out of gauze. Photos: Elizabeth Evitts Dickinson
The view from Fucile's studio
Work in progress: Here Fucile works out the set design she is creating for a performance by a local theater company.