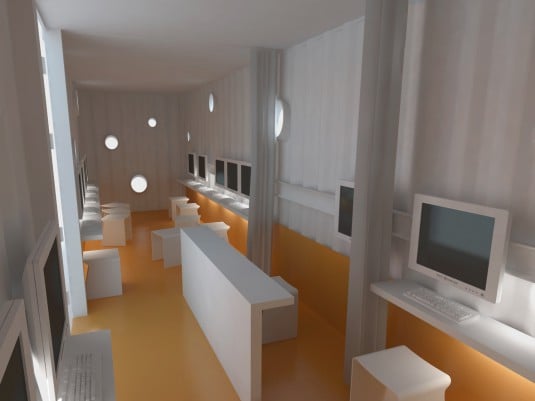 March 22, 2013
Librii: A New Kind of Library for the Developing World
A network of libraries in Africa feed communities with knowledge, creativity conduits, and revenue
What if you could create a network of libraries in Africa to feed communities with knowledge, creativity conduits, and revenue? David Dewane, a young architect with Gensler and a visiting assistant professor at Catholic University, is working with a diverse team—and a campaign through Kickstarter, the online funding platform—to make it real. (There are only a few days left in the campaign.) Dewane (who trained with Pliny Fisk III at the Center for Maximum Potential Building Systems in Austin) and his partners have conceived Librii as "a network of low-cost, digitally powered libraries deployed along the expanding fiber optic infrastructure in the developing world."
The idea is to bring digital and physical resources, managed by professional librarians, to emerging markets to that people in those communities can address their own educational, informational, and economic challenges. "This is a new kind of library," Dewane says. "It will be the first that will actively engage users as content creators, the first that will operate on a sustainable business model, and the first designed to maximize the potential of high-speed information exchange in developing markets." The business model involves Librii paying the construction costs and content costs up front, after which revenue streams will shift operating costs to the users. Dewane, and his team, believe that this is an answer to a major need: one billion people living in Africa, and only three percent of them have access to broadband Internet. They see access to knowledge as an essential component of social mobility, and view Africa as a place to demonstrate that link. They chose Ghana as their launch point because it has been a technology leader on the continent. Why Kickstarter? Seeking funding this way was not the easiest path, Dewane says. "It would have been simpler to solicit big companies, such as those in the energy sector that extract resources from Africa and put in infrastructure." Through his firm, Dewane would, in fact, have had a way to reach some of those companies. "We chose social funding instead because we wanted to draw attention and energy into the project," he says. "It would start to build a community excitement around the idea, not just get a check from and go off and do it. So far that is exactly what's happening." Gensler has been supportive. The Washington, D.C. office of the firm will produce the drawings and the firm has provided some pro-bono time to help get the project off the ground.
---
More from Metropolis
---
Dewane heard game designer Jane McGonigal's TED talk and promptly played one of her games, EVOKE. The finale of the game was to submit a project you thought could a significant impact on the world, and this project was selected as one of the top 25 from some 15,000 proposals. McGonigal became an official advisor to the Librii project, which she sees as a harbinger for a new era of content creation: "Librii fills me with almost a giddy anticipation for the future," she says. "I can't wait to see the creativity that flows out of Accra when young people are able to share their art and ideas with the rest of the world. Because I've backed the Kickstarter project, I'm a subscriber to the first connected library. I'll get a digital copy of whatever gets created first—a book of advice or a collection of children's stories. The library will encourage and inspire all kinds of creation, not just traditional publishing. Eventually, we'll be able to watch streaming live as a DJ plays a set at the library at night. I can't wait to play the results of the first ever game design jam in Accra! Librii is going to make possible in Ghana the kinds of collaborative creativity that is changing how ideas are shared and art is created all over the world."
Librii was incubated with seed funding from the World Bank Institute and was awarded Best Innovation Leveraging Technology form the Dell Social Innovation Challenge. The World Bank Institute's Bob Hawkins, believes that Librii is taking the concept of the library into the modern age. "Librii will provide a hub for Ghanians of all ages to explore, learn and connect," he says. "Education is at a premium in the knowledge economy and the ability to convert that knowledge into beneficial products and services will determine the vibrancy of a community and a nation. Librii can play an important role in transforming communities by providing access to information, access to people, and access to opportunity." This is much more than a design exercise: The Librii team is redefining the definition of "library" as a hub of empowerment.
Kira Gould co-authored Women in Green: Voices of Sustainable Design (Ecotone Publishing, 2007) with architect Lance Hosey. She is the director of communications at William McDonough + Partners. Follow her on Twitter at @kiragould and @womeningreennow.