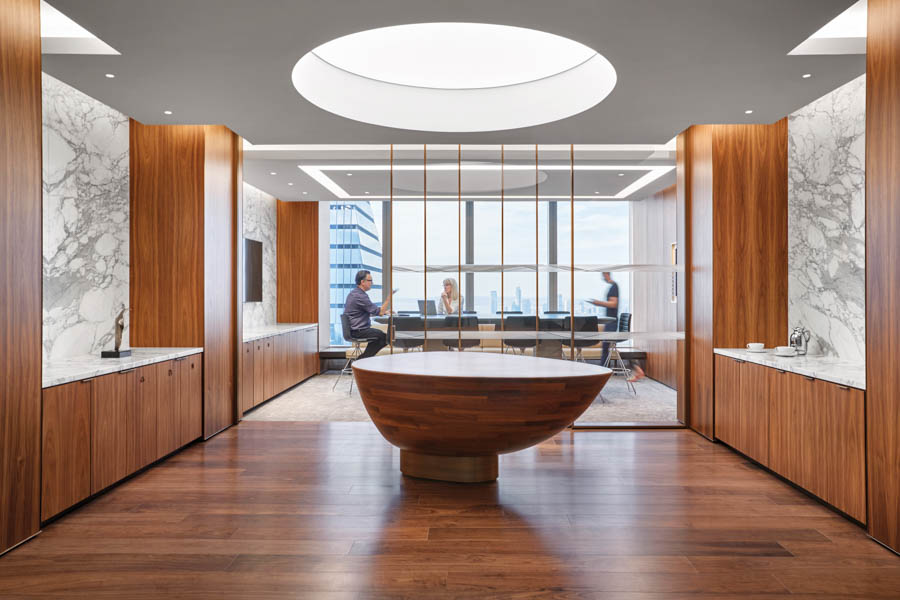 April 15, 2020
In Lighting Wells Fargo's Offices, Kugler Ning Foregrounds Natural Rhythms
At the LEED Gold–certified workplace in Hudson Yards, part of our global lighting portfolio, a scripted time-clock schedule aligns with the body's 24-hour internal clock.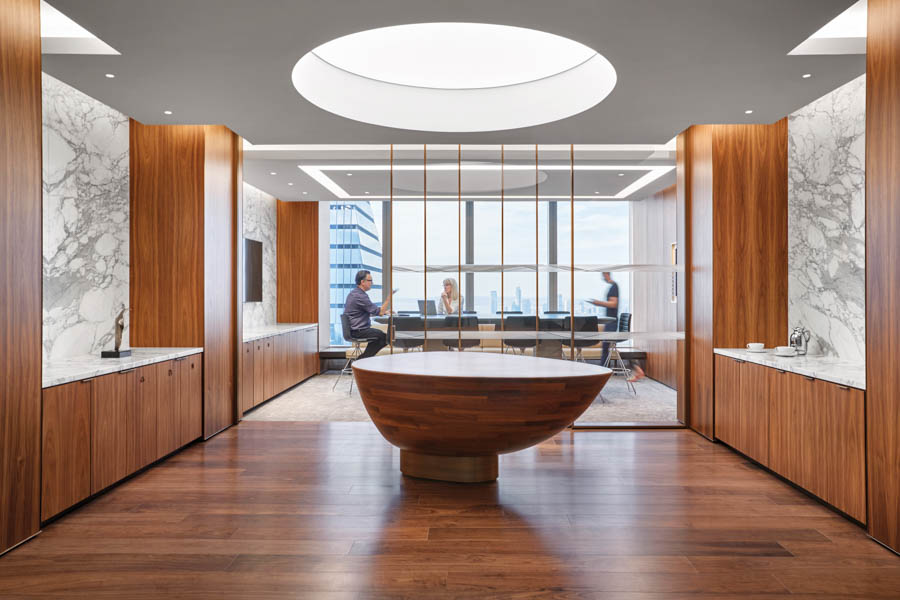 In workplace design, circadian lighting is often at the forefront of the discussion, challenging practices like Kugler Ning Lighting Design to rethink how light supports the body's natural rhythms. In designing a system for the LEED Gold–certified Wells Fargo offices in New York City's Hudson Yards, the firm adopted energy-efficient lighting that also promotes health. "Research has shown that the vast majority of lighting in workplaces doesn't support what our natural evolution has trained our bodies to expect," explains Kugler Ning principal Burr Rutledge, "and there have been negative consequences on health and mood."
The design team, which included architects from Switzer Group, teamed up with scientists at the Lighting Research Center (LRC) at Rensselaer Polytechnic Institute in Troy, New York, to develop a dynamic white lighting system. As leading researchers in light and human health, energy efficiency, and technology, LRC advised the designers on the spectrum of light needed throughout the day. Together, they developed a scripted time-clock schedule so that the color temperature and intensity of the LEDs imperceptibly change to align with the body's 24-hour internal clock. "You don't want to be overstimulated all day," Rutledge says. "We developed this system where we were able to deliver that 'morning boost' and reduce it over the course of the day, so that when people got home they didn't feel like they had three cups of espresso at five o'clock."
Above the workstations, expansive backlit ceilings act as artificial skylights, providing twice the light levels of traditional office lighting. By contrast, the amenity and circulation zones are layered with more ambient cove lighting and alphanumeric pendants. Uplit walls support wayfinding, and colorful accents are peppered in, contributing to a hospitality feel.
---
More from Metropolis
---
You may also enjoy "A Pavilion Where Lighting Mimics Branches, Leaves—and Chipmunks"
Would you like to comment on this article? Send your thoughts to: [email protected]