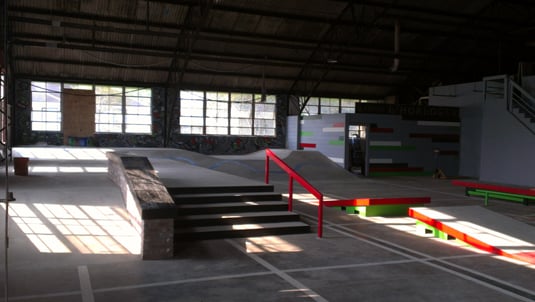 September 27, 2012
Lil Wayne Comes Rolling Home
Big doings in New Orleans's Lower Ninth Ward last night. Hometown rapper Lil Wayne—who in recent years has incurred the wrath of locals by moving to Miami and then (in an unpardonable offense) openly rooting against the Saints during their march to the Super Bowl in 2009—made an appearance at the Lower Ninth Ward Village […]
Big doings in New Orleans's Lower Ninth Ward last night. Hometown rapper Lil Wayne—who in recent years has incurred the wrath of locals by moving to Miami and then (in an unpardonable offense) openly rooting against the Saints during their march to the Super Bowl in 2009—made an appearance at the Lower Ninth Ward Village for the opening of what is being touted as the first sustainable skate park in the United States.
Sustainable Skate Park, photo by Maria Frank.
---
More from Metropolis
---
The indoor skate park—which has transformed the formally down and dirty village into a smooth, bermed, death-defying obstacle course, only an orthopedic surgeon could love—is a collaboration involving Mountain Dew, Lil Wayne (who has a marketing partnership with the hyper-caffeinated beverage called "DeWeezy"), the Make It Right foundation, "brand strategists" GLU, and the designers California Skateparks.
Photo by Maria Frank.
Make It Right's Tim Duggan—who seems to have a hand in just about everything going on in the Lower Ninth—helped shape the design, which is loosely based on an aerial photograph of the neighborhood. So, you might ask, what makes a skate park sustainable? A perfectly logical question, and one I hadn't asked until last night. According to Duggan, the ramps are made of 100% recycled concrete, the paint used for the obligatory corporate logo and the murals is VOC-free, and out in far corner of the parking lot is "the first tracking solar array in the Gulf Coast."
What this means for Ward "Mac" McLendon is the end of monthly electric bills. The Lower Ninth Ward Village is now, Duggan says, "net-zero." Very good news indeed. Now the complicated part begins: managing a skate park.  Skate parks are apparently a bit like baseball fields: build one and they will come. And judging from the scores of neighborhood kids waiting, skateboards in hand, for a glimpse of Lil Wayne—who, truth be told, looked a little tentative on his board last night—they definitely will be coming.