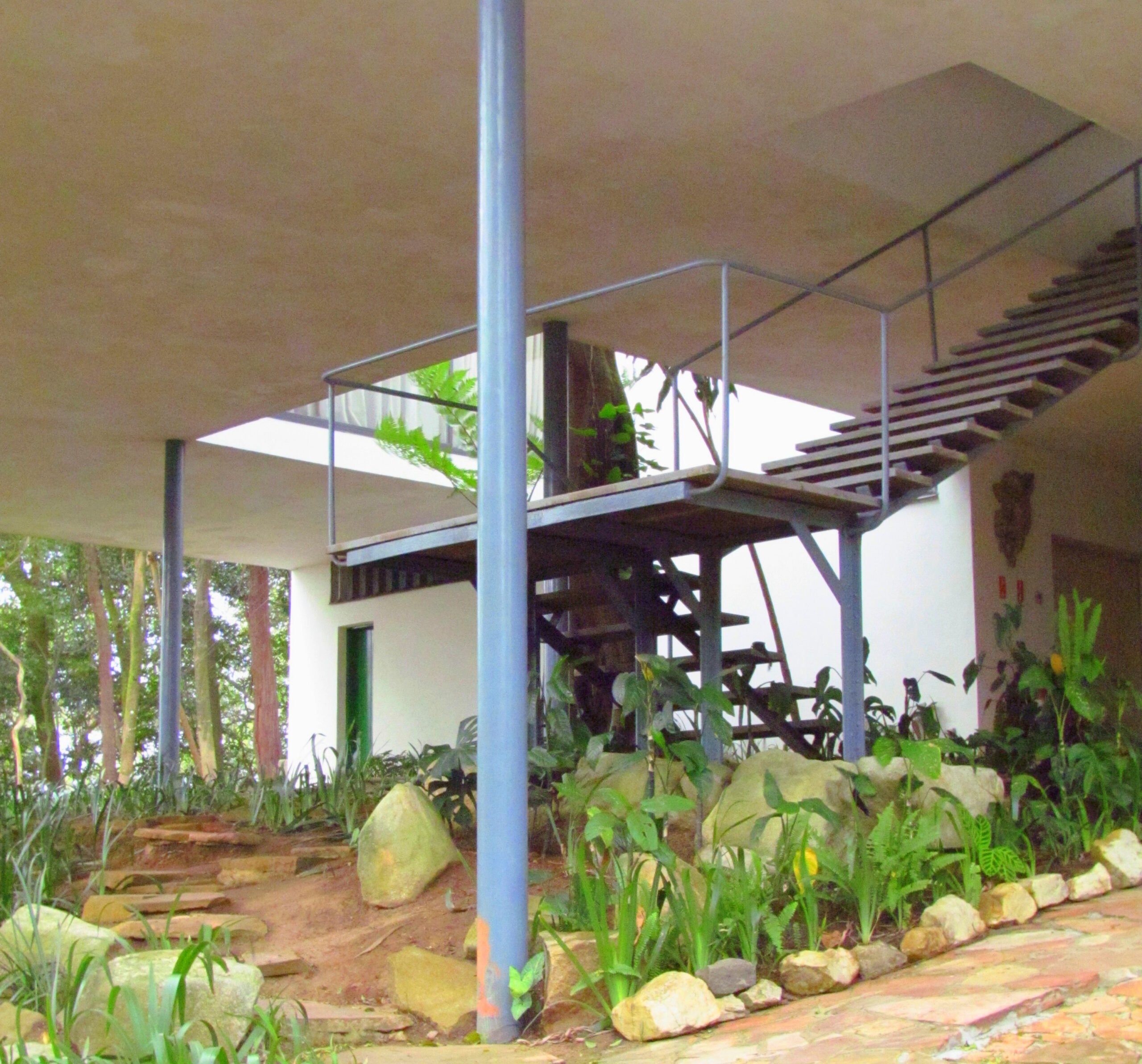 September 14, 2013
Lina Bo Bardi's Personal Brand of Modernism
An original body of work gains recognition in the world of architecture
All photos courtesy Paul Clemence
The controversy about the Pritzker Prize excluding Denise Scott Brown when her partner and husband, Robert Venturi was honored in 1991 has ignited firestorm about the architectural profession as a bastion of white men, still.  (The Iraqi-born architect Zaha Hadid remains the exception on the Pritzker patriarchal pantheon.)
If the female architect is not fully respected today, can you imagine the challenges for a young woman following that career back in the last century? That was the case for Lina Bo Bardi, first in Italy and then in Brazil. A naturalized Brazilian, she did not consider herself a feminist, but with her fearless attitude towards the mostly male-dominated profession, she inspired women everywhere. Her actions, rather than her rhetoric, spoke for her. Bo Bardi was never intimidated. She pushed through preconceived ideas, creating an original body of work that's experiencing increased recognition in the world of architecture today.
---
More from Metropolis
---
She was born in 1914 in Italy, where she received a degree from the Rome College of Architecture just as Europe became engulfed in World War II. While struggling to set up a practice in wartime, Bo Bardi got involved in publishing, which ultimately led to a main editorial position at the new Domus magazine. After she married Pietro Maria Bardi in 1946, the couple moved to Brazil, where her ideas and work would find fertile ground. Her interpretations of Italian Rationalism would expand to incorporate a respect for the hand crafted and the value of context. Thus she established her very own Modern language in the country that, led by the omnipresent Oscar Niemeyer, was redefining Modernism.
She opened her new studio in Sao Paulo and slowly grew her busy and successful and varied practice. She was designing exhibits, furnishings, interiors and buildings, stage sets, art; she was, again, involved in publishing, becoming a respected figure on the Brazilian cultural scene beyond just the design clique. She did not build much, but what she did build had a strength that still resonates and we can learn from.
The "Casa de Vidro" (or Glass House), from 1951, was her first built project in Sao Paulo. Designed for herself and her husband, the house is located in what was then a lush green rain forest area, slightly remote from the city. Contemporary of both Mies's and Philip Johnson's glass houses, Bo Bardi's design lifts the whole house off the ground by a full flight of stairs, creating a different relationship with the site (thus nature), as one enters the living area from underneath. It's as if she is combining Farnsworth House and Ville Savoye with her own sense of space. Further enriching the dialogue with the natural setting, an elevated open courtyard brings the ground up to be a part of the house, even if by its negative space presence. The back, utilitarian part of the house makes the bridge of living with the steep ground behind it. Since the house was built, the area has become an affluent neighborhood. Although the forest mostly diminished, the house still hovers, now encircled by the trees that grew up around it.
My personal favorite Bo Bardi project is the cultural and sport center, Sesc-Pompeia, also in Sao Paulo. It was eveloped in phases, starting in 1977 and completed in 1986. Here the architect took a complex program that combined sports, leisure, and cultural activities and was able to fit it all in on a challenging, oddly shaped lot, with several building restrictions. She kept the existing structure of the musical drum factory that occupied the lot and, in what was one of the first re-purposed high profile projects in Brazil, gave it a second act, so to speak. The vast open areas became reading rooms, classrooms, theaters, lounge, and exhibit areas, with an interior creek that helps define the space and makes reference to the existing creek, which was covered for many years and running below the site.
"With this project, Bo Bardi paved the way for the preservation (and thus valuing) of our rich industrial architecture heritage," says architect Giancarlo Latorraca, who collaborated with her on many projects and today is one of the directors at Sao Paulo's Museu da Casa Brasileira. "Her sensitive intervention on the factory warehouses, with carefully selected new elements needed for the new functions, enhances the memory of the labor done in the original space," he adds. That is very much the feeling throughout the complex – one feels the life that was there before. Yet, she then masterfully balances it with the new, adding a brutalist concrete tower that stacks all the sporting facilities like pools and courts.
It may be its location or the free form bright red window openings of the massive structure, in any case the building doesn't have the weight or the intimidating quality usually associated with brutalist buildings. Quite the contrary, you are curious to see what happens inside. This juxtaposition of the sports tower with the factory is a good example of what Latorraca means when he says that Bo Bardi "tried to define a path for consolidating Brazilian cultural identity as a combination of the intellectual and the popular."
Another Brazilian architect, and curator, Denise Hochbaum, was studying architecture in Sao Paulo when Bo Bardi was at the peak of her career. Later she wrote at length on Bo Bardi's renovation of the 1911 Theatro Polytheama. Hochbaum says she's still inspired by the way Bo Bardi fearlessly approached all her projects, whether it was a new building or a turn of the century structure. "Lina Bo Bardi understood the value of the human element in design, and not just regarding scale and function but in the appreciation of cultural manifestations in relation to the new to come," she told me recently. "She could easily mix popular circus artifacts with folk elements and image projections when creating a staging design, and this in a time when this freedom to mix such elements was unheard of."
Lina Bo Bardi's trailblazing ways left a legacy that resonates with us today. "She was an architect with an unique trajectory, with an understanding of the intrinsic value of human objects, of their potential to contribute to the construction of a better life. And her pioneering awareness of local demands, useful and not harmful to the environment, are all issues that are important in the world we live today," says Latorraca.
Not surprisingly her work is appearing at some of today's most culturally relevant events, from the Venice Biennale to the Hans Ulrich Obrist–curated show, The Insides are on the Outsides, that took place at her very own Casa de Vidro.
A foreigner. A woman. Different.  Being somewhat of an outsider gave Bo Bardi the perspective that made her a rare designer, balancing popular and high culture effortlessly, while foregoing demagogic verbiage. She was a modern designer ushering in the new, even if that meant respecting and valuing the past.
---
Paul Clemence is an award-winning photographer whose work is part of many collections, including the Mies van der Rohe Archives and housed by MoMA, New York.  He exhibits both in the U.S. and on the international fine art circuit, from classic B & W prints to large scale photo installations. A published author, his work can also be seen in major design and lifestyle publications. His "Architecture Photography" Facebook page receives over half a million hits monthly.