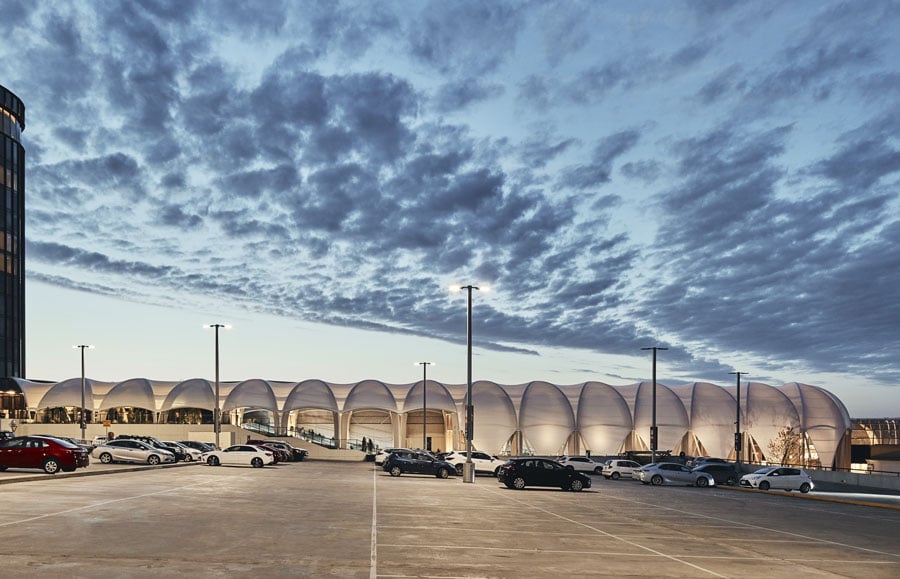 April 14, 2020
A Walkway Down Under Becomes a Destination in Its Own Right
The Link, a vaulted, sheathed passage at Chadstone Shopping Centre near Melbourne, lets interiors and exteriors commingle.
Can a journey be a destination?
A new feature in the suburbs of Melbourne, Australia, by local studio MAKE Architects, makes a compelling case for yes. The Link, located at the Chadstone Shopping Centre in Malvern, is ostensibly a walkway—yet it proves that an interstitial zone can simultaneously be a sought-after spot in its own right.
"We see The Link as a covered street. In its simplest form it is a route, but its scale, materiality, and the spaces [it creates] enhance it," says MAKE founder Ken Shuttleworth.
---
More from Metropolis
---
The walkway, which connects the mall with an adjacent hotel and nearby office buildings, takes the form of an arcade, shaped to echo the shopping center's unusual hemicylindrical glass roof structure. It consists of 15 diagrids constructed from glulam timber, which form X- and Y-shaped vaults down its length. MAKE has sheathed these arches in a translucent textile, forming a light-filled tunnel that blends indoor and outdoor space, and lets retail commingle with hospitality and social areas.
"Retail destinations should enhance the civic identity of the places they're part of and, crucially, should be about a wide understanding of place," says Shuttleworth. The covered passage strategically places landscaping, stairs, and moving sidewalks to generate pockets in which to linger, as well as seating areas that allow hospitality spaces to spill outdoors. Vendors can also reconfigure the space, enabling the Link to be adapted for use during events and retail pop-ups.
In order to tackle the complex glulam structure, the MAKE team turned to Rubner, an experienced Italian manufacturer, to sculpt the curvature of the arches. Local Rubner partner Theca Australia then worked with the builder, Hickory, to mount it, while MakMax installed the textile. The PTFE sheathing, SEFAR TENARA, is moisture- and stain-resistant, meaning it should be easy to maintain long-term.
Shuttleworth's office has observed how leisure, workplace, residential, hospitality, and transport environments have been influencing the design of successful retail hubs, resulting in shared places that bring people together while respecting their separate journeys and offering multifaceted experiences.
"The Link taps into changing consumer behaviors by highlighting the experiential value of shopping as a social activity. Consumers want offline shopping to be about experience and to include entertainment, hospitality and something that makes them say 'I've been there too,'" explains Shuttleworth. "The Link offers a memorable point of entry to an existing shopping mall and makes arrival there about being in a particular place."
You may also enjoy "This Bridge in Providence Was Designed as Public Space."
Would you like to comment on this article? Send your thoughts to: [email protected]