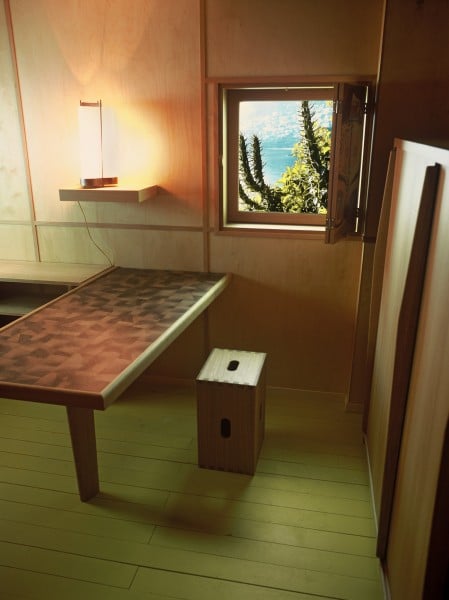 February 17, 2009
Living Simply with Le Corbusier
Have a look inside Corbu's funky little shack
"I have my own house. It's made of old planks put together, and it suits me just fine," said Le Corbusier. Cabanon, Le Corbusier's wooden house/studio in Cap-Martin on the Cote Azure, appears from the outside to be not much more than a compact log cabin. The interior, however, reveals a masterful exercise in micro-architecture rooted in absolute simplicity.
This spring the Royal Institute of British Architects and Cassina give you a glimpse inside by reconstructing the remarkable interior of Cabanon.
---
More from Metropolis
---
At 3.66 meters square and 2.26 meters high, Cabanon, is small by even New York City studio standards. Created as an escape from urban life, the one room, wood-framed cabin was designed to fulfill Le Corbusier's basic needs. Based on his own modular system, the highly functional space took him all of 45 minutes to sketch. Built in 1952, Le Corbusier lived and worked there each summer until his death in 1965.
The Interior 1:1. Le Corbusier 1952 – Cassina 2006 (March 5 – April 28) will be a source of inspiration for designers, architects, and clients. In addition to the Cabanon installation, RIBA will also house a collection of Le Corbusier furniture, which will be a platform to highlight the special Cassina/Corbusier relationship. The accompanying exhibit, Le Corbusier – il Maestro: An Exhibition of Furniture from Cassina, will be curated by Piero Lissoni.