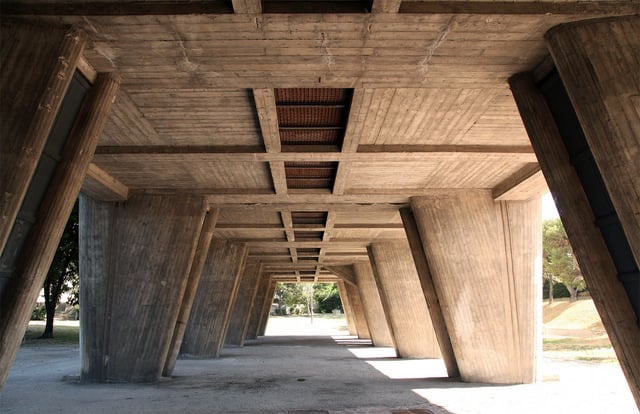 August 30, 2013
Log Off and Hit the Road: Learning from Corbu (Part 2)
A bike tour in search of the master leads to adventure, insight, and engagement
By going out and exploring the world, Le Corbusier ended up developing a career and body of work that left masterpieces around the globe. He became known as a "global starchitect" before the term existed. This, despite living in an age when a letter took two weeks to reach its recipient and travel across the Atlantic Ocean about 10 days.  So when German filmmaker Jan Rothstein set out to visit some of Corbu's projects in France, it was quite fitting that his mode of transportation was the bike. "We wanted to feel the physical distance of this 'pilgrimage,' the actual spatial distance between where these important projects were situated," Rothstein told me on Skype.
Accompanied by his architect boyfriend Matthias Hoffmann, who shares the filmmaker's interest in Corbu, they started at Ronchamp, heading west. Thus their itinerary focused mainly on projects from the 1950s and located in rural areas. That mid-20th century decade is considered by many to be Corbu's best. This was when his radical visions merged with his expressive sensibility and manifested in Ronchamp as well as such projects as the La Tourette Convent and Unite d'Habitacion. "The subtle way Corbusier gets the light into these late brutalist buildings is pure mastership," says Rothstein, "Nothing in these buildings is random, at the same time no element appears to be too dogmatic or strict."
---
More from Metropolis
---
Ground area at Unite d'Habitacion
In Marseille, while visiting Unite d'Habitacion, the two friends had a revealing chance encounter in an elevator. A 90-year-old woman engaged them in conversation, saying that she has lived there for six decades. When Matthias asked her if she found the building comfortable to live in, she replied, "I've been here for 60 years. How you think I like it?" She had, after all, spent two thirds of her life there and probably was one of the first inhabitants of the iconic building.  It was the type of personal, anecdotal architectural feedback that's only possible from being there.
Biking to reach these projects also gave Matthias and Jan an added layer to the experience. "It felt good to work physically for every building we wanted to visit, as well as the joy of first discovering it wherever it would materialize in the landscape. It was especially interesting to slowly see the building types change going from northern France to the Cote d'Azur, and how Corbusier would react to that typical architecture of a specific place or region," Jan commented.
Unite d'Habitacion Sports Hall featuring sculpture of Le Corbusier by Xavier Veilham
Such trips can offer pleasant and sometimes not so pleasant experiences. One disappointment (which did have a happy ending), happened when they arrived at the Cote d'Azur. Here their main goal was to see the famed Cabanon, Corbu's summer retreat in the village of Roquebrune. When they arrived, the partners found all the scheduled tour times fully booked for that week. They then inquired about seeing the Camping Units designed also by Corbu on the same property, but were told they were not available for visitation at that time. Finally they thought they would then visit Eileen Gray's E-1027 (all these properties are part of the same compound), only to find out that the house was under extensive renovations and closed to the public. Finally they found out that the cemetery where Corbu is buried (close by) was indeed open for visitation.  Although they ended up not seeing where the Modernist legend lived out his last days, they did see something even more personal, Corbu's design for his last and final dwelling – a trapezoidal cement volume that makes for a minimalist tombstone, laid on ground atop a hill with sweeping views of the Mediterranean below.
Looking back at the experience, Rothstein thinks of it as a "vacation package" that combined culture, gourmet experience—this was, after all, the French countryside and even a spa element (he lost close to six pounds with all the pedaling).
Roquebrune bay, Eileen Gray's E-1027 white building at centre, Cabanon next to it.
The highlight of the trip, of course, was getting a live look at the work (and life) of an architect who has fascinated Rothstein since childhood when he leafed through his father's book on modern architecture and read that odd name: Le Corbusier.
From that moment to standing up inside Ronchamp, was quite an arc, for both the architect and the filmmaker. Of first stepping in that most revered church, Rothstein had this to say: "It was very spiritual, but also a very physical, really a bodily experience, of heightened awareness of your physical presence in that setting, that realm."
Le Corbusier and his wife Yvonne's tombstone, frontal view, with Mediterrannean in the background.
This might sound like an obvious comment on a real lived experience. Yet as we live more and more our lives online, it is also a reminder that the wealth of knowledge available to us on the Internet is also limited.  As a friend puts it, we shortchange our experiential selves with "digital age of distraction." Our many instruments of connectivity are formidable tools, Yes, but reality, No.
All photos courtesy Jan Rothstein
Paul Clemence is an award-winning photographer whose work is part of many collections, including the Mies van der Rohe Archives and housed by MoMA, New York.  He exhibits both in the U.S. and on the international fine art circuit, from classic B & W prints to large scale photo installations. A published author, his work can also be seen in major design and lifestyle publications. His "Architecture Photography" Facebook page receives over half a million hits monthly.
Created with flickr slideshow.