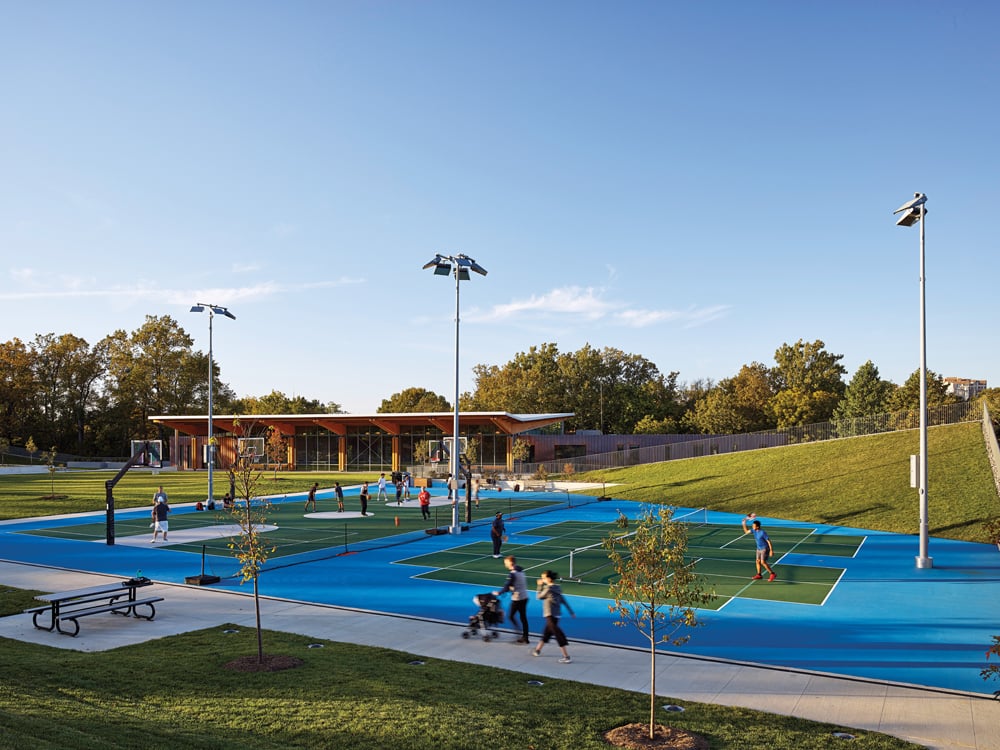 August 4, 2021
In Virginia, a Community Center Takes Cues from the Landscape
Nestled into a hillside, the Lubber Run Community Center was designed by VMDO to maximize park space and prevent runoff.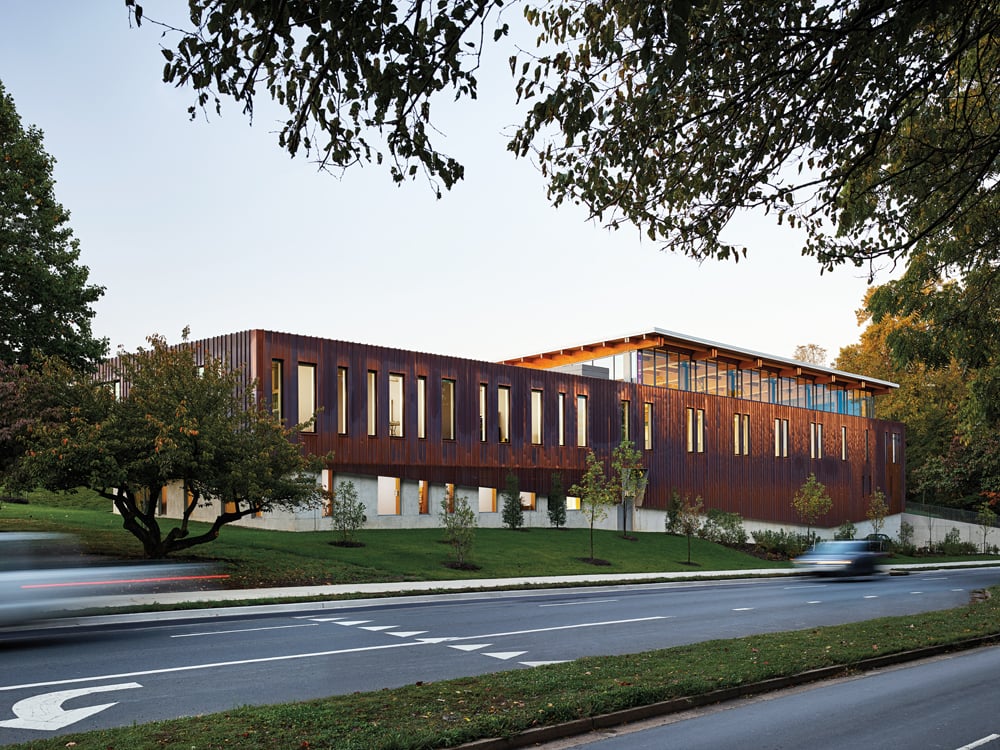 This is a story about a building, but it's also a story about a park, which flows into the building, driving the structure's design to an unusually high degree.
Located in Arlington, Virginia's Lubber Run Park—a public recreation area with walking trails and a gentle stream winding through a forest—the Lubber Run Community Center replaces an outdated building from the 1950s that was torn down in 2018. Designed by Virginia-based VMDO Architects, the new facility spans 55,000 square feet and two stories, one of which burrows into the landscape, solidifying the connection between the building and its environment.
In line with Arlington's commitment to environmental stewardship and community sustainability—which earned the county a LEED for Communities Platinum certificate in 2017—the new community center was conceived as a net-zero-energy facility. Accordingly, the project's low massing, energy-conserving envelope, and integrated relationship to the site all come together to provide an indoor-outdoor experience that shelters visitors without removing them from the experience of being in the park.
---
More from Metropolis
---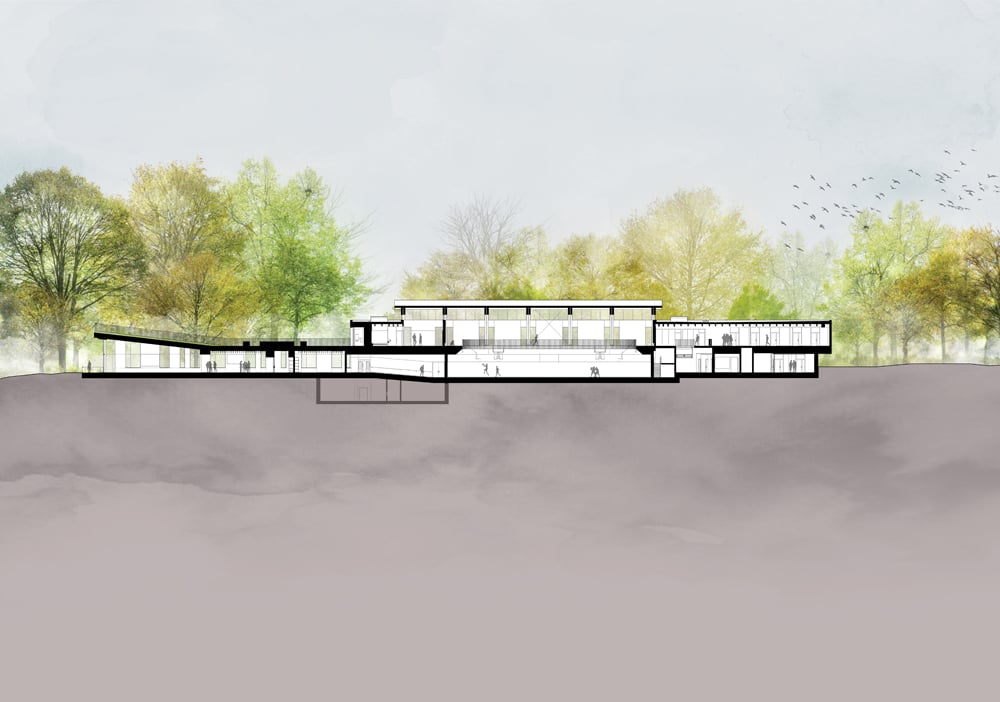 When VMDO was first called into the project, the Arlington County Department of Parks and Recreation's design brief was to leave the park untouched and build the community center to the side. That approach, however, didn't adequately integrate the building with nature, which the architects saw as a key factor in the building's ability to coexist with the park. "We didn't have a preconceived idea of what this would look like, but we did have a vision of what it should represent, which is a building that is park-first," says Andres Pacheco, project designer and a senior associate at VMDO.
The Lubber Run Community Center now boasts a range of fitness and recreation rooms, a gymnasium, and offices for Parks and Recreation staff. To let the park shine—and to create more room for outdoor amenities—the bottom half of the building, where the parking garage, a preschool, community meeting rooms, and the main reception area are located, lies below grade. Lubber Run's part-sunken design also allows for better accessibility with three different entrances—one from the garage, one from the park, and one from the street.
The building itself appears to be in tune with nature, which, according to VMDO principal Joe Celentano, is an important step toward a net-zero certification. But as Nina Comiskey, architect and job captain at VMDO, puts it, "getting to net zero is a process; it's a thousand little things."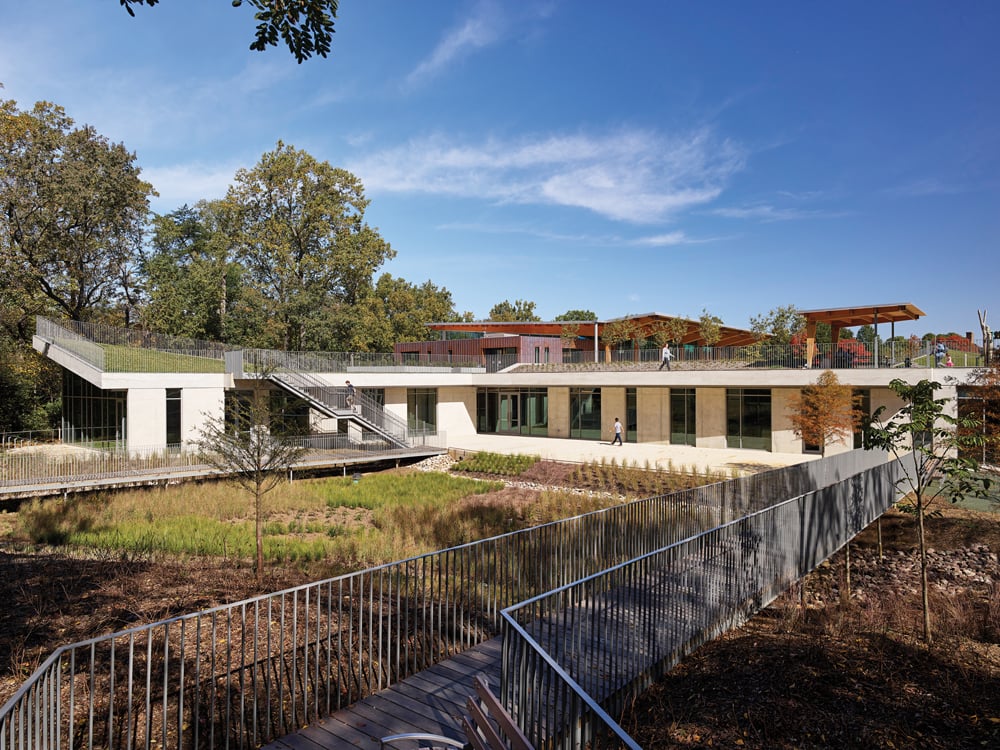 The center is articulated around three main materials: concrete for the plinth, a glue-laminated wood structure that reduces the project's carbon footprint, and copper cladding that will develop a patina over time. The type of concrete used plays a big role in the building's quest for net zero: For the first time, VMDO used Thermawall—a concrete sandwich wall technology that maximizes energy efficiency, durability, and performance while reducing the number of different components. "It provides the envelope, the structure, and it provides the finishes—it's very primal in that way," says Celentano.
In an effort to promote transparency, the architects developed a context-specific community engagement process involving a series of public workshops. Celentano recalls one resident's concern about the building's impact on the adjacent stream. "The idea of protecting nature in a sustainable way was how it all came together," he says.
Lubber Run features a stormwater harvesting system and a biofiltration garden that helps control stormwater before draining it to a filtering facility. The Federal Emergency Management Agency calculates that a "hundred-year flood" will bring 12 feet of water to the north end of Lubber Run Park, where the community center sits.
Located on a hill above the stream, Lubber Run isn't at risk, "but what happens in our building is going to affect the flood levels below, so that's what informed retaining water on the site," says Comiskey. The building's biofiltration garden retains stormwater to prevent the stream from becoming overwhelmed, and slowly filters the water, releasing it back into the watershed over time. Pacheco points out that it wasn't just a matter of quantity. "It was important to keep the stream healthy, so the impact of this park, which is a building, is a positive impact."
So this is a story about a building, which is also a park, which is also a beloved community treasure. As Celentano puts it, "How can a building be more sustainable than a building that people love?"
You may also enjoy "David Hartt's A Colored Garden Is In Full Bloom at The Glass House"
Would you like to comment on this article? Send your thoughts to: [email protected]
---
Register here for Metropolis's Think Tank Thursdays and hear what leading firms across North America are thinking and working on today.