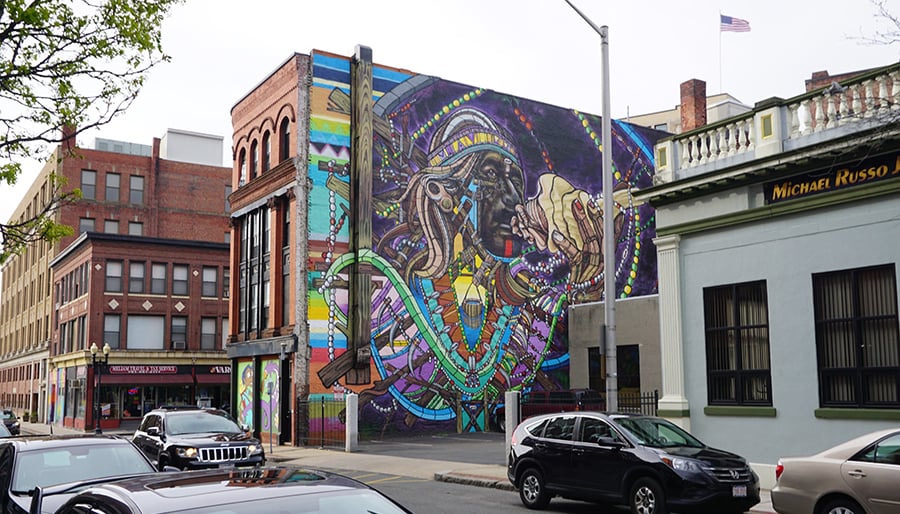 June 13, 2019
In Lynn, Massachusetts, a Public Art and Lighting Initiative Enlivens a Former Industrial City Center
The city's expansive downtown installation comprises 42 large-scale murals by renowned street artists, underpass lighting, and 11 refurbished vintage neon signs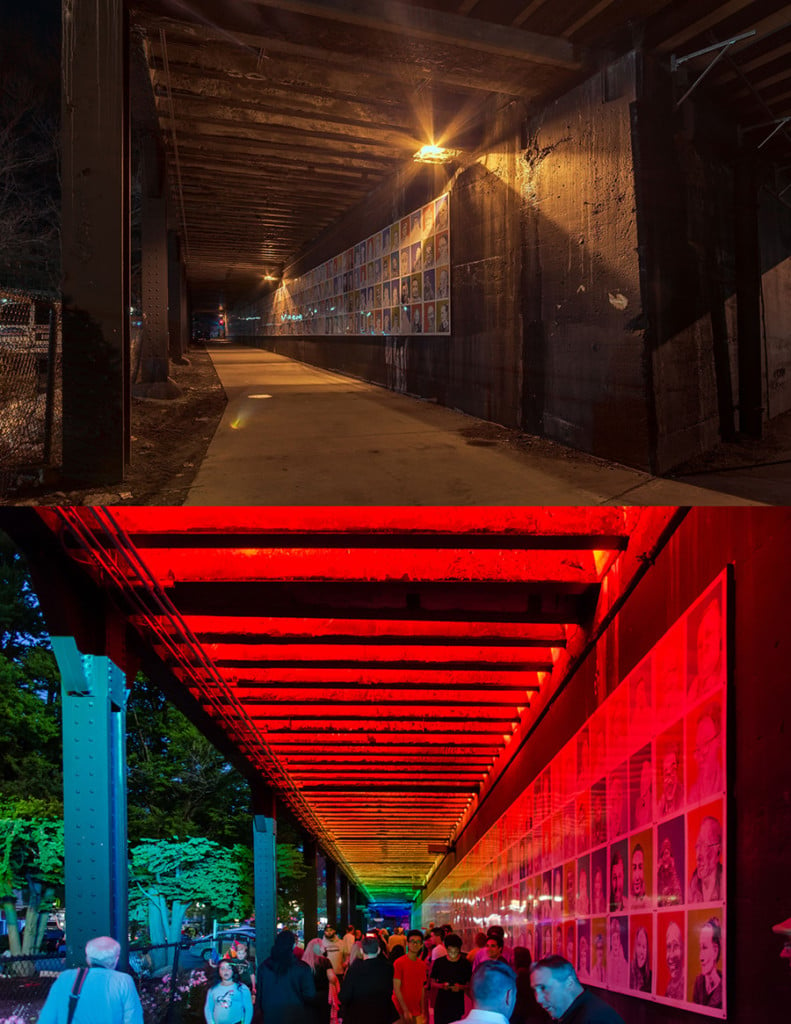 ---
Metropolis has partnered with the Rudy Bruner Award for Urban Excellence (RBA) to showcase the program's five finalists for 2019 Gold and Silver Medals, which will be announced in June. RBA director Anne-Marie Lubenau is the author of this series.
Located just north of Boston on the Atlantic Ocean, Lynn, Massachusetts, was once a thriving manufacturing center. Dubbed the "shoe-making capital of the world" in 1885, the city attracted immigrants who worked in its tanneries, shoe factories, and early electric industries. However, like other post-industrial urban areas, Lynn struggled as production began to decline after World War II and eventually moved elsewhere.
Now, as regional growth fuels investment in surrounding communities, the city, a 10-minute commuter rail ride from Boston, is experiencing renewed interest and development. Its downtown was one of the first in the state to be designated an arts and cultural district, and in 2014, Lynn was named one of ten pilots in MassDevelopment's Transformative Development Initiative (TDI), which engaged the community in planning to increase vibrancy and economic development downtown.
---
More from Metropolis
---
Inspired by these initiatives and mural programs in other cities, Al Wilson started Beyond Walls in 2016 as a volunteer effort to reactivate downtown Lynn through public art installations. Now an independent 501(c)3 nonprofit, the organization has produced two citywide mural festivals, creating 42 large-scale murals by renowned local and international street artists, along with 11 vintage neon sign installations and creative lighting displays under three commuter rail underpasses.
The initiative is generating widespread interest, fueled by special events and tours. The 2017 festival attracted more than 5,000 visitors and 4.5 million social media impressions, prompting other organizations in the region to engage Beyond Walls for similar art installations in their own communities.
The approximately $913,000 project was made possible through significant philanthropic, corporate, and in-kind support from organizations including the Barr Foundation, local building trades, and pro-bono lighting design and installation services from Payette, Lam Partners, and Port Lighting Systems.
Beyond Walls is currently expanding its work into public space development. In 2019, the organization plans to launch four downtown "parklets" and develop a new concert venue on three acres of open space on the city's waterfront.
"There is now a sustained downtown energy of visitors taking in these pieces as well as residents rediscovering their own backyard through art experiences. Ultimately, this has led to a change in public perception to view Lynn in a more favorable light," said Joseph Mulligan, TDI Fellow at MassDevelopment.
You may also enjoy "In Houston, a Resilient Public Greenspace Reconnects "the Bayou City" to the Neglected Waterway Where It Was Founded."
Would you like to comment on this article? Send your thoughts to: [email protected]