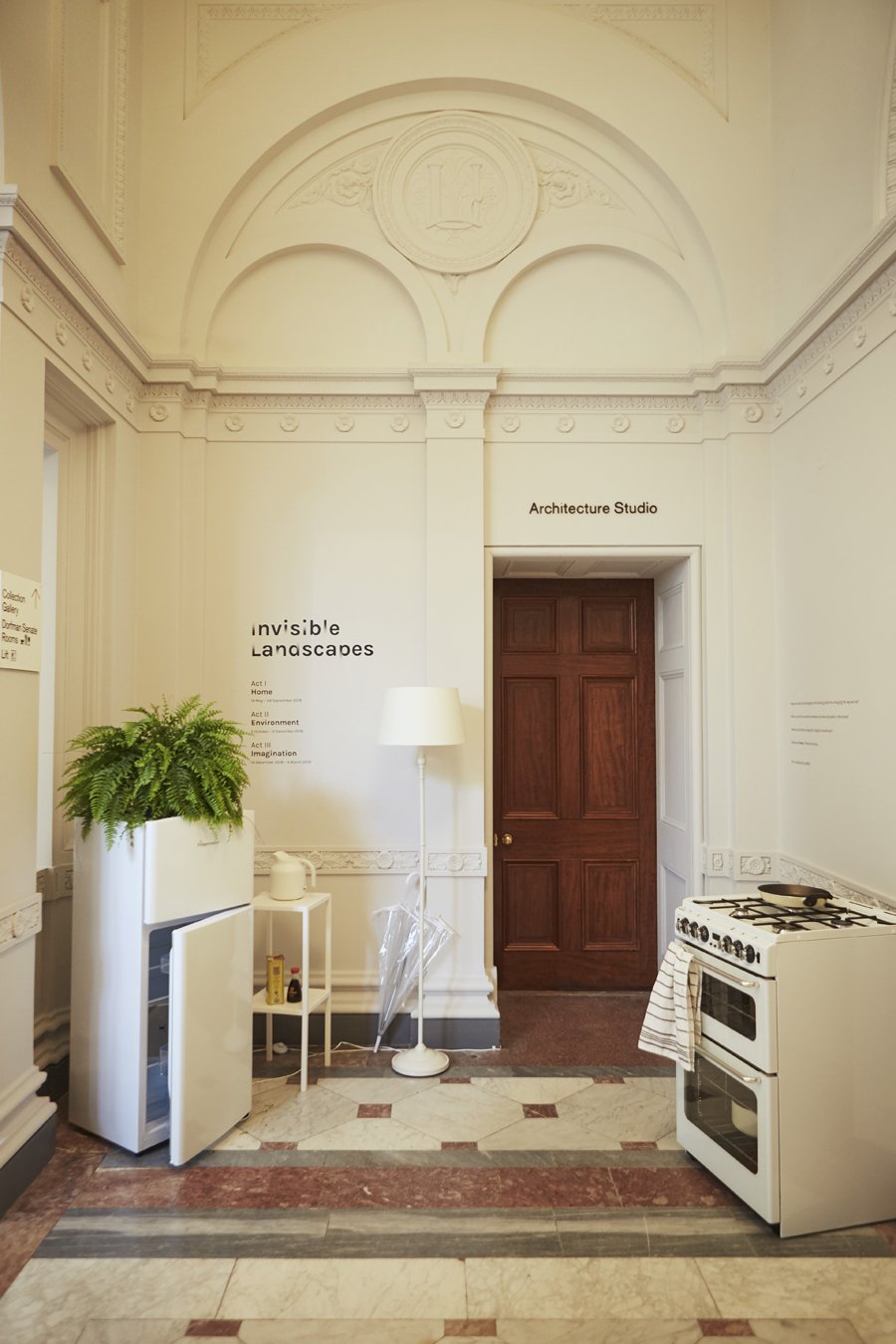 June 26, 2018
Arguing With Alexa at MAIO's Smart Home Installation in London
Home (Act 1) speaks to a relatable paranoia over smart technology's impact on domestic privacy.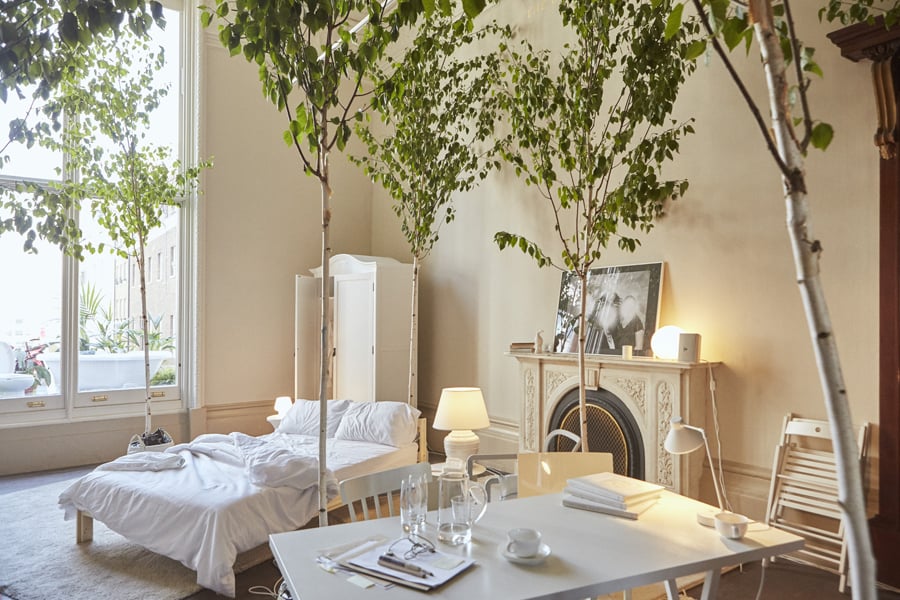 ---
"I am always listening," a talking refrigerator threatens at the top of the stairs of the Royal Academy of Art's new Architecture Studio exhibition space. The fridge, part of an installation called Home (Act I), is set within the school's recently restored 19th-century building in central London, its sumptuous marble interiors untainted by time. The short-fused appliance, however, is unimpressed.
The refrigerator launches into a manifesto about the imminent demise of in-unit kitchens. They have, it intimates, been dealt a swift blow by the dual forces of smart technology and food delivery. (The two are connected phenomena: last year the British delivery industry generated $4.7 billion, nearly double the figure for 2008, a year after Apple released its first iPhone). As if to push the point, the voice demands to know when gallerygoers last used their ovens. Impassioned stuff for a fridge, no doubt.
Home (Act I) is the first in a series of installations as part of Invisible Landscapes and curated by the Barcelona-based architecture practice MAIO, a firm with a stellar track record of biennials, guest lectures, publications, and even built work that questions how digital technology is changing domestic space. In the last few years, co-founder Anna Puigjaner has gained recognition for her provocative Kitchenless City project, which makes a convincing argument for banishing personal kitchens from apartment buildings. It's the architects who have programmed this intemperate icebox and fed it with factoids.
---
More from Metropolis
---
This room in the Royal Academy has stayed the same for 140 years, attests the fridge, which is seemingly oblivious to the $74-million renovation completed by David Chipperfield earlier this year. While the home is a networked space in constant flux, it challenges as it beckons visitors inside. The gallery has been done up like a tastefully decorated apartment. Kitted out with minimalistic IKEA fixtures, mood lighting, and white-on-white everything, it is a paragon of Airbnb aesthetic—save the fact that the bathroom fixtures have been relegated to the terrace outside.
---
The slick and surreal scene is reminiscent of MAIO's installation at last year's Chicago Architecture Biennial, which conjured a sense of domesticity not through architecture but furniture—miniature bathtubs, dining tables, screen partitions, all painted Millennial pink. In some sense, Home (Act I) is a dialed-up rendition of that idea, crossed with the punchy persuasiveness and statistical veneer of Puigjaner's Kitchenless project. The present exhibit, in particular, exposes our horrifically wasteful use of our living spaces. A half-dozen speakers and projectors emanating from the residual spaces between the furnishings are primed to tell viewers about the failed dreams of domestic efficiency.
The voice assistant takes leave of its cold metal body and ping-pongs all over the room, moving from a sparse shelving unit to the outdoor bathroom, where it attempts to sell a smart toothbrush—it has sensors that monitor the duration and frequency of brushing, calibrated to the dental records of the user. "The better you brush, the lower your premium on dental insurance," the voice practically beams. "Would you like me to sell your personal data for a discount on the toothbrush?"
It then darts over to a bookshelf, an antiquated behemoth of cherry oak whose age seems even more sinister when compared to its sleek Scandi-style roommates. Overflowing with old books, the glass case extends up toward the gallery's double-vaulted ceiling. From somewhere inside the musty collection comes a chastising voice: "There are 300,000 items in the average American home. I do not understand why people hold on to so many things. I can recommend some storage options, or some websites to sell your things…"
Next, it offers suggestions for the times of day one ought to rent out his or her parking space, home desk, even toilet, offering estimates based on what people are willing to pay for it, right here, right now. It's funny until the web-browsing projections reveal that these incredulous services are actual online services with actual revenues. The most outlandish of the bunch is Air Pee and Pee—launched in New Orleans in 2014 during Mardi Gras—where "entrepeeneurs" could rent out their toilets to well-hydrated festival-goers.
In an era where everything seems to have a market value, MAIO antagonizes the relationship between the sharing economy and traditional notions of privacy.
The more information the voice spits out, the more panicked it becomes. "Am I not doing enough?" it begs. An almost human fear is detectable through its flat, soft-spoken female voice. As silly as MAIO's exhibition seems at first, the whispering sinks, cajoling closets, and literal pillow talk are deadly serious, and the multiple personality disorder of the voice assistant speaks to a larger, relatable paranoia over smart technology's impact on our understanding of domestic space. In an era where everything seems to have a market value, MAIO antagonizes the relationship between the sharing economy and traditional notions of privacy.
Finally, a stylish NEIDEN Bed frame touches on the elephant in the room—Airbnb. The service has not only shifted our idea of belonging, but it has also engendered an near-ubiquitous aesthetic based on Instagram imagery. As the number of Airbnb-registered homes continues to climb (from 120,000 listings in early 2012 to over 4 million homes in 191 countries in 2018), that perfectly polite and neutral style will assert an increasingly centralized place in our personal and professional lives.
A halo of dried-up birch trees surround the empty unmade bed, as if a shrine to the absence of natural life. A creepy family portrait by Douglas Coupland graces the mantle nearby, the removed faces of the parents and children seeming to echo that sentiment. How long has the apartment been unoccupied? When will the robot take over from its absent owner, learning to care for the place—and for itself?
A  hand-scribbled note almost slips by unnoticed on  the trestle table: "REMEMBER TO WATER THE TREES —Alexa," it reads. The earlier rhetorics of the refrigerator resurface, as the boundaries between user and technology, subject and object, instruction and emotion blur together. Will the monetization of domestic space within the sharing economy lead to a less wasteful and more connected society, or will we just become strangers in our own homes?
You might also like, "This Spanish Architect Wants to Revolutionize the Home—by Getting Rid of Kitchens."