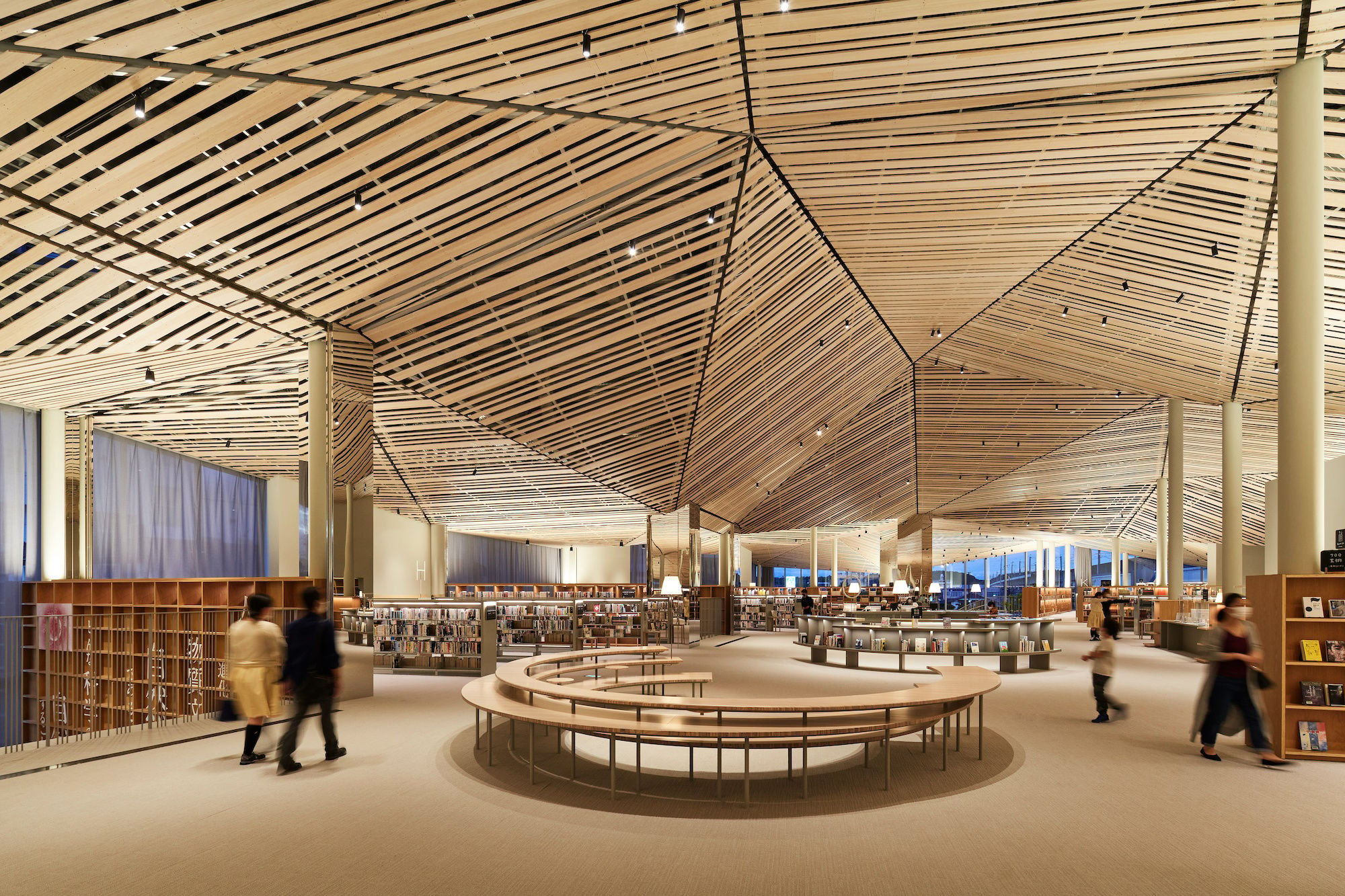 May 13, 2021
A Library in Japan Takes Design Cues from the Forest
Mari Ito's Nasushiobara City Library connects to the community through the building's facade and light-filled atria.
---
For Japanese architect Mari Ito, designing a new library in Nasushiobara, a city of 120,000 about 93 miles north of Tokyo, was very personal. Although based in Tokyo where her studio UAo is well known for design cues taken from nature, Ito was born in Nasushiobara and is well aware that its aging population needed a cultural and social hub.
The design of the two-story, 53,000-square-foot building was the winning entry of a recent competition and although the eye-catching geometric form in glass, metal, and timber may appear contemporary, it is nevertheless deeply rooted in tradition, with a roof inspired by local forests. At night, the glow from the softly lit semi-transparent glass facade recalls a traditional Japanese shoji lantern. During the day, 24 skylights heighten the dappled light effects inside.
Ito says she wanted "to create a warm and inviting public place that encourages people of all ages to meet."
---
More from Metropolis
---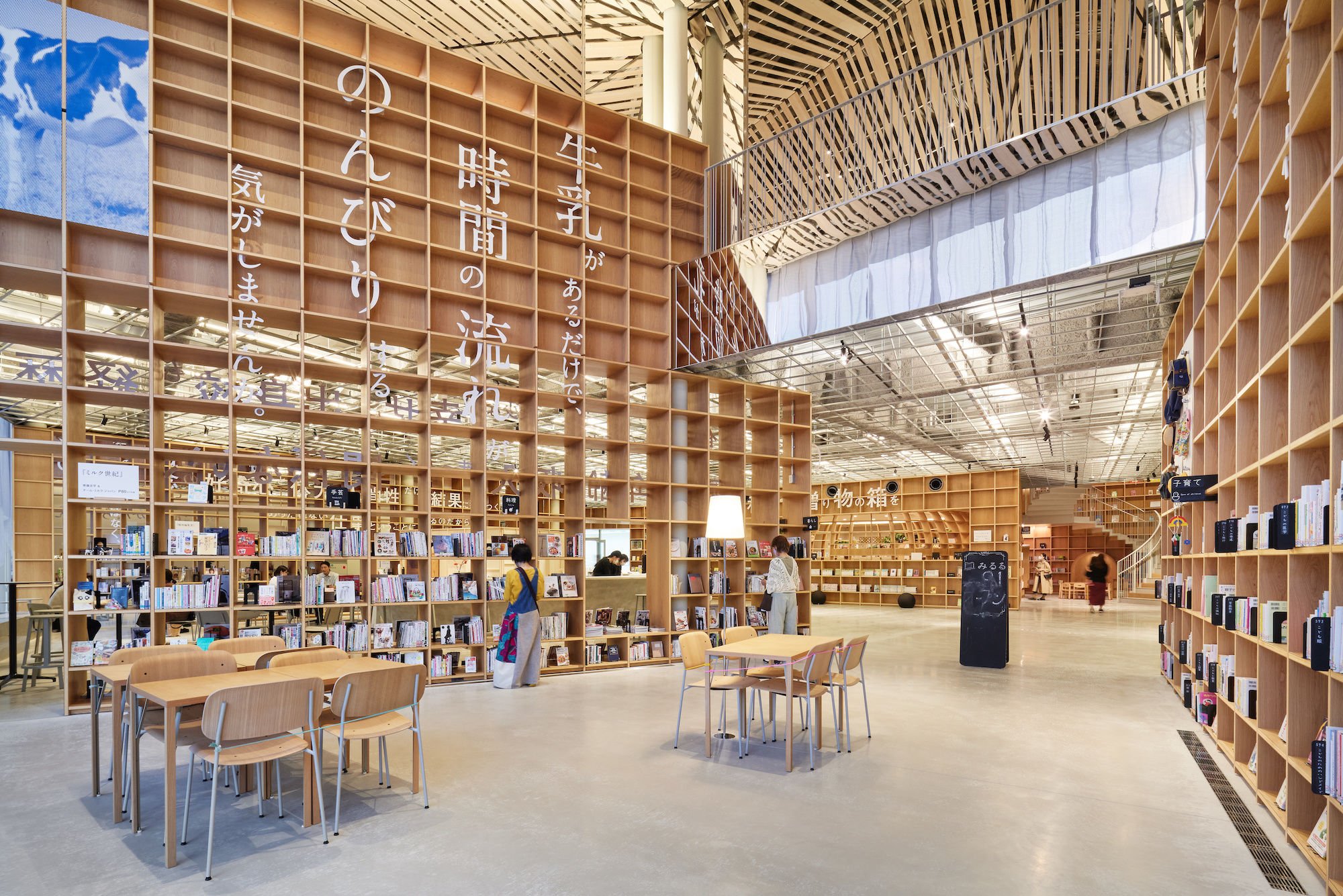 ---
The unusual polyhedral louvered roof is not just a bold architectural statement: it is specially designed to withstand seismic forces. Inside, its crisp angles create a distinctive light-filled forest-like landscape with atria for activities from reading to community events, which Ito describes as 'forest pockets'.
The 26 to 32-foot-high semi-transparent glass facade blends in and outdoors, so that the terrace, minimalist curved concrete bench and lush lawn allow activities to spill outside. Inside, trees including a dramatic five16-foot-high Ficus Benjamina reinforce the impression of a forest canopy.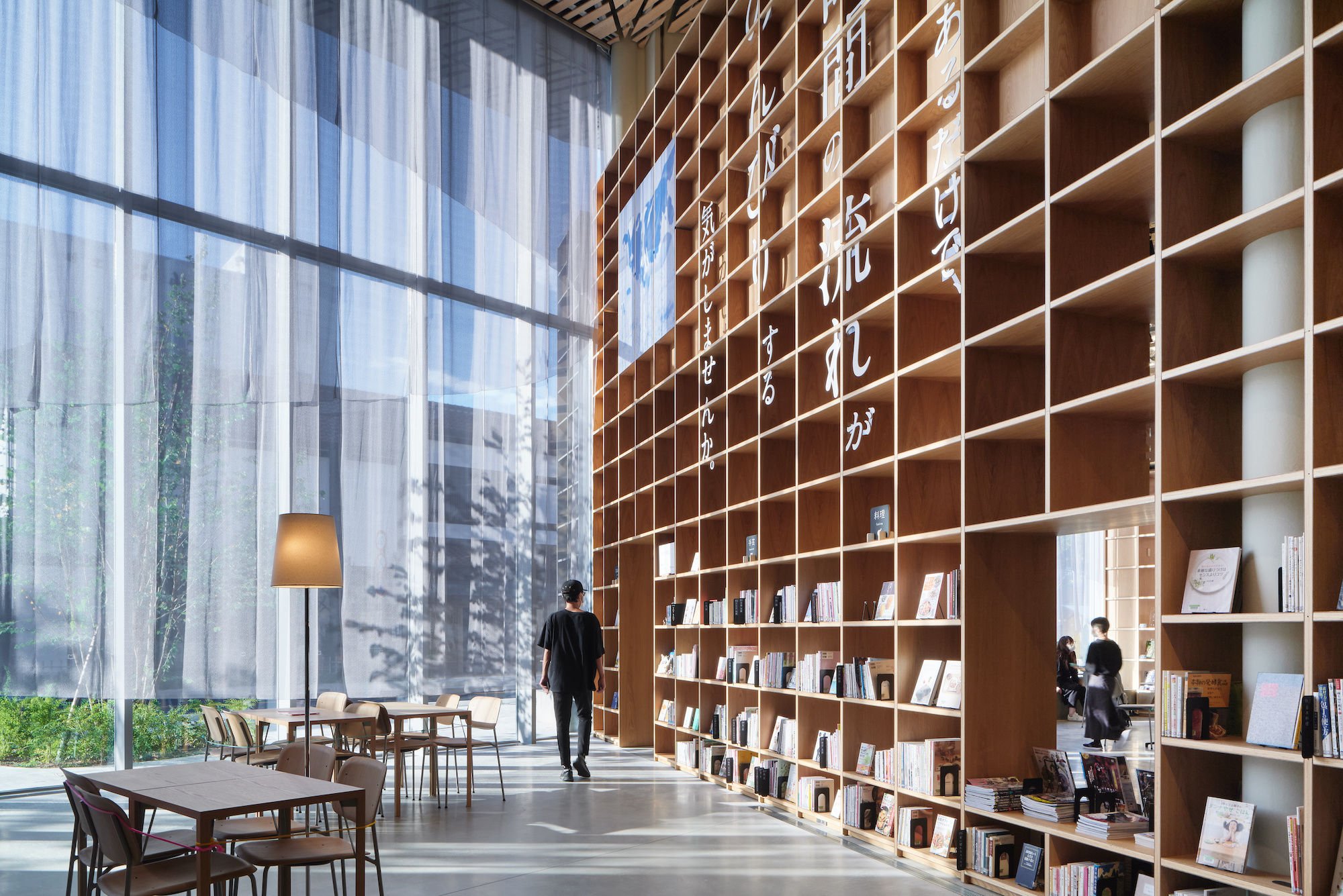 ---
Ito wanted to attract views deep into the interior of the library, where double height laminated oak book shelving partitions at a diagonal and slender columns minimize the boundary between the building and the surrounding neighborhood. Upstairs, shelves are arranged to mirror the pie charts used in the Japanese library classification system. The generous 23 by 19-inch compartments are large enough for books, and they also display art and local projects. The custom design furniture includes simple blocks and chairs in a natural tactile material palette that adds to the contemporary, yet cozy feel. Movement throughout the interiors is intuitive.
There are whimsical touches too. On one side of the building, for example, the bookshelves—rendered in galvanized steel in contrast to the oak inside—extend outside the facade onto the terrace, and there is an outdoor minimalist concrete hand basin.
"It all helps to activate a relationship between the city, the library, and the community through the building's facade," Ito explains.
You may also enjoy "Future100: Students Investigate Sacred Space"
Would you like to comment on this article? Send your thoughts to: [email protected]
---
Register here for Metropolis's Think Tank Thursdays and hear what leading firms across North America are thinking and working on today.