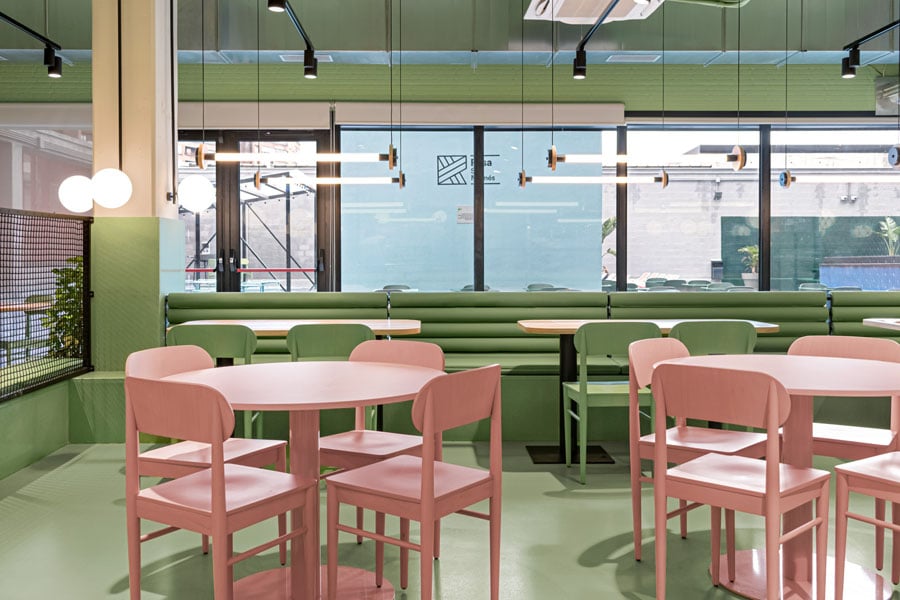 March 19, 2021
Masquespacio Creates Bold Student Housing Using Minimal Materials
For RESA Bilbao, the Valencia, Spain–based studio designed color-blocked communal spaces on a budget.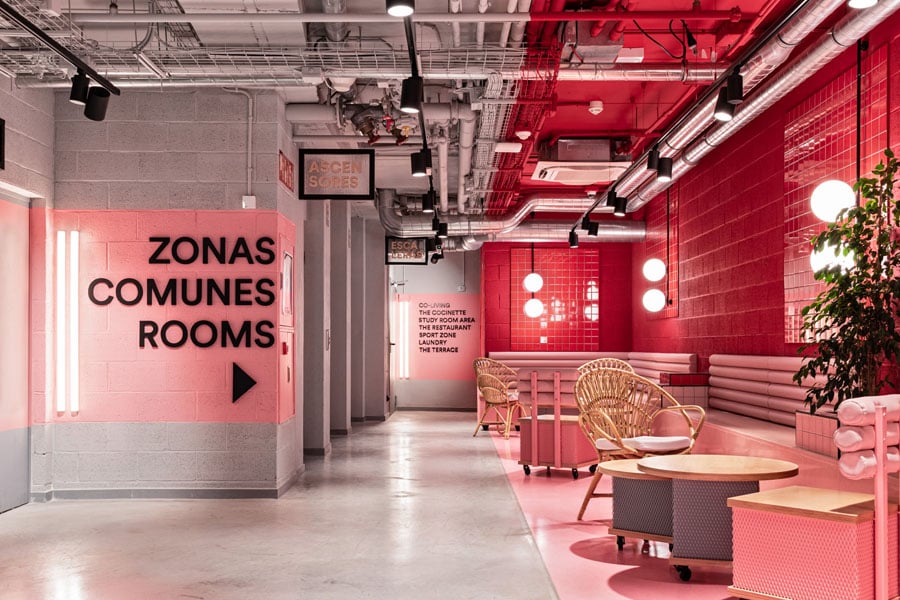 ---
Visible piping and brick, plus a bright, colorful palette were key to designing this cost-conscious student housing project in Bilbao, Spain. The brief? To create "a community for students where they could connect and where RESA, [Spain's largest student resident hall company] could develop a wide range of events for them," says Christophe Penasse, co-founder of the Valencia-based creative studio Masquespacio.
Masquespacio has worked on a slew of vibrant projects, ranging from restaurants to retail to furniture design, all of which showcase Penasse and his partner, Ana Milena Hernández's, propensity for color theory when conceptualizing unique, memorable spaces. The University Resa San Mamés project is no exception. That is why RESA looked to the Spanish firm when diving into a spatial identity for the development of its second location in Bilbao.
"It was clear that it was important to augment the possibilities for students to share experiences as a community in this new space," Penasse remarks.
---
More from Metropolis
---
Masquespacio was invited onto the project during the early construction phase in order to formulate reuse solutions from the demolition site. When selecting wall finishes, the designers opted to reuse existing bricks as well as the concrete flooring rather than installing additional materials for the ground-up construction of the new residence. By sticking with these durable materials and designing with an industrial aesthetic in mind, Masquespacio was able to maintain the project's tight budget.
---
"Instead of closing down the walls and ceilings with plasterboard, we decided to reuse construction materials and paint the open ceilings," he says. The contemporary design is then punctuated with contrasting cool and warm tones, including blues, lavender, golden yellow, and millennial pink.
The 20,000-square-foot plan challenged the designers to imagine individualized zones that remained physically connected with one another. The building has 351 dorms, plus areas for dining, socializing, and studying. The building also includes a reception, gym, outdoor terrace, laundry area, and open kitchen.
"Above some zones like the study rooms, there are flexible glass walls that can be closed to maintain the room or opened for events at any given moment," Penasse says. They also reduce noise. In the open kitchen, students can take cooking lessons and enjoy meals, while RESA regularly hosts events like game and movie nights.
Bespoke flexible furnishings, bright signage, and functional design yield an inviting space and a comfortable and joyful living experience.
You may also enjoy "Family Resemblance: Two Schools in France Deploy Similar Strategies for Divergent Contexts"
Would you like to comment on this article? Send your thoughts to: [email protected]
---
Register here for Metropolis's Think Tank Thursdays and hear what leading firms across North America are thinking and working on today.