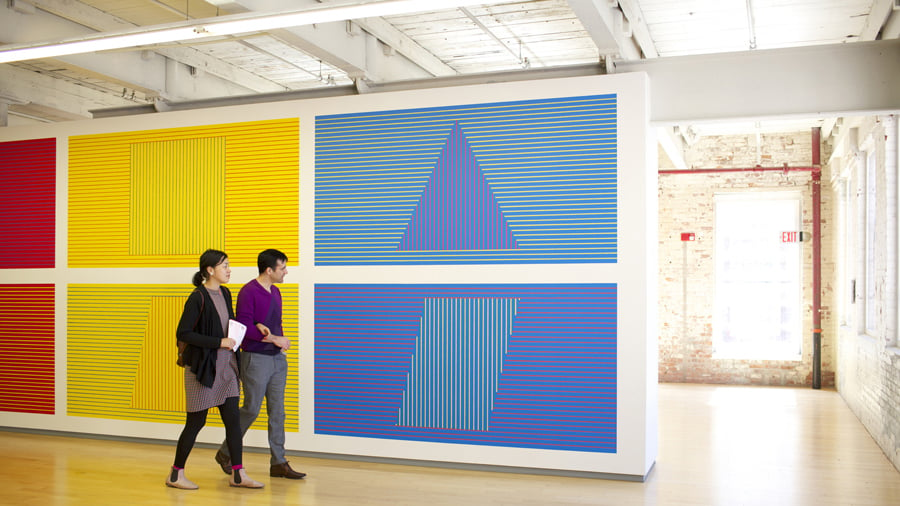 June 19, 2017
Mass MoCA's Latest Addition Gives Transformative Re-Use an Epic Stage
Building 6, Mass MoCA's new addition, may be epic in scale, but it's the architects' sensitivity to material and program that deserves your attention.
On May 28, when Building 6 became the third and largest phase in the 18-year life of the Massachusetts Museum of Contemporary Art (Mass MoCA), a curious crowd was milling through the restored central light well when singer Helga Davis appeared, casually stood on a stair, and filled the double-height hall with wordless, sustained tones of almost primeval beauty. "Rather than 'performing,'" she later reflected, "I was responding to the environment. This requires an active listening both to myself and to, say, the footsteps, the voices, any resonant sound in the space, after which I would begin to hear 'key' or 'pitch' in the way you would normally think of it." In those indelible moments, Davis's sensitivity echoed that of the museum's architects in their long, almost shockingly successful mission to convert an old electrics and textile plant to an international arts center in rural North Adams, Massachusetts.
A "Truly" Postmodern Transformation
Amid the excitement around the museum's epic growth spurt (150,000 new square feet, for a total of a quarter of a million) and curatorial triumphs, two kinds of artistry have been overlooked: the attention to detail brought to this spectacular industrial building fabric, and the ways in which it supports Mass MoCA's dynamic performing-arts program.
---
More from Metropolis
---
Architect Jason Forney, principal-in-charge on Building 6, has been involved with the property for 15 years—in fact, he joined Bruner/Cott & Associates largely because of the commission. Inspired by a trip to the museum in its infancy, he wanted to work with those, including founding principal Simeon Bruner and principal Henry Moss, who had designed its first phase. The Cambridge firm has specialized in what it calls transformative reuse since its first project, the then-countercultural Piano Craft lofts in Boston's South End (1974), and has recently renovated Brutalist works by Sert and Breuer. Moss, who, as "inspector to the fabric" in London, once restored such landmarks as the Church of St Martin-in-the-Fields, draws a Venn-like diagram between historic preservation and new construction. "Transformative reuse is in this wonderfully rich collision area for which the rules are all currently being established," he says. "And what I think is happening there now is the true postmodernism."
Building 6, Forney says, with its one-acre floorplates, "gives the human body a chance to experience scales we don't normally experience" in built form. "It's made up of hundreds of years of workmanship and labor and handmade bricks and milled timber—all the human energy that went into making this place—and you're kind of revealing it all at once by emptying it out on this scale."
Much of the material patina, possibly the richest in the complex, has been maintained, with wayward splotches of paint and mortar sealed on bricks and columns, and maple flooring salvaged and reused. "One of the things that we like to see happen is to acknowledge the hand or mind of the builder," says Forney, "so we sometimes ask the contractors to do things the way that they would do it." Results include discrete patterns of painted bricks that add quietly to the building's history. The light well, a former natural-light shaft from the days before electrification, had filled over the years with his-and-hers bathrooms, a closet, and other architectural clutter, each with its own interior paint color. Cleaned out, restored, and reborn as a skylit corridor, webbed with steel bridges and mottled with pastels, it now holds fantastical, full-scale section drawings of the building's former life.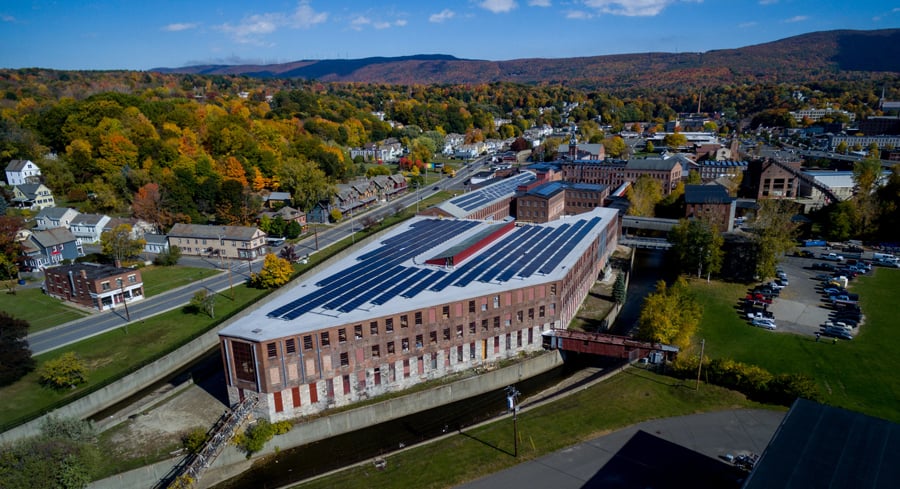 At Mass MoCA's western end, the rocket-shaped tip of Building 6 noses into a fork of the Hoosic River. Forney's most visible interventions are a double-height window and mezzanine here, forming a viewpoint from two floors and a turning point for the museum as a whole: With the opening of the adjoining Building 8, circulation is now a loop rather than a hairpin. The seating needs work—Allermuir's Conic chairs are a bit atomizing in this cavernous context—but the banquet table and industrial stools are a perfect fit; the space will be enjoyed.
To finish these interiors, Mass MoCA needs to break from the white box and paint, or encourage its artists to paint, more of its galleries. White is tired, expected, often unflattering. In Building 6, Louise Bourgeois's marble sculptures rest beautifully on rippled, creaking pine, weathered to a smoky espresso, that was salvaged from her gallery's subfloor. But from most angles, the backdrop to the rich white stone is white drywall. Considering how much work went into reinforcing the floor to support the show's 15-ton centerpiece, it's a shame that the walls don't do likewise.
Opening day revels brought out the building's natural advantages for music. Masonry construction, combined with the bisection of the plan by the light well, allows several performers to work in close quarters with little mixing of sound. Even the cheerful racket of the Gunnar Schonbeck "instrumentarium" is quickly left behind. The sensory effect is that of a good supermarket: abundant, not overwhelming. And now that the museum has unlocked several doors from the galleries into the courtyard, dancers and marching bands can, and do, move freely inside and out. Fluidity is crucial, says Mass MoCA director Joe Thompson, as "One of the goals of the expansion is to frankly help situate our commitment to the performing arts in a way that's much more dramatic and clear to our everyday museum visitors."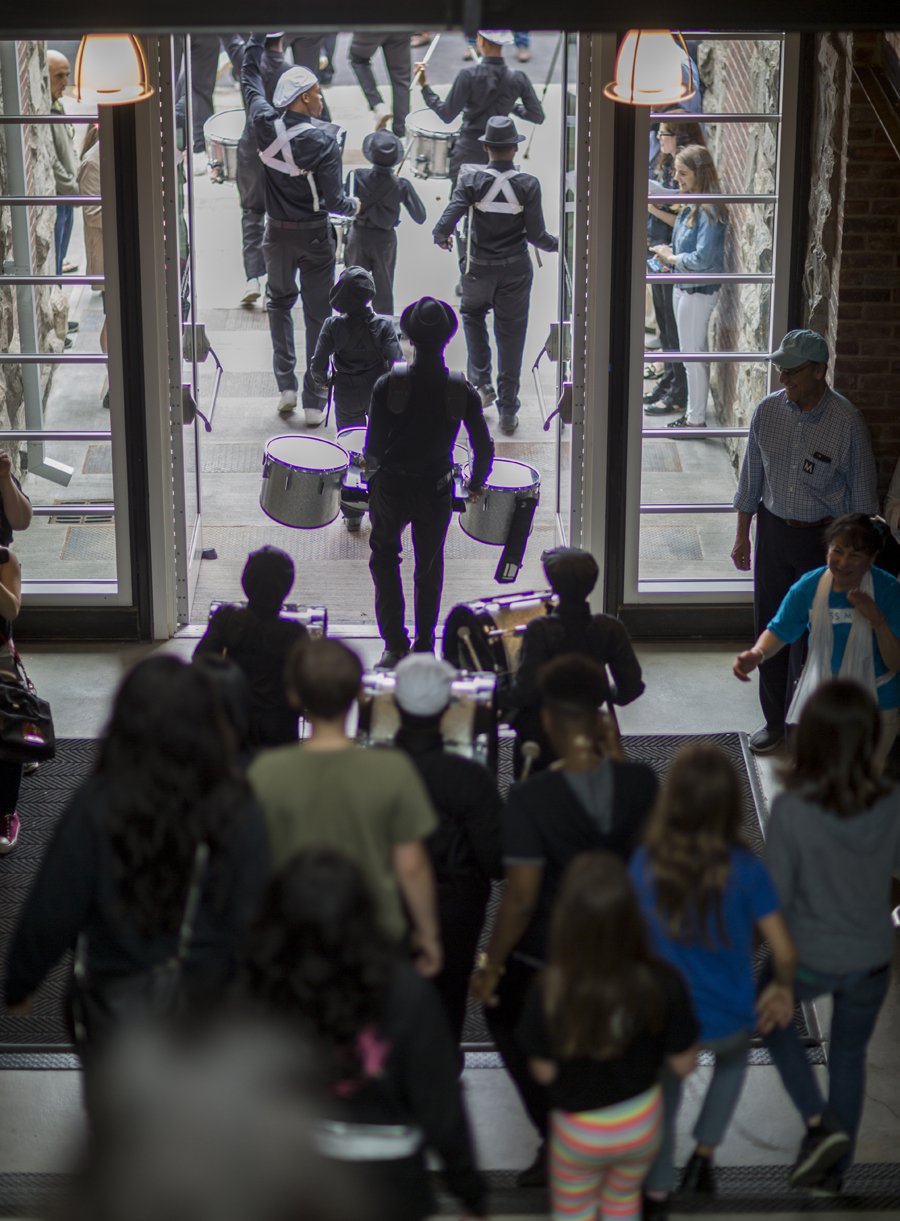 A Space to be "Taken"
Thompson, who has steered Mass MoCA since the late 1980s—when it was still a gleam in the eye of Thomas Krens, who then left to direct the Guggenheim Foundation—learned quickly that the performing arts were essential to building a year-round regional audience. Drawing philosophically on its tradition of giving artists lab space in the galleries, the museum likes to give musicians the run of the buildings. Fellows at the avant-garde Bang on a Can Summer Music Festival can perform daily in any gallery during peak season; likewise, says Thompson, for FreshGrass (progressive bluegrass and roots) and Wilco's Solid Sound music and comedy festival. "We just turn over the entire museum and say, 'Take me,' and they do." Works of sound art also animate quiet pockets, such as Julianne Swartz's haunting group vocal piece In Harmonicity/The Tonal Walkway, which plays continuously in the corrugated metal passage to the Sol LeWitt wall drawings in Building 7.
Mercifully, the museum does not push the word interactive, with its connotations of balky public iPads, but much of the new program does invite the movement or consciousness of the body. Even the James Turrell light installations have performative elements, inviting you to step up to a double-height wall of light and voluntarily lose your depth perception, or submerge yourself in darkness for 10 minutes to literally see what comes next. A recreation of Laurie Anderson's 1978 Handphone Table enables you to hear the "bone conduction" of sound through your person; behind the pitched glass walls of Anderson's acoustic studio, you can listen to the mixed-media "Five Pictured Songs" through headphones while reclining on a beanbag. Adjoining this space, visible through a window, is the artist's scarlet-walled mixing room, which she chose to light as a display in itself, detailed with half-drunk iced coffee.
The most audible new exhibit is the collection of Gunnar Schonbeck, the late Bennington professor who, with his students, designed and built more than 1,000 musical instruments out of found objects. Lovingly refurbished by area musicians, they now form a petting zoo. The appeal to children is obvious, but on opening day, a group of middle-aged adults pounded and danced around a plywood "sound tower" while an octogenarian woman in a red-sequined fedora banged on an exploding xylophone made of an air tank and truck springs. Late in the afternoon, Mark Stewart—the white-ponytailed Bang on a Can All-Star who helped conceive the show—gathered the crowd for some community-building vocal exercises, and somehow moved about 100 strangers from random dissonance to a single note within a minute, without saying a word. Such stagecraft won't happen every day—but it warms the house, imbuing the space with memory. Many will return because of it.
Mass MoCA sits at the crux of its own tri-state area: Massachusetts, Vermont, and New York. Economic redevelopment in North Adams is an unfinished business, but the day Building 6 opened, with free admission for residents, more than 12,000 people showed up. About 7,000 toured the galleries; the rest came for the Cake concert on Joe's Field. At a cultural moment when the geography of "the real America" is in question, it might just reside in places like this: an historic mill with an experimental mind, brushed up against green hills, where urban, suburban, and small-town dwellers can all find their own way in.