August 14, 2019
An Italian Architect Designs a Surreal Alpine House for His Family
Stefan Rier, cofounder of Network of Architecture (noa*), devised a traditional exterior that conceals a whimsical and voluminous interior.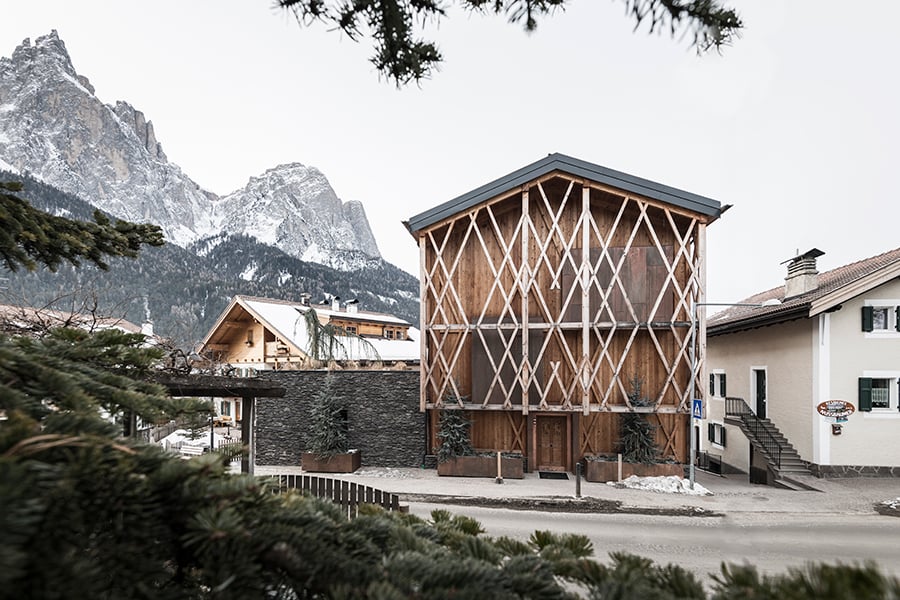 ---
A native of Siusi allo Sciliar in the Italian Alps, architect Stefan Rier became his own client when he designed his own house in the same village where he was born and raised. The dwelling's architecture alternates between a modernity and the regional vernacular: From the street, it is a three-story, barn-like structure with a larch exterior that's distinctively alpine while being sculptural and graphic as well. Inside it departs from local tradition entirely.
Rier's Bolzano, Italy–based noa* team designed interiors that alternate between cozy and intimate—for example, the low-ceilinged kitchen opens to a lofty dining and living room, which his furnished with a long table for entertaining and beholding expansive alpine views.
Moving upward, the house's "rooms" take the form of stacked and staggered boxes. The three bedrooms are suspended from the house's exposed wooden beam structure (some 39 feet overhead) and float in the house's generous 39,000-cubic-foot volume.
---
More from Metropolis
---
The house's theatrical decor consists of heavy, stage curtain–like blue dividers that establish various intimate vignettes, obviating the need for walls. This theatrical character is quite surreal—apt since the project has been a longtime dream for Rier: "I spent a lot of my childhood playing in barns, climbing up high in the haylofts and then throwing myself down into the hay. That feeling of the large spaces, jumping down from up high, was the source of my inspiration for building this house. Perhaps if I had not had that experience, I would never have come to design this house at all."
You may also enjoy "In Banff, a Renovation Helps an Artists' Residences Complex Return to Nature."
Would you like to comment on this article? Send your thoughts to: [email protected]