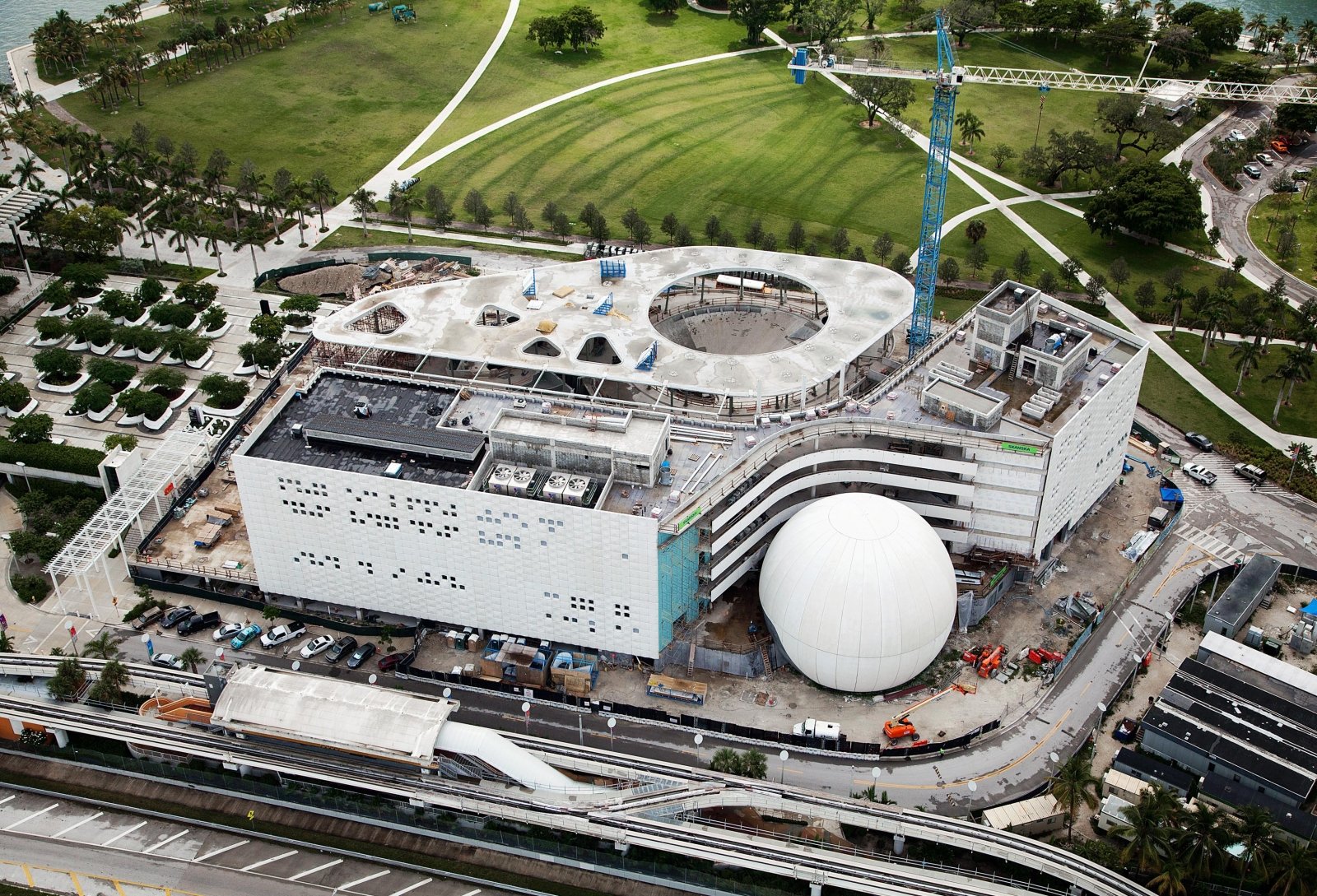 December 7, 2015
Miami's New Science Museum Will Feature the World's Most Cutting-Edge Planetarium
When it is completed next summer, the Patricia and Phillip Frost Museum of Science in Miami will feature the world's most cutting-edge planetarium.
The Patricia and Phillip Frost Museum of Science, under construction in Miami
All images courtesy Patricia and Phillip frost Museum of Science
No one driving on busy Biscayne Boulevard or the MacArthur Causeway could possibly miss it—it looks as if Darth Vader landed his Death Star in downtown Miami. The stark white, 78-foot-tall concrete orb is the planetarium at the under-construction Patricia and Phillip Frost Museum of Science, a 250,000-square-foot, $300 million destination set to open in the city's waterfront Museum Park next summer. "By the time we open we'll be the most cutting-edge planetarium in the world," boasts Dr. Jorge Perez-Gallego, astrophysicist and exhibition developer at the museum. It's an awe-inspiring structure, but not the museum's only engineering marvel.
The building, as conceived by Grimshaw Architects, has four parts that connect via open-air walkways and terraces—the planetarium, the exhibition galleries, an Innovation Center that will house inventors-in-residence, and the Living Core, a showcase of four South Florida ecosystems.
---
More from Metropolis
---
The heart of the Living Core will be the three-story aquarium, shaped like the cone of a martini glass ("Very Miami," Perez-Gallego quips) and filled with water from the adjacent Biscayne Bay. Last December, construction crews led by Skanska USA and Hill International worked nonstop for almost 25 hours on the aquarium's walls, pouring in 120 truckloads of concrete.
Now the aquarium faces its next challenge. The tip of the cone is truncated in a glass oculus, which will allow visitors below to look up and see hammerhead sharks and tuna swimming overhead. But that disc, which is being custom-made in Rome, cannot be fitted in until just before the aquarium is filled, because the weight of the 500,000 gallons will hold the glass in place. "When we are ready, the glass will be put in a shipping container and brought over to the bay here," Perez-Gallego says. "Then we will probably have to shut down the highway, bring it here, and put it in from the top."
It's sure to be a great spectacle—something the museum is going to specialize in, especially with that giant orb, which will be used as a surface for visuals beamed by high-resolution, refrigerator-size projectors. "We're gonna be able to turn it into the earth," claims the astrophysicist, as well as "into Mars, into a brain."
The museum is adjacent to the Pérez Art Museum Miami, designed by the architects Herzog & de Meuron.
A rendering of the planetarium, with external projection.
The glass oculus of a three-story aquarium is being custom-made in Rome.