March 18, 2021
Austin Micro-Home is a Guiding Light for a Ground-breaking Community
The city's top architects were tapped to create homes for Community First!, a master planned village designed for Austin's unhoused population.
---
Michael Hsu Office of Architecture immediately understood the impact of getting involved with Tiny Victories 2.0, a design competition held in 2019 for Phase Two of East Austin's Community First! Village, a 51-acre community built for those transitioning out of homelessness. "It was a chance for us to work with someone who was not the usual audience for architecture," remarks architect Michael Hsu. "We believe architecture should serve everyone, and too often it is for commercial audiences or those who can afford the expenses it entails."
The community, which includes 100 RV/Park Homes and 130 micro homes designed during Phase One, aimed to add more than 200 additional micro-homes during Phase Two. Five local firms were brought on for unique designs that would provide an "interesting mixture of typologies across the new site," according to Hsu, including McKinney York Architects, Jobe Corral Architects, THOUGHTBARN, and Chioco Design. In lieu of executing a top-down solution, architects were chosen not solely for past residential projects but instead for their principles and morals, commitment to a collaborative design process, alignment with the Community First! Village mission, and previous experience working with vulnerable populations.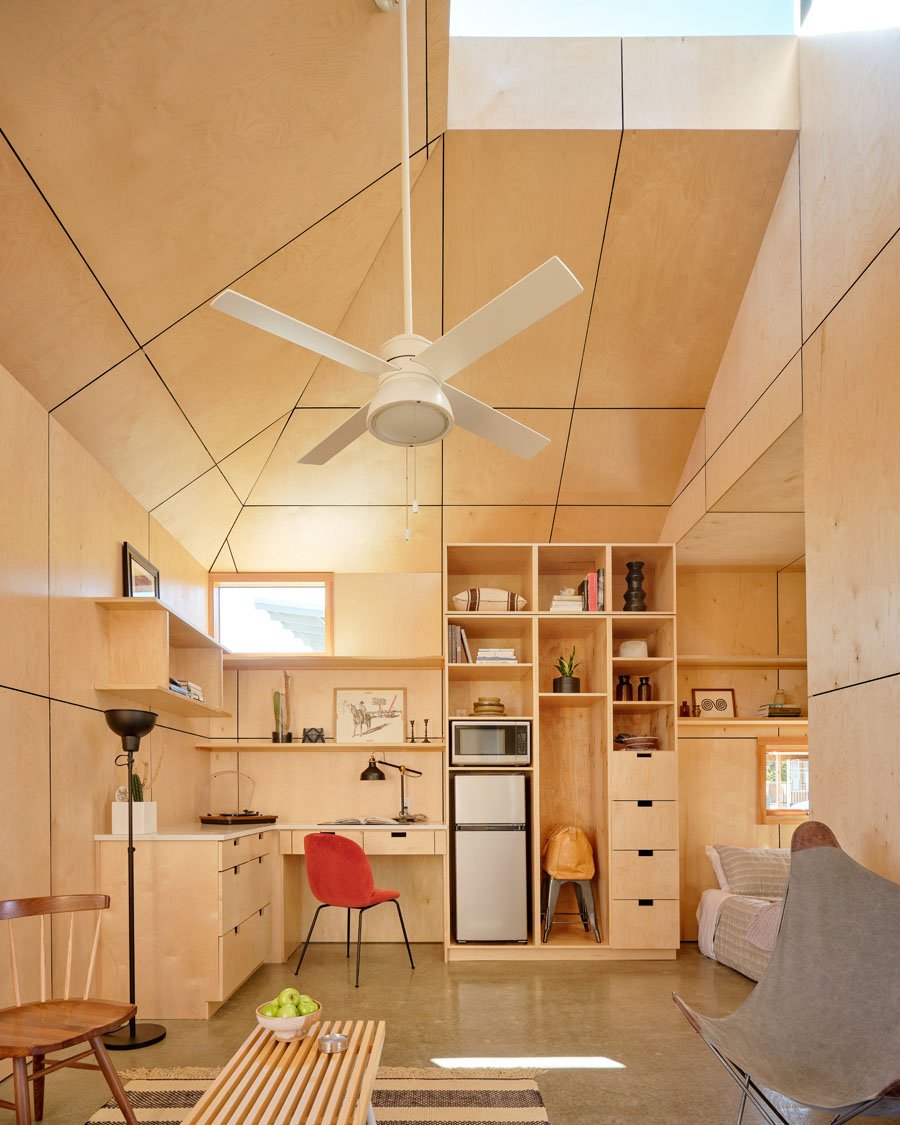 ---
What does it mean to be a good neighbor? In January 2019, the teams stayed the night at the village, meeting with residents and learning the way of life in order to glean insight from the first-hand experience. For the Michael Hsu team and their building partner, Risinger Build, that first meeting consisted of talking with their seed neighbor, a resident who lived in Phase One and volunteered to move to Phase Two in order to aid the architects and builders and welcome new residents. While AIA Austin DesignVoice provided the original brief—maximum interior living space of 200 square feet with air conditioning, no plumbing, and a covered exterior porch—it was the seed neighbors who acted as the clients.
---
More from Metropolis
---
"We approached it with a learner mindset," says Michael Hsu project designer Nkiru Mokwe Gelles. Richard, their seed neighbor, wanted separate sleeping and living areas, but with only 200 square feet, that was a challenge. Fourteen-foot lofted ceilings gave way to a more intimate bedroom nook, and Richard was given a virtual reality experience before construction began. "We wanted him to have the same experience as any other client would have," she says.
---
While small in composure, the designers wanted the home to be an iconic piece of architecture "that would mark its place," Hsu says. Their design, featuring a sloped roof, an open porch separate from the main structure, plywood interior, concrete floor, exterior cement paneling, and plenty of built-ins, is simple, yet intentional. A glass cupola allows natural light to pour into the building throughout the day and marks the home's place amid the other buildings in the field. "You can see the cupola illuminated at night. It's a way of connecting with the rest of the village," Gelles concludes.
For residents, Community First! Village offers safety, shared resources including communal kitchens, laundry and restroom facilities, plus walking trails, a cinema, a woodworking studio, and more, and has been viewed as an invaluable addition to the City of Austin and a sustainable model for combatting homelessness.
You may also enjoy "The New Betsy Head Park is an Accessible, Pandemic-Friendly Retreat for Brooklynites"
Would you like to comment on this article? Send your thoughts to: [email protected]
---
Register here for Metropolis's Think Tank Thursdays and hear what leading firms across North America are thinking and working on today.