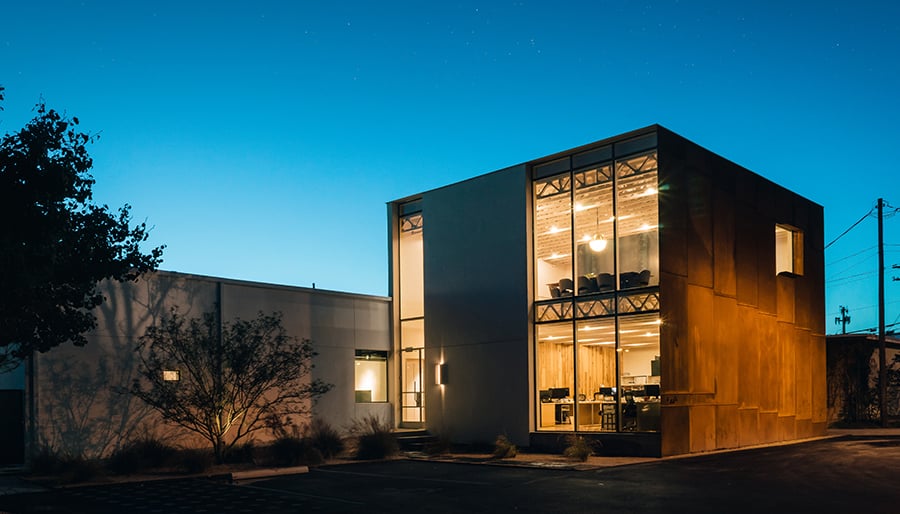 March 20, 2019
Architect Michael Hsu Keeps Design Weird and Wonderful in Austin, Texas
His firm, founded in 2005, puts a Texan spin on sophisticated designs that range from mixed-use condos to offices and hotels.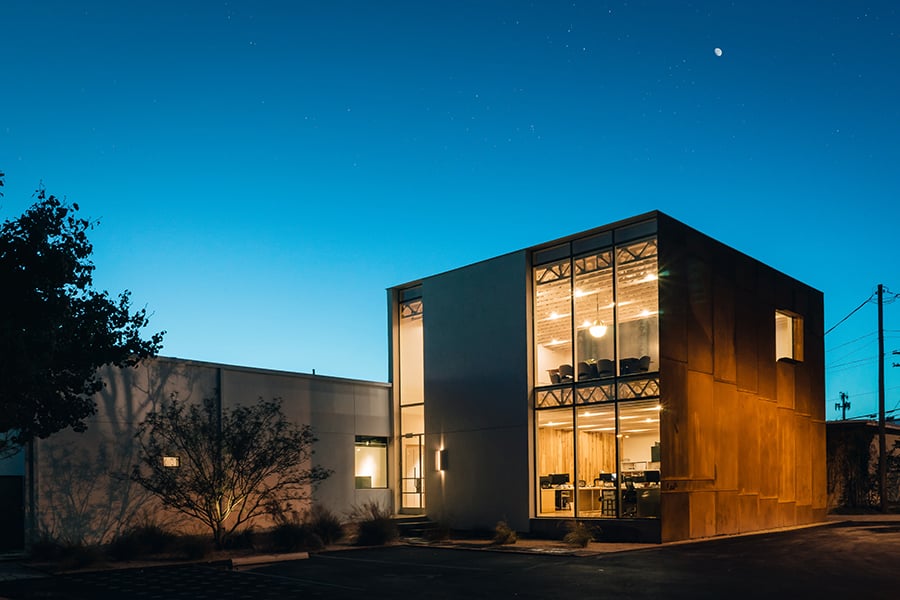 ---
It's fitting that the architect Michael Hsu's big break came through a restaurant: Both of his parents owned and worked in eateries in the U.S. and Taiwan. Hsu's mom, a classically trained chef, had owned a noodle shop in Taiwan, and when the family moved to Houston, Hsu spent time at the restaurant she worked in there. In 1988, he moved to Austin to study engineering at the University of Texas, but upon finding his roommate's architecture work more interesting, he switched majors.
Hsu cut his teeth at OMA's Rotterdam office, where he worked for a year, and by the mid-1990s was working with the late Dick Clark, then Austin's most prominent architect, who had helped define the city's rustic Modernism. While at the firm, Hsu led the design of Uchi, the celebrated restaurant helmed by chef Tyson Cole, which blended a South Austin dance-hall aesthetic with Japanese farmhouse references, including charred woods and traditional joinery.
Thanks to Uchi's success, in 2005 Hsu founded his eponymous firm, which puts a Texan spin on sophisticated designs—like Loro, another restaurant led by Cole. Michael Hsu Office of Architecture (MHOA) has since expanded, taking on larger projects, from mixed-use condos to its own studio building, which houses 45 staffers. In that time, Hsu has become known for warm, welcoming spaces that simultaneously maintain a scruffiness and individualism that can only be described as Texan. And his interest in the local is more than just aesthetic; Hsu's projects feature work by Austin-area artisans and craftspeople, as well as custom pieces done in-house by the firm's interior design team.
---
More from Metropolis
---
---
Along the way, Hsu has solidified his philosophy that good design should be democratic. Inevitably, to create inviting spaces—ideally ones, Hsu feels, that connect people to nature—is also to contribute to a city's culture. This awareness drives Hsu to include civic-minded design even within private developments, as he did for the block-long South Congress Hotel, completed in 2015. Situated along the busy SoCo corridor, the complex offers spaces to guests and the public alike, including a courtyard, café, coffee shop, fine dining restaurant, and lobby with ample seating. "If you're going to take up a whole city block, it's irresponsible to just turn it into a hotel or a condo building," says Hsu.
Last year, MHOA designed a different kind of space beyond the city: an amenity center for residents of Wolf Ranch, a development outside Austin. Despite its setting, the center at Wolf Ranch embodies the firm's generous, community-minded spirit, with full-height windows that look out on sweeping views of the Texas Hill Country, and layered earthen walls that are built with lifts of sandy soil. The exposed beams and wide, shaded patios play off the old Austin vernacular and the organic materials found in the landscape around it.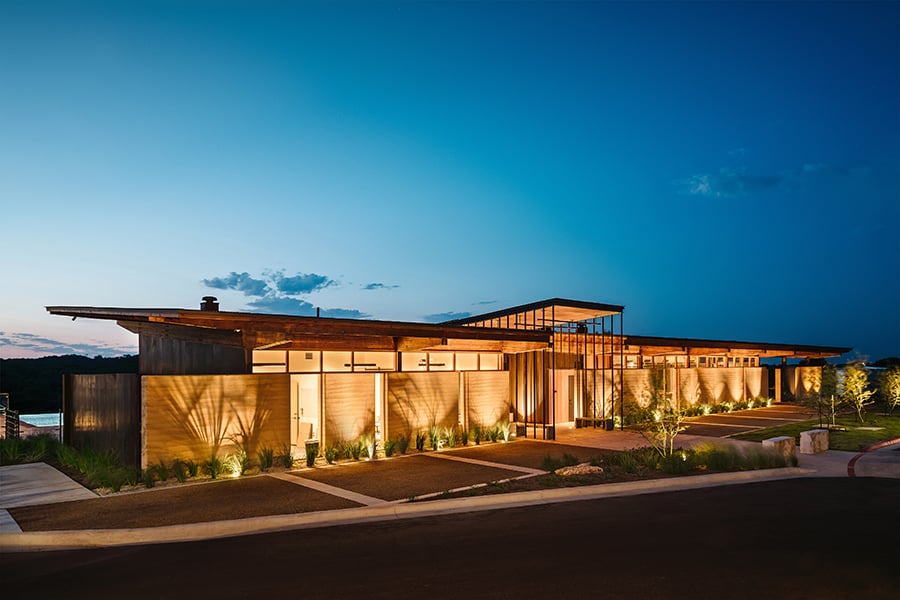 ---
This attention to the social and environmental ecosystems in which each project resides is evident in one of the firm's most recent works in downtown Austin, in a building originally designed by A. Carroll Brodnax in the 1960s: The Line Hotel, a neo-Brutalist refresh of what was, most recently, a Radisson, perched on prime property next to Lady Bird Lake. Completing the project in 2018 with designer Sean Knibb, Hsu's team combined a punk-rock ethos with the cozy biophilia found in all of Hsu's work to push the homey if modern Austin aesthetic into new territory.
In contrast to the amenity center at Wolf Ranch, Hsu says The Line demonstrates his sometimes "intentionally inappropriate" use of material, like thick white fabric pressed into the ceilings, or the classically Brutalist concrete fireplace, or, for that matter, the hanging planters that look like shiny oversize rifle cartridges.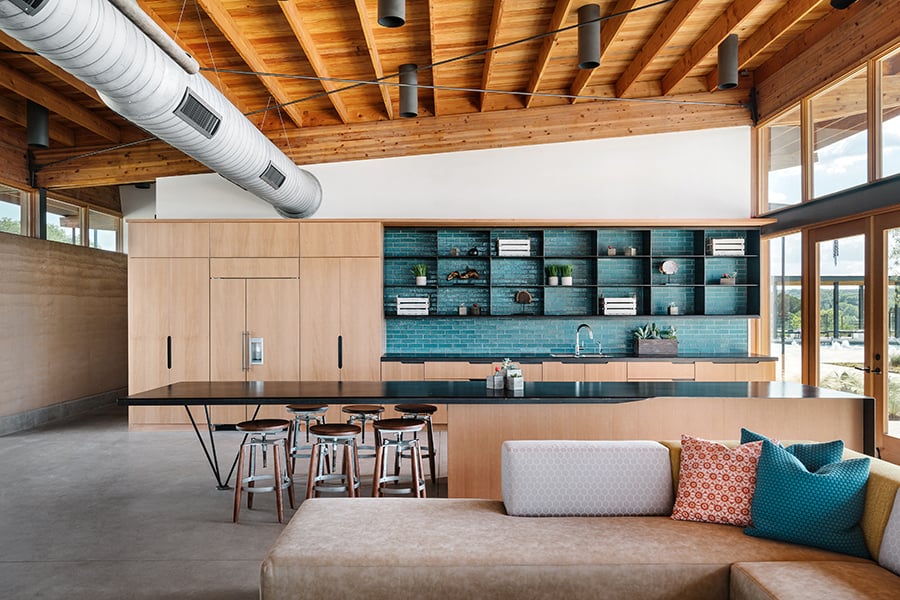 ---
At Arlo Grey, one of The Line's three restaurants, black matte paint covers the wooden bar, paradoxically drawing attention to the material's knots and grain. In the bathrooms, large black lettering covers the walls with floor-to-ceiling text of a Korean fable that's a favorite of executive chef Kristen Kish. It's a space unlike any other in Austin that Hsu admits "takes some risks, questioning luxury, highlighting found bits of architecture, but without trying to be too legible."
Taking risks benefits a city on the rise, but growth, even healthy growth, also sparks tension—between how big a city wants to become and how its citizens want to live. Austin's population has doubled in the past 25 years, and the city has attempted to rein in that expansion through regulation. Building restrictions, such as the city codes that protect the shady oak trees at Loro, often force Hsu's team to come up with creative solutions.
A few years ago, the group took on a fast-food restaurant for P. Terry's, a local burger chain whose owners had bought a small, triangle-shaped lot that others had deemed unbuildable. MHOA designed an exaggerated roof that extends more than 50 feet, angled just above the horizon and catching the eye of every driver speeding by. It's unexpected and weird, just like Austin.
"The quirkiness, the imperfections of a neighborhood or a boulevard, those are so important," says Hsu. "The loopholes you have to find make the most interesting projects."
You may also enjoy "For the Atlanta-Based Firm BLDGS, No Building Is Beyond Rescuing."
Would you like to comment on this article? Send your thoughts to: [email protected]