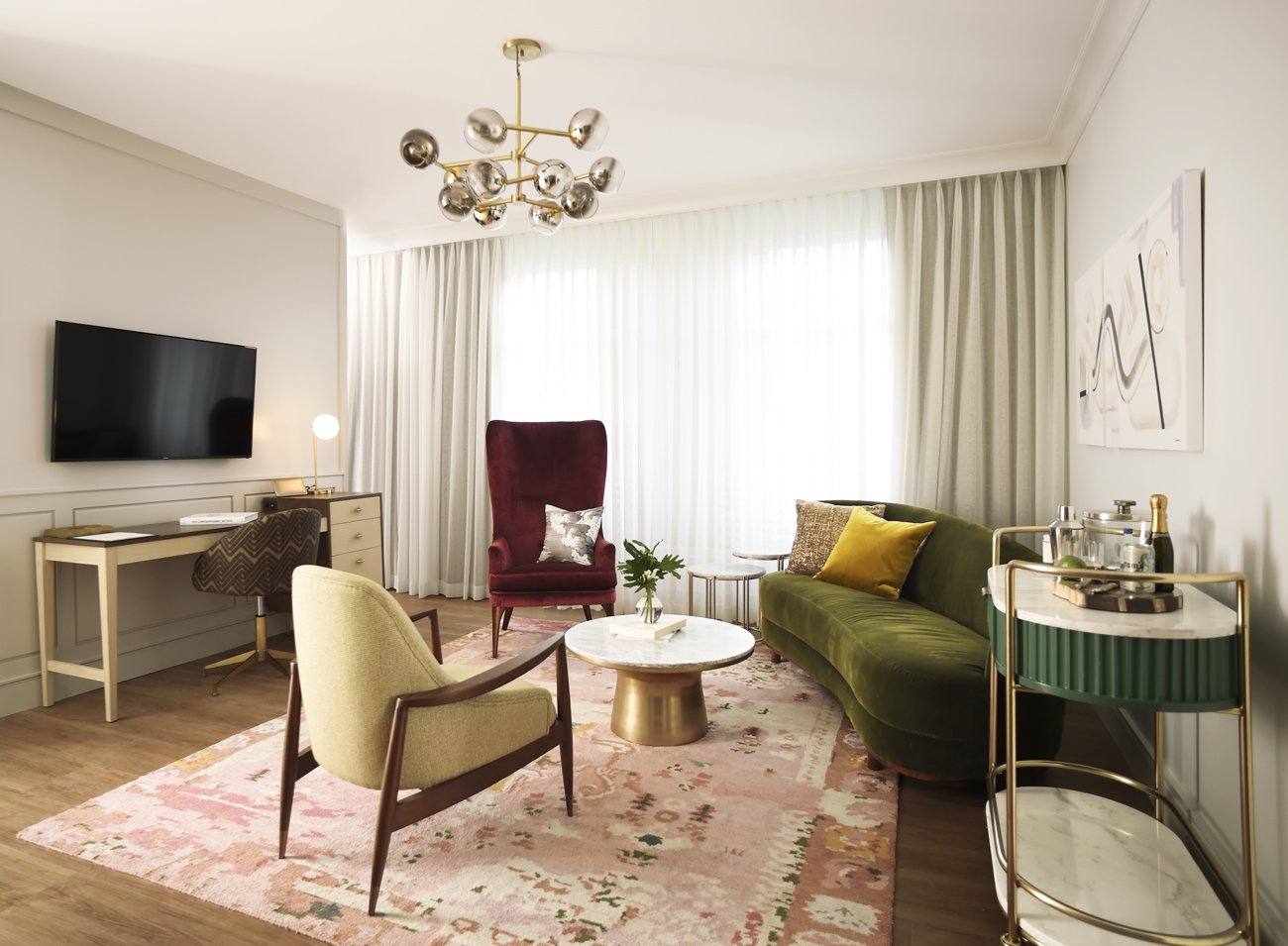 November 21, 2016
Marriott Teams Up With West Elm for New Furniture Collection
A collaboration between Marriott and West Elm leads to crossover innovations between hospitality and manufacturing.
Before it announced its hospitality venture with SpringHill Suites, West Elm built prototype rooms like this one in a Brooklyn warehouse.
Courtesy Marriott Hotels
---
At the Marriott group's SpringHill Suites hotels, it's all about the little extras. As the once-distinct segments of business and leisure travel blend together, the all-suites properties take pride in providing for guests who expect both professional efficiency and the personal touch. "We talk about the 'more seeker,'" says Loren Nalewanski, vice president and global brand manager for SpringHill Suites. "You've got to go on a business trip, but you know you're going to find something really cool to see, do, taste, smell while you're there." So about 18 months ago when the brand came up for a design refresh, as it does every six or seven years, he homed in on furniture and lighting design as a way to provide that edge.
Passing over traditional players in the contract industry, SpringHill Suites turned to West Elm, the residential-focused manufacturer that has made successful forays into workplace and hospitality design in the past two years. In their collaboration, the brands influenced each other to an unusual degree, producing a codesigned collection of furniture and discovering new directions for their businesses.
---
More from Metropolis
---
The centerpiece of West Elm's SpringHill Suites collection is the Emery Sofa + Daybed + Trundle. Featuring a seat the width of a twin bed, it also has a pullout twin trundle, creating sleeping space for two more people in a suite that usually accommodates two. The trundle and the bed are also fully detachable, so guests can use them to reconfigure the "living room" of their suites into another bedroom. The Emery is now at 30 SpringHill Suites locations, along with a swiveling task chair, an ottoman, and three lights that incorporate USB charging ports. All pieces are available for purchase on the West Elm website.
Beyond adding functionality to the suites, the new pieces are designed for daily use in a hotel, where guests treat furniture with less care than they would at home and staff clean the rooms at breakneck speed. The weathered finish of the wood, for instance, is meant to stand up to bumps by vacuum cleaners. "We joke that the more you hit it, the better it will look," Nalewanski says. "We have learned a lot from West Elm, and I think they have learned a lot from us."
The furniture manufacturer certainly seems to have taken the experience to heart—it announced last month that it will be making its own foray into the hotel business, opening five West Elm hotels by late 2018. The hotels will all be midsize properties, located in smaller cities like Charlotte, and Indianapolis, allowing West Elm to advance the local culture–based theme that it has already adopted in its retail offerings. As with the SpringHill Suites collection, guests who like the furnishings at these hotels will be able to purchase them online.
Meanwhile, Marriott will apply its own learnings from the collaboration to a series of upcoming projects, says Nalewanski. "The brand is focused on partnerships more than ever before. You will see an emphasis on textiles, on the fixtures, the furniture, and the equipment that we use." These partnerships fit into the hospitality giant's ongoing quest for ideas that it hopes will take the brand to the next level. In October, Marriott opened the doors of M Beta in Charlotte, a "live beta" test hotel that will allow it to gauge guest responses to new furnishings, programming, and services. What proves successful in Charlotte will be implemented at properties across the country—digital check-ins via app may be the first such feature to be adopted. "Marriott purchased the Charlotte hotel a couple of years ago. We don't typically have real estate—we're a management company—so that was a big signal to the market," Nalewanski says. "We've made a laboratory for the brand."

The West Elm SpringHill Suites collection includes (left to right) the Martini side table in a metallic finish, the Souk wool rug, and the Emery Sofa + Daybed + Trundle.