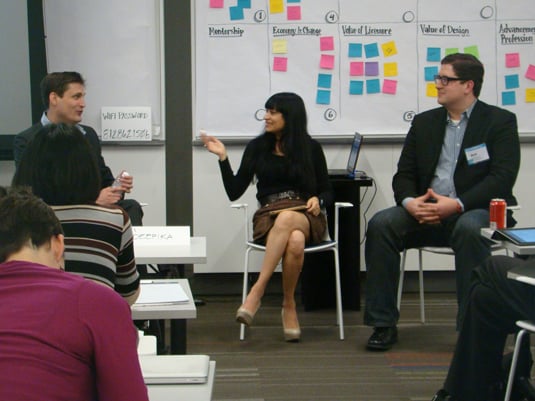 March 23, 2012
Milestone for Emerging Architects
As we, at the American Institute of Architects' Young Architects Forum (AIA YAF) www.aia.org/yaf celebrate our 20 year anniversary, we find ourselves at a critical moment regarding the future of our chosen profession. Every day and too often we hear talk about losing a whole generation from the practice of architecture. Though new grads have […]
As we, at the American Institute of Architects' Young Architects Forum (AIA YAF) www.aia.org/yaf celebrate our 20 year anniversary, we find ourselves at a critical moment regarding the future of our chosen profession. Every day and too often we hear talk about losing a whole generation from the practice of architecture. Though new grads have the highest unemployment rate, the situation isn't much better for those who have been around for a while, whether they're going through the licensure process or are already licensed architects. And the hidden resentment of those who do have jobs is growing; they see a bleak outlook for their immediate future. This emerging professional group is clearly a victim of the economic downturn. So, with YAF's focus on architects licensed less than 10 years, we decided it was time to get a handle on this sad situation.
Earlier this month 65 young leaders headed to Washington DC from all directions of the nation. The YAF Summit20, taking place just prior to the AIA Annual Grassroots Leadership Conference, was organized by the AIA National YAF Advisory Committee to dig into the issues facing the new generation of practitioners. We wanted to know what YAF and the AIA can do to help, and what our action plan should be for the next five years and beyond. YAF summits are held every five years and it was intriguing to see that the top three issues from Summit15 (mentorship, leadership, and fellowship) did not appear in the top six issues of the Summit20. We have a lot of work to do!
---
More from Metropolis
---
We started the process by conducting a national survey sent to over 23,000 young architects, and identified the top four issues identified in the survey. In addition, National YAF leaders were polled to select their top two issues. Then the 65 YAF Summit20 participants voted for their top four. We narrowed down these top ten issues to six through further voting. All voices were acknowledged.
To me, globalization should have been included on the list. Leadership development along marketing and networking skills should have been there. Diversity and inclusion should have appeared somewhere. But these shortcomings don't negate what actually did make the final list because they were somehow intertwined with other, bigger picture items. We found that the top issues affecting young architects today are Advancement of the Profession itself, Career Advancement, Value of Design, Starting Your Own Firm, Economy and Change, and Value of Licensure. A detailed report on the outcomes and YAF strategic action plan can be examined here in the next month.
Our guest speakers, Marsha Littell with HOK, Ned Cramer, associate AIA with Hanley Wood, and Larry Speck, FAIA with University of Texas, Austin shared their perspectives on generational issues and the future of the profession at the large scale. We were encouraged to hear that the future is promising for young architects. It will evolve around the "new" ways of architecture filtering into the academia as well as the profession. Today architecture is less about creating beautiful sculptures and more about designing performance-based buildings that create long-lasting experiential quality. As the baby boomer practitioners begin to retire, those of us who survive this economy will shoulder a big responsibility, especially in helping to define a new direction for the 21st century profession. We were most encouraged by the thought that we will have a rare opportunity to make a difference, decide the future of architecture profession, and the role of architects in our communities and society. It may turn out, in the end, that it's an opportune time for young architects! The future is in our hands.
Deepika Padam, AIA, LEED AP, is a senior designer/project manager with Heller Manus Architects, San Francisco. Her design experience includes civic, educational, public, commercial, and mixed-use facilities. She received her Bachelor of Architecture from the Guru Nanak Dev University and Master of Architecture from the University of Michigan. She is NCARB certified. She served as the AIA Las Vegas President in 2010, as the USGBC Nevada President in 2009 and taught LEED classes for many years. She is the communications advisor for AIA National Young Architects Forum and serves as the Editor-in-Chief for YAF Connection bimonthly e-magazine and the annual Young Architects Award Book.