July 30, 2019
In Portugal's Douro Valley, a Modern Renovation Revitalizes an Old Farmhouse
Paris-based interior designer Pierre Yovanovitch was tapped to turn a 19th-century dwelling into a winery and hotel, one that balanced contemporary and rustic design.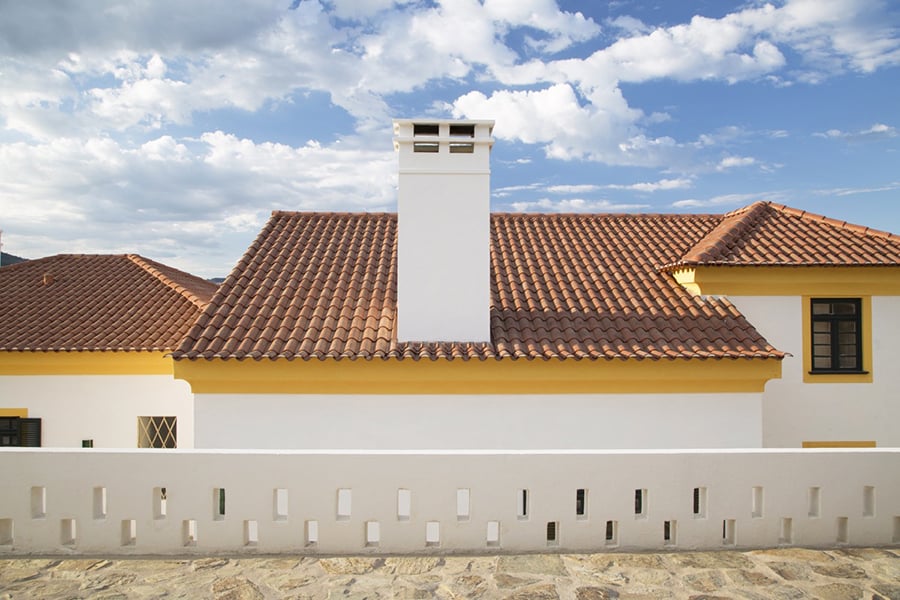 ---
A renovation that substantially modernizes yet preserves historic architecture requires delicate balance, so when French wine connoisseur Philippe Austruy sought to create a new destination for wine enthusiasts within a 19th-century Portuguese farmhouse, he knew just the man. Paris-based interior designer Pierre Yovanovitch had already designed Austruy's contemporary art galley in Brussels, followed by the entrepreneur's own home. The two had been introduced by a mutual friend. "We clicked right away and he trusted my vision," Yovanovitch remembers.
A more recent project at Quinta da Côrte—a small, tumble-down winery Austruy purchased—was a more ambitious undertaking. The winery is nestled in the rolling hills of the Douro Valley, a region known for its production of porto, the sweet red fortified wine that is one of the country's biggest exports. Austruy hoped to transform the existing complex—encompassing a farmhouse (one of the oldest in the region), warehouse, and nearly 60 acres of grape vines and olive trees—into a destination for international wine lovers. The trick was maintaining the rustic charm. "Philippe felt strongly about this," Yovanovitch notes.
Deftly weaving together past and present, Yovanovitch turned to finely-crafted furniture and décor. The farmhouse is now a 12-room boutique hotel, meticulously renovated and bursting with vintage furniture, much of it Scandinavian and rare. Each room contains sculptural, custom-made contemporary furniture that Yovanovitch sourced from places both local and international. Due to his familiarity with French craftsmanship, Yovanovitch knew that certain French creations "would be perfect." Though he was less familiar with what Portuguese craftspeople had to offer, he opted to use lots of local ceramics and some carpentry. "This was my first time working with these Portuguese artisans," he says, "and I was very lucky and happy with the results."
---
More from Metropolis
---
---
The new pieces are decidedly comfort-focused, with upholstered and sculptural forms abounding.  Tiles, schist stone, and solid wood—all common local materials—are found throughout. As for the color palette, it closely mirrors what can be found in traditional homes of the region: walls are whitewashed, ceilings are painted in pale pastel shades, and Portuguese handcrafted tiles in bathrooms are restricted to hues of forest green, royal blue, and pale pink.
Yovanovitch maintained historical architectural elements such as shutters and windows in the existing buildings in order "to preserve the original spirit of the property," he says. Abutting the warehouse is Yovanovitch's first ground-up project, a three-story structure with striking cathedral-like cross-ribbed vaults that accommodate a restaurant as well as space for wine tastings and events.
The wine itself, created with centuries-old techniques and by hand, is where the modernization stopped. As Yovanovitch reveals, "it's even transported by horses and not trucks."
You may also enjoy "10 Design Cities You Should Know."
Would you like to comment on this article? Send your thoughts to: [email protected]