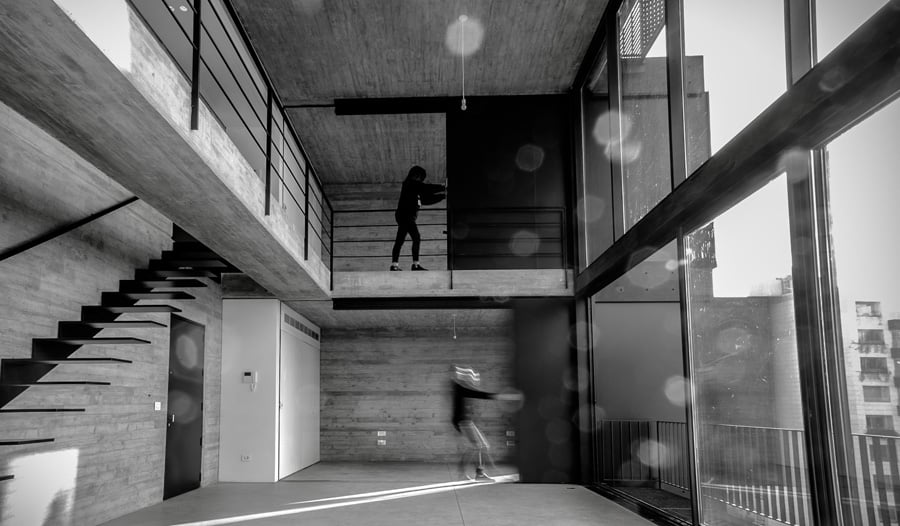 June 1, 2018
This Reconfigurable Tower in Beirut Allows Its Inhabitants to Slide Its Walls Outside
The transformable Modulofts tower, designed by local firm FSA, morphs to accommodate changing lifestyles and provides new perspectives on a changing Beirut.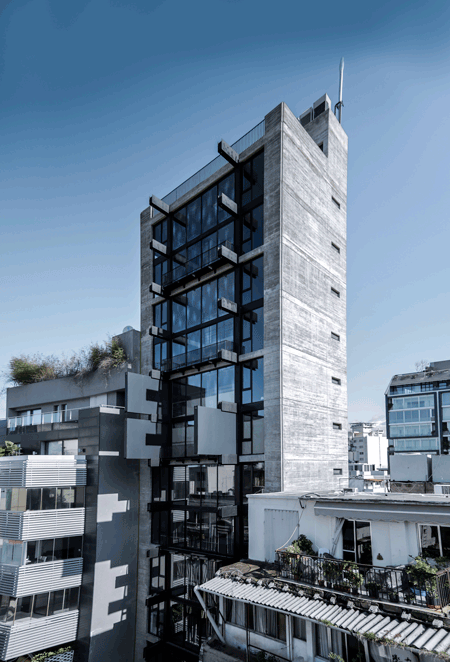 Beirut is a profoundly complex and contradictory city. The vaunted jet-setters' playground of the Middle East, with sparkling new towers designed by Herzog & de Meuron and Foster + Partners, is also home to tens of thousands of Syrian and Palestinian refugees. It's a coastal metropolis of over 2 million that offers little public transportation, and Lamborghinis sit bumper to bumper with minibuses in its congested streets.
"Our context is chaos," explains Fouad Samara, a Lebanese architect whose eponymous practice is situated on the first floor of Modulofts, its most recently completed project. Born in Beirut, Samara studied at the American University of Beirut and the University of Bath in England and has a keen grasp of Lebanese and international architectural history (with a particular focus on Modernism) that suits his highly intellectual approach to design. At the University of Bath, he studied under the late Patrick Hodgkinson, architect of London's Brunswick Centre, and is fiercely devoted to the work of Alison and Peter Smithson.
Modulofts was completed in 2017 and can be seen as a thoughtful unification of the threads that run through Samara's life and career. Located in eastern Beirut's Rmeil neighborhood, near the historic and now-gentrifying Ashrafieh area, the 14-story building comprises seven stacked "lofts"—six duplex apartments plus Samara's ground-floor studio. The layouts of the apartments blend the traditional Lebanese residential floor plan—a double-height central communal space with four radiating rooms—with the functional expectations of loft-style living: "light, spatial luxury, flexibility, and honesty in the use of materials," says Samara.
---
More from Metropolis
---
His architectural checklist is on full display at Modulofts. Light floods into each of the lofts through the glass frontage, which also provides sweeping views of the city. "Spatial luxury" is achieved with a central 19 foot, double height living area, which—like the traditional Lebanese home— is flanked by a kitchen and one non-specific room. This layout is repeated on the unit's upper level, which can be accessed by a floating steel staircase inside, or by a secondary entrance off the building's central stairway. A simple yet strict material vocabulary of exposed, board-formed concrete, dark steel, and white painted wood is maintained throughout.
Flexibility at Modulofts, however, is the real showstopper. Each of the four ancillary rooms in the apartments is separated from the central space by a one-ton sliding wall hung from a steel girder. The operable walls can be pushed outside to open up space indoors and portrudes from the street-facing facade like a fin.
Unlike glass or curtains, the insulated, steel-framed walls allow each room to be visually and acoustically isolated. Explains Samara, "We wanted to be able to open up the space very easily, but also when it was closed, we wanted it to be understood that it was closed."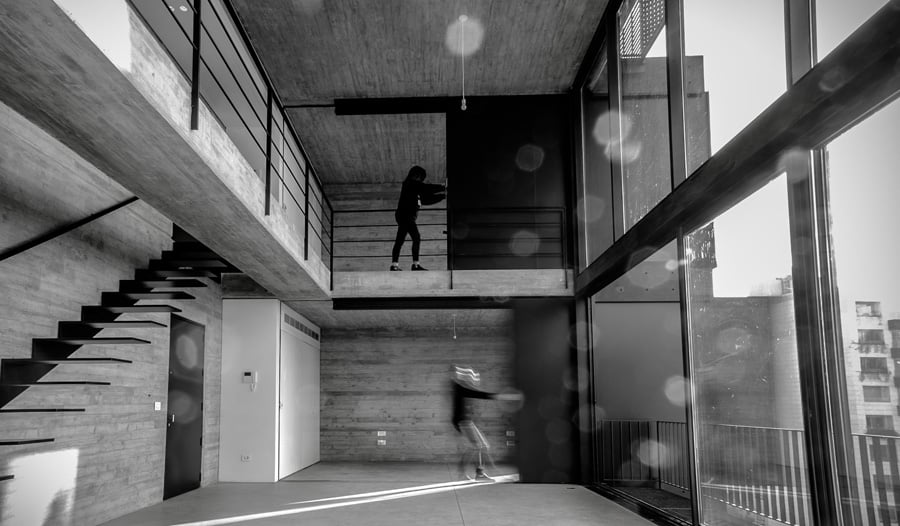 Approaching Modulofts on foot, the irregularity of the facade stands out amid mid-twentieth century apartment blocks, some of which still bare the scars of civil war. The protruding elements give the street a kinetic energy that harks back to bygone days of the district, when neighborly interaction between curtain-lined balconies was the norm.
What's more, the building rarely appears the same on passing. Over the course of a week this spring, the facade was constantly shifting. At FSA's office on the ground floor, the configuration of spaces changes at least twice a day; by the architect's own calculations, there are thousands of facade variations of Modulofts. In short, what initially appears as a photogenic gimmick is indeed a highly intelligent piece of design for domestic flexibility and longevity.
The strategy is reminiscent of that employed at likeminded contemporary projects such as MAIO's 110 Rooms in Barcelona, or Assemble's work with Stille Straße activists in Berlin. "One of our early concerns," Samara explains, "was providing a house that people buy or rent for a long period of time, so they don't need to change houses or residences depending on the changing lifestyles or requirements that any family or individual might go through." Or to put another way: "It's the total opposite of the architect who wants to control everything."
However, with apartments going for a minimum of $700,000 (architects and diplomats are among the building's first residents), flexibility here is a luxury. And while Modulofts is a success on its own terms, it's tempting to ask more from an architect with such a critical sensibility as Fouad Samara. The chaos that provides the context for Modulofts could be countered, or at least addressed, with an architecture that looks beyond its own footprint; that answers to the social within the spatial. This, it seems, is the legacy of the Smithsons and Patrick Hodgkinson which Beirut is in need of today.
You might also enjoy, "Doreen Toutikian is Shaking Up Beirut's Design Scene."