July 1, 2019
This Year's MoMA PS1 YAP Summer Pavilion Takes on Real Estate and the U.S.-Mexico Border
Designed by Mexico City–based Pedro & Juana, Hórama Rama reflects on the rampant real estate development that has enveloped PS1, as well as wider political and environmental issues.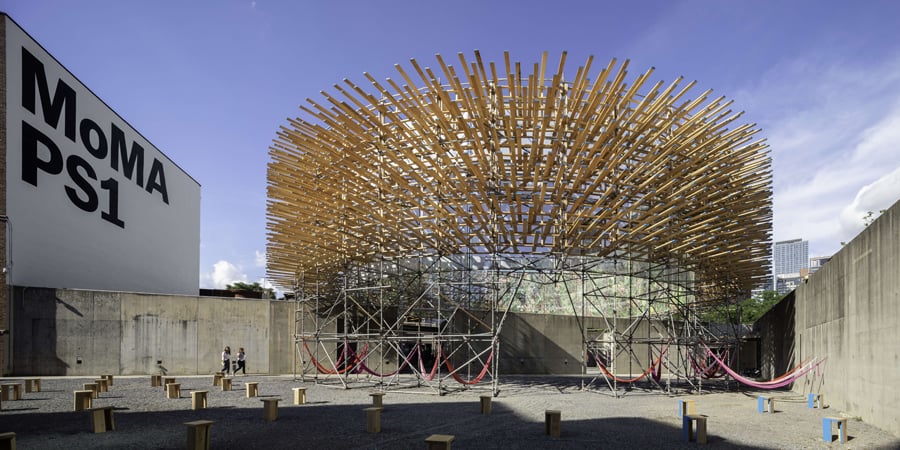 Resembling a crown of thorns, the 2019 MoMA PS1 Young Architects Program summer pavilion is not a particularly inviting environment, nor is it meant to be. The installation—essentially circular scaffolding spiked with two-by-fours—jumps over the walls bisecting the former public school's courtyard to create a dystopian cyclorama. The architects Ana Paula Ruiz Galindo & Mecky Reuss, who lead the Mexico City–based practice Pedro & Juana, call the work Hórama Rama, by which I think they mean Horror Show, reflecting on the insane real estate race that has engulfed PS1 in a sea of high-rise condos, not to mention the environmental destruction and social stratification they embody.
The spectacle of speculative finance and construction comes into immediate view from the patio overlooking the museum's courtyard. Clustered along the East River waterfront and around the Court Square train station, Long Island City's nascent skyline is set to expand exponentially as the city looks to redevelop the nearby Sunnyside rail yard. Amid all this scaffolding, concrete, and glass, Hórama Rama loses definition. The patterns of the protruding two-by-fours only sharpen as a critique where its limits as shelter are most evident. The inner-side of the cylinder is lined with printed screens depicting a rainforest, which doesn't offer much in the way of shade or comfort. From the scaffolding hang rudimentary colored hammocks for lounging, and around the courtyard, Galindo and Reuss installed rough chairs and benches fabricated from more two-by-fours and unfinished hardwood. Balanced atop the courtyard's walls, the superstructure extends over a smaller enclosure, within which a waterfall recycles water from a large tank below, producing a light cooling mist at its base.
The Young Architects Program (YAP) offers emerging architects a prestigious chance to create a temporary, outdoor installation providing shade, seating, and water for the Warm Up summer concert series. It has continued as an annual summer program at PS1 since 1998, having reopened after a 1994–97 renovation by Frederick Fisher and Partners, who designed the concrete courtyard. Over the last 20 years, projects have ranged from program-driven spaces to formalistic experiments, community-based interventions, gestures toward sustainability, and critical grotesques. Hórama Rama falls in the latter two categories through its use of easily repurposed materials and its commentary on the real estate context and, implicitly, the fractious U.S.-Mexico relationship.
---
More from Metropolis
---
At last Thursday's press preview, MoMA director Glenn Lowry and architecture curator Sean Anderson both sought to reinforce this geopolitical aspect of the pavilion's narrative. Along with the designers themselves, the curators invited Mezcal producers and chefs from Mexico to participate in the opening and subsequent events, intending to form a larger community within the space. Without putting too fine a point on it, it's worth digging a little deeper, and remarking on the radical class and racial stratification within Mexico that tracks with the racial legacy of colonialism across the Americas. As in the U.S., those with fair complexions—i.e. European immigrants, or those who appear to be more closely related to European colonizers—tend to have greater access to wealth and opportunity, and racial difference within Mexico itself disappears in our often crude gestures toward inclusivity.
Like the broader conversation on migration, this critique elides the indigenous disenfranchisement and disempowerment within Mexico and Latin America that are at the core of many migrants' refugee claims; revealing this core condition in all its light will mean thoroughly reexamining the U.S.-Mexico relationship and postcoloniality in the Americas generally. Moreover, while there have been previous YAP awardees from Mexico, none has attempted to reclaim the heritage of the Mayan people—or for that matter any native, indigenous, or first nation peoples of the Americas—who long before the Spanish conquest had constructed Chichen Itza and Machu Picchu, two of the greatest architectural wonders of the world.
Broadening the context of the Horror Show only slightly, it's notable that major support of YAP this year (and for a while) comes from Bloomberg Philanthropies, the foundation of former mayor and Bloomberg LP co-founder Mike Bloomberg, overseen by the wonderful arts and culture program lead and Creative Time co-founder Anita Contini. The former mayor has been in the news during the past week for his announcement of a major philanthropic commitment to climate issues and his support for a campaign to increase taxes on wealth. (His status as the wealthiest person in New York state—the latest Forbes list pegs his current net worth at $53.8 billion—was also widely reported on.) At the YAP preview, a Bloomberg representative put the figure at $767 million that Bloomberg has donated to the arts, environment, public health, government innovation, and education. For that we are grateful, but while YAP is a fantastic program, it's probably not a coincidence that PS1's surroundings are blowing up with inflationary real estate, though the 2001 special use district rezoning predated the Bloomberg administration.
By city leaders' own accounts, for the last half-century, investment in modern and contemporary art was intended to bolster the value of real estate. A critique that views luxury towers as antagonistic to the museum—misconstrued as a neutral public space—misses the role that art (or, at least art associated with college-educated professional classes) has throughout this period tended to play (consciously and not) in reinforcing economic and social stratification. Hórama Rama both exposes and masks these contradictions.
You may also enjoy "How the U.S. Embassy in London Uses Landscape as an Ambassador."
Would you like to comment on this article? Send your thoughts to: [email protected]