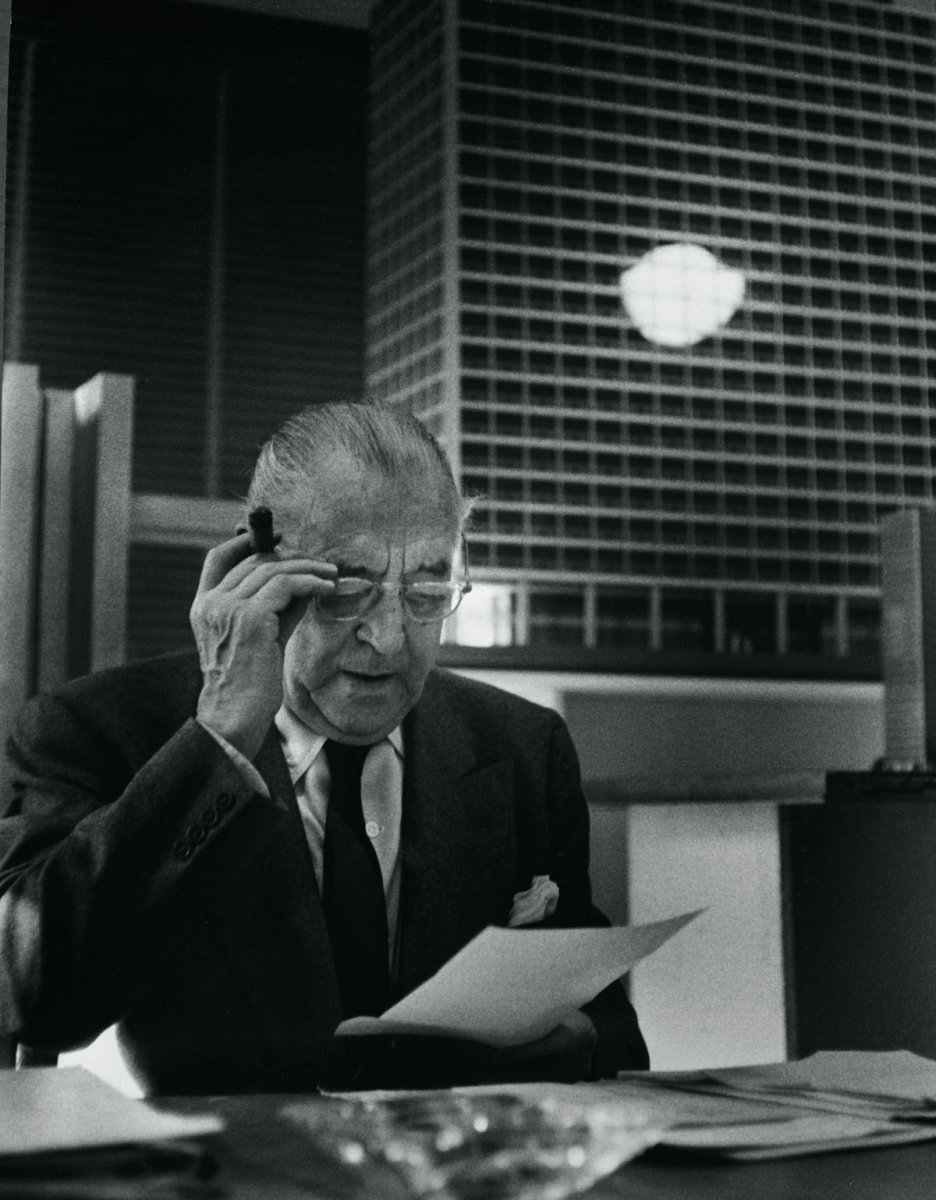 April 4, 2014
Monumental Monograph Sheds New Light on the Godfather of Modernism
A monumental monograph on the legendary architect sheds new light on the godfather of modernism.
The quintessential page of the 528 that make up Detlef Mertins's monumental new monograph on Ludwig Mies van der Rohe—entitled simply Mies (Phaidon, 2014)—is 155. There, you will find a reproduction, a page within a page, of page 64 of Romano Guardini's 1927 book Letters from Lake Como—a book about modernity and human subjectivity—with Mies's own annotations penciled in the margins, in a surprisingly ornate and delicate hand.
And there, you will find Mertins's notes on Mies's notes on Guardini: "Of all the books in Mies's library, Guardini's Letters is the most heavily marked. Mies highlighted passage after passage with bold and rapid margin strokes and wrote key words diagonally and in large script across the first pages of many of the chapters: Haltung (stance), Erkenntnis (knowledge), Macht (power)." Mertins's vivid marginality, his attention to the divine details along edges, recalls the experience of reading the Talmud, that commentary on Jewish law and scripture in which, by marking and emending earlier readers' marks and emendations, generations of rabbis enacted an intimate conversation across time and space.
Mies—like so many architects a self-invented social climber, shape-shifter, and name changer—was an autodidact. Although he did a few years of Latin and arithmetic at church schools around Aachen, Germany, where he was born in 1886, his formal education was minimal. His rise from a family of stonemasons to a gentleman with the manner of a global aristocrat was largely a matter of apprenticeships (most famously to early modern master Peter Behrens, with whom Walter Gropius and Le Corbusier also trained). And he read. And read. Mertins, in his own scholarship another vast reader, catalogs the library with which Mies emigrated from Berlin to Chicago in 1938: "Mies brought with him books by evolutionary biologists, botanists, astronomists, physicists, and cosmologists, as well as philosophers, sociologists, zoologists, psychologists, theologians, architects, urbanists, art historians, and art critics. Once in America," Mertins notes with sly understatement, "he updated his reading."
---
More from Metropolis
---
By an eclectic mix of familiar and obscure authors, from Alfred North Whitehead to Max Scheler, those books were the kinds that capitalize words like Spirit and Age and Man. They featured—charmingly and disturbingly in today's era of narrow specialty and technologically inflected immediacy—massively synthetic theories attempting to reconcile interdisciplinary readings of science, culture, history, and theology with the turbulent economic and political events of the first decades of the twentieth century. Mies's first great patron, who taught him this kind of reading—and perhaps that it had implications for design—was the philosopher Alois Riehl, for whom, in 1907, the then-20-year-old architectural prodigy produced a gabled neo-Biedermeier weekend cottage in the fashionable Berlin suburb of Potsdam-Neubabelsberg.
In Architecture 101, that gingerbread house (with an inevitable emphasis on the proto-modern flat roof of its below-grade side porch) launches a half-century of buildings whose diversity and weirdness are masked by their ubiquity, in citation and imitation, in today's curriculums and cityscapes. There's the erudite classicism of the 1910 Bismarck Monument; the moody charcoal expressionism of the glass Friedrichstrasse drawings of 1921, in Mertins's words "the first time anywhere that a skyscraper was envisioned as a monumental yet hollow crystal"; the all-too-tidy white boxes of the 1923 Weissenhofsiedlung housing project (epitomizing for MoMA curator and subsequent collaborator Philip Johnson, in his 1932 show of that name, the International Style); the slick chrome-and-marble modernism of the 1929 Barcelona Pavilion; the Nazi-era directorship of the Bauhaus and uneasy unbuilt works of that era; the daintily scholastic 1951 Farnsworth House in Plano, Illinois (beaten into the history books by Johnson's imitative Glass House of 1948); the iconic New York Seagram Building of 1956—all bronze and travertine and glass and steel, all spandrels and I-beam trimmings—that set the monolithic template for American skyscrapers for a quarter-century; and the late, brooding masterpiece, 1967's National Gallery in Berlin, with its floating roof of infinite weight.
All that reading, that work, that mastery, that conclusive resolution and standardization of details, that tragic Churchillian face above that inevitable cigar—it's a tough act to follow. Mertins gives his monograph's first words, "Less is a Bore," to postmodernist Robert Venturi—whose clownish buildings attempted to prove that assertion, a pun on Mies's famous modernist-minimalist aphorism that less is more—and immediately quotes Venturi's regretful retraction that "all architects should kiss the feet of Mies." Mertins's eventual thesis, as sturdy yet slender as a Miesian I-beam, is that although we usually think of Mies as an aphoristic absolutist, Mies the eclectic autodidact always contained this complexity and contradiction—between avant-garde and historicist, corporate and contrarian, blurry and sharp, heavy and light. And that in this sense, for all the ways in which Mies seemed always to have the last word, he was always starting over.
That narrow idea pierces an extraordinary breadth of biography and historiography, in which Mertins equals the massive syntheses and disparate fascinations of his subject's beloved authors. Mertins, known as a generous scholar and kind teacher in an architectural academy that undervalues these virtues, died during his work on this book, which was finalized by his partner, Keller Easterling, and interlocutors Barry Bergdoll, Ed Dimendberg, Felicity D. Scott, and others. Their work confirms and continues a conversation between Mies and Mertins that, like those between ancient rabbis born centuries apart, is Talmudic in its compass and complexity, and that transcends the mere detail of death.