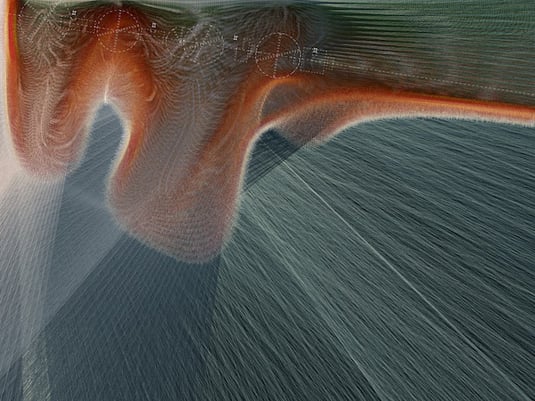 July 24, 2012
More Than the Money Shot: Architectural Drawing Revisited
Image courtesy Storefront for Art and ArchitectureStorefront for Art and Architecture's current exhibition Aesthetics/Anesthetics, a challenge to the conventions of architectural representation, is the sort of idiosyncractic show the organization has become known for, gleefully picking apart architecture's accepted canons and unwritten rules. This time, the targets are "certain representational devices that have become architectural […]
Image courtesy Storefront for Art and Architecture
Storefront for Art and Architecture's current exhibition Aesthetics/Anesthetics, a challenge to the conventions of architectural representation, is the sort of idiosyncractic show the organization has become known for, gleefully picking apart architecture's accepted canons and unwritten rules. This time, the targets are "certain representational devices that have become architectural clichés operating almost as placeholders or decorative elements of an architecture unable to draw itself … birds on beautiful skies, happy children with balloons, those axonometries" (from the show's description). The core of the exhibition is a group of 30 drawings—including some that stretch the term "drawing" pretty far—commissioned from an international group of emerging and established architects.
---
More from Metropolis
---
Michael Young [Young & Ayata]
Condenser, 2012
Metallic C-print mounted to dibond, 18 x 24 in.
Each work is (nominally) a representation of the Storefront gallery itself, and the range of approaches is as diverse as the group of creators. There's the beautiful, rather serious Condenser by Michael Young of Young & Ataya (above), which seems to depict the invisible lines of influence a building can cast, or the far more jocular Metaphor A-Z for Storefront + 5' poem: Beautiful Triangles by Beatriz Ramo of STAR strategies + architecture (below), a visual alphabet drawn from Storefront's distinctive wedge-shaped footprint. Other works take inspiration from ancient cosmology, or air traffic patterns, or the algorithmic language of Google. The rest of the gallery space—both walls and floor—is papered with rendering-cliché imagery of children and birds and greenery, making as much of a statement as the commissioned works on display.
STAR strategies + architecture [Beatriz Ramo]
Metaphor A-Z for Storefront + 5' poem: Beautiful Triangles, 2012
Mixed media, 18 x 24 in.
Eva Franch i Gilabert, the director of Storefront, has long been interested in the theoretical questions of architectural representation, and the exhibition addresses the widening gap she sees between the visual representation of architecture and what construction actually achieves. The vocabulary of rendering tropes, she argues, has become a crutch for many architects: "Creating atmosphere is important, but the architecture should be the most important thing … [these devices] often show the inability to create good architecture." On the other hand, some architects deploy overly clinical axonometric renderings as a pretense towards intellectual rigor. Her mission with Aesthetics/Anesthetics, then, is to draw attention to the fictive nature of these conventions—and, simultaneously, to the untapped potential of more expressive techniques. "It's asking the question, what have the rules of society not yet capitalized or canonized in architecture?" She sees tremendous opportunity for architects to communicate the experiential elements so important to an occupied space (temperature, sound, smell, changing light), but the profession has yet to find a visual language for them.
Aesthetics/Anesthetics doesn't try to answer the question of how or why the visual tropes of architecture came to be (that could be the focus of another exhibition entirely). This can make it difficult to figure out exactly how the 30 new drawings respond to the status quo, especially for those of us who don't regularly grapple with issues of representational theory. I found that if I couldn't easily discern the "story" behind a given work—either through the technique used to create it or the commentary its content makes—it would quickly become opaque to me. A few of the pieces veer awfully close to a sort of self-congratulatory obscurity, as dangerous a trap as the clichés the show attempts to critique. But many others demonstrate genuine wit, insight into the nature of representation, or devotion to the craft of architectural rendering. Superpool's Revolving Storefront (below), for example, references the traditions of model-building in architecture, breaking from the typical flatness of drawing to represent movement—in this case, the motion of Storefront's pivoting facade panels.
Superpool [Selva Gurdogan & Gregers Tang Thomsen]
Revolving Storefront, 2012
Paper, 18 x 24 in.
It's unclear how much of an impact the show will actually have on a profession that loves its traditions as much as it loves innovation. One can easily imagine the resistance from planning commissions and code inspectors to a submittal that looks like Jimenez Lai's delightful storefront back of house (below, complete with cartoon portrait of Franch i Gilabert herself). But Aesthetics/Anesthetics isn't trying to argue that any of the works should constitute a new, singular model for all architectural representation; rather, Storefront hopes to initiate a conversation—to "open the bottle," as Franch i Gilabert puts it—about how architects communicate with their clients and society, and to push the profession out of its visual comfort zone.
Jimenez Lai
storefront back of house, 2012
Ink on paper, 18 x 24 in.
Aesthetics / Anesthetics is a short show: it runs only until the 28th of this month. An ongoing silent auction will provide the 30 works with new homes once the exhibition comes down, and the proceeds will support Storefront's programming.
---
Colin Fanning is an MA candidate studying design history and material culture at the Bard Graduate Center in New York City, and holds an undergraduate degree in interior design. His research interests include the visual culture of science, new media in museums, and design for social justice.