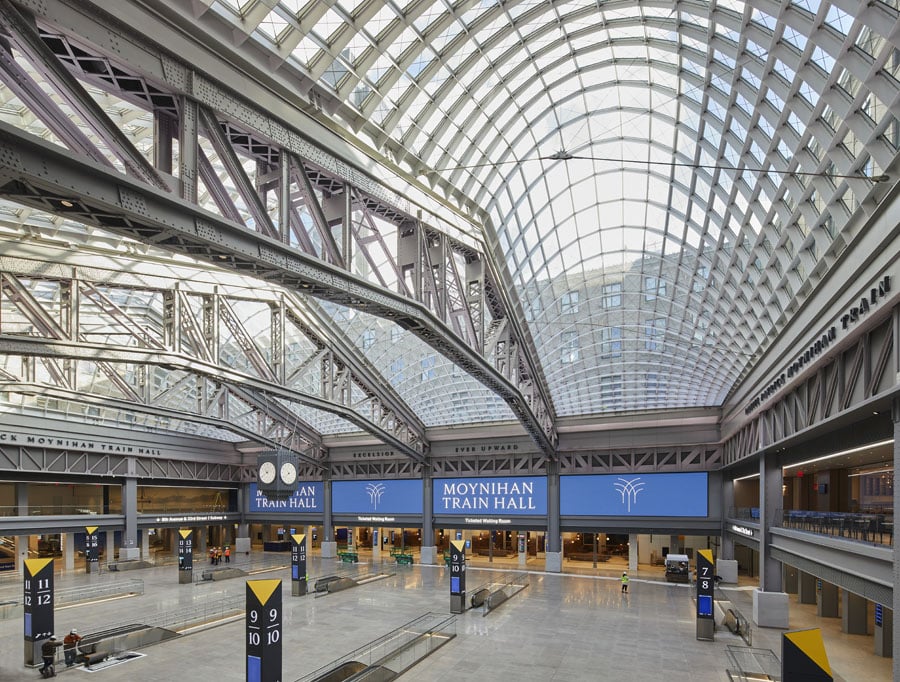 January 11, 2021
Moynihan Train Hall Is a New Year's Gift to New York City
An adaptive reuse project 27 years in the making, the SOM-designed Train Hall is a striking contrast to Penn Station, setting the tone for future transit updates in New York.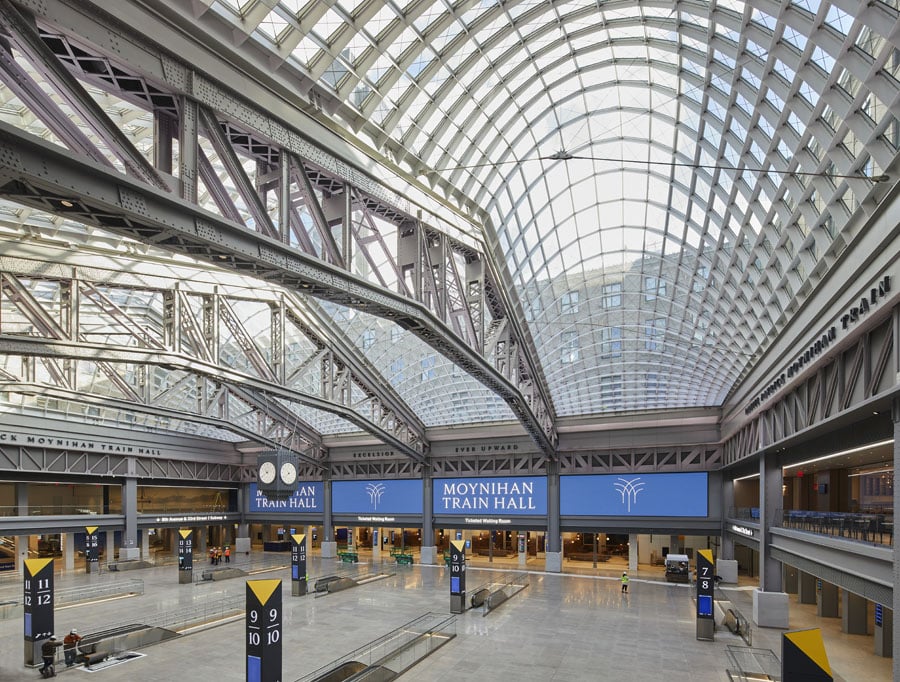 ---
After almost three decades of fits and starts, what made it possible for Moynihan Train Hall, a vital improvement to the busiest train hub in the Northeast, to open its doors to New Yorkers this past New Year's Eve?
Yes, Senator Daniel Patrick Moynihan was a visionary for having conceived the idea of building an extension to the overextended Penn Station inside the underused James A. Farley Post Office Building across the street. Yes, the sight of SOM's new vaulted glass ceiling filtering January sunlight into the central courtyard of the Farley Building now makes one gasp.
But what finally cut through the gordian knot of negotiations and budgets, says architect Roger Duffy, a former partner at SOM, was an innovative baggage system. "It was a fairly technical detail that made the whole thing work financially," he says with some pride. "We reused the old mail sorting elevators so that all the baggage sorting happens above the tracks."
---
More from Metropolis
---
Despite a $1.6-billion budget and splashy first impression, Moynihan Train Hall needed a lot of smart behind-the-scenes solutions like that one. SOM has managed to fit in two train systems, gracious waiting areas, navigational aids, and retail into a building not designed for any of those purposes, while also preserving some of the historic façade and structural elements of the McKim, Mead, and White–designed Post Office—a condition of some of the project's funding.
---
The heart of Moynihan Train Hall is a 31,000-square-foot skylight, an ethereal array of four catenary vaults created by reusing the building's steel trusses. The result is a 92-foot-high space worthy of comparison to the original Pennsylvania Station also designed by McKim, Mead, and White. Sunshine glows warmly on the floor of Tennessee Marble (a subtle nod to Grand Central Station across town), where nine surgical incisions flanked by pylons lead Amtrak and LIRR commuters to the 17 tracks below.
Ringed around this dramatic space on two levels are waiting areas for ticket-holders, some forthcoming retail, and a lounge for Amtrak passengers. Above them, someday, will be Facebook's employees—the tech giant signed a lease last August to eventually occupy all 730,000 square feet of office space in Farley Building.
---
Anybody who enters Moynihan through one of its five entrances is borne inexorably past artworks, cafés, shops, and restaurants, and deposited into this great hall. (The only possible detours are in the West End Concourse, allowing access to NJ Transit and the subway.) "People navigate in different ways," says SOM design partner Colin Koop. "Some are spatial navigators and some are informational navigators. We want it to work for everyone." Duffy goes a step further, pointing out that the way we build transit facilities has changed since the heyday of railway travel. The goal today is not grandeur and repose, but efficiency and navigational ease. "The future of these transportation facilities is the interconnection between systems and spaces in the interiors," he says.
SOM's success with simplifying the navigation of Moynihan is a good lesson for the rat's maze that is Penn Station. Someday, maybe the half-a-dozen transit agencies and real estate companies invested in that facility will work out their differences and build a well-connected, easy to navigate transit hub to make New Yorkers feel more human and less rodent. Until then, Moynihan Train Hall is a welcome salve.
You may also enjoy "Ford Unveils Details of its Plans for Detroit's Corktown"
Would you like to comment on this article? Send your thoughts to: [email protected]
---
Register here for Metropolis's Think Tank Thursdays and hear what leading firms across North America are thinking and working on today.