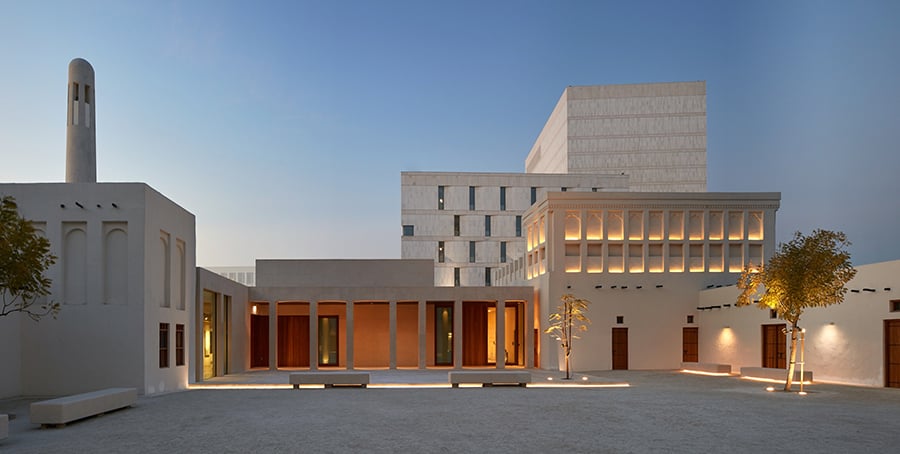 February 15, 2018
Qatar's Msheireb Museums Pioneer a New Kind of Middle Eastern Cultural Architecture
Designed by John McAslan + Partners, the Msheireb Museums in Doha forefront architectural preservation and placemaking.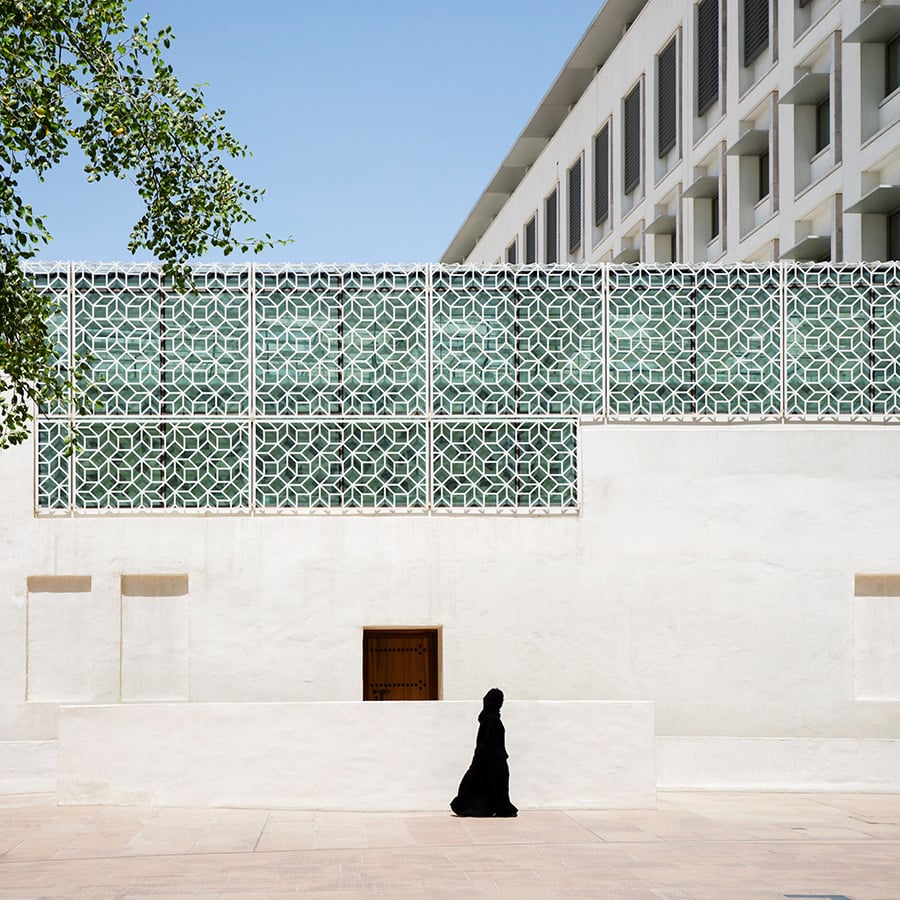 ---
The opening of the Louvre Abu Dhabi on Saadiyat Island was a strange, sultry affair. Statesmen and sheikhs mingled with the United Arab Emirates' cultural elite beneath Jean Nouvel's vast, skeletal dome—the spatial equivalent of a diamond-studded diplomatic handshake. The launch of the complex—a floating "medina," in the description of its architect, albeit one too costly and structurally overwrought for its own good—gave rise to the uneasy sense of a public opening far past its sell-by date. While much shimmered and gleamed, a faint, if not persistent, whiff of the anachronistic drifted about the galleries.
Attitudes and aspirations are changing around the Persian Gulf. While the emirates, states, and kingdoms that compose the region have cemented their reputations as sun-drenched nurseries for architectural stunts, enthusiasm for the vanity project appears to be waning. The debate about what architecture can and should say about national identity and heritage is ratcheting up. In Qatar, a short boat ride across the Gulf from Saadiyat, these questions are being answered by way of praxis. Set against the backdrop of Doha's very own gaggle of glass-sheathed towers, a recently completed collection of museums by London-based John McAslan + Partners, which repurpose four historic buildings, seeks a much-anticipated renewal of traditional, functional, and urban aesthetics.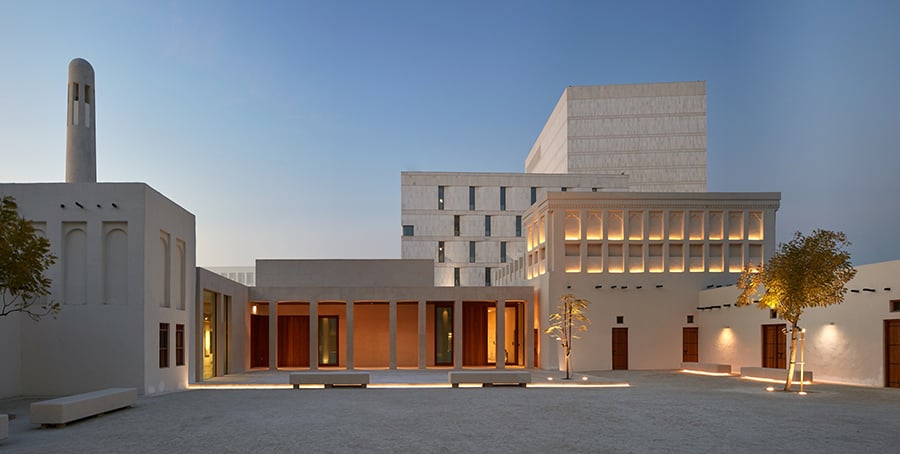 ---
The Msheireb Museums—Bin Jelmood House, Company House, Mohammed Bin Jassim House, and Radwani House—together are part of a vast scheme to rehabilitate 110 buildings in Doha's historic core. After winning a competition in 2008, McAslan took on a part of the city that was, in his words, "pretty beat-up." The area, master planned by Allies and Morrison (also British), was home to a small number of historically significant buildings stranded amid a sea of late Modern developments—a muddled urban arrangement inconducive to the sorts of social activities that a city of Doha's caliber might aspire to. "In short," McAslan recalls, "we were tasked with making a real place out of some of these historic buildings—a walkable part of the city with high sustainability credentials." The question of placemaking was central to McAslan's brief, and for good reason. Taking into account the often inhospitably warm climate, for which the typical solution is a hermetically sealed air-conditioned block, Doha has been largely unsuccessful in creating popular urban promenades, public spaces, and cultural nodes.
---
More from Metropolis
---
There is, now more than ever, a desire for this sort of communicative public space. Around the time that the State of Qatar gained full independence, in 1971, the population of Doha stood at approximately 80,000. According to its most recent census, in 2010, it had swelled to almost 800,000. A large proportion of Qatar's contemporary population are not citizens but migrants, and concurrently with this exponential growth, the country's rulers have developed a desire to enshrine—unflinchingly and at times provocatively—a story of the nation. Company House, located in the former headquarters of Qatar's first oil company, narrates the history of resource exploration and extraction; Mohammed Bin Jassim House reflects on Qatari identity and envisions the country's future. Bin Jelmood House, which is the most striking of the four buildings, seeks to "raise awareness" and "play a pivotal role in the global abolition of human exploitation." It is, in other words, a museum dedicated to the history of forced labor. Slavery was formally abolished in Qatar in 1952, yet controversies around labor continue to dog the country.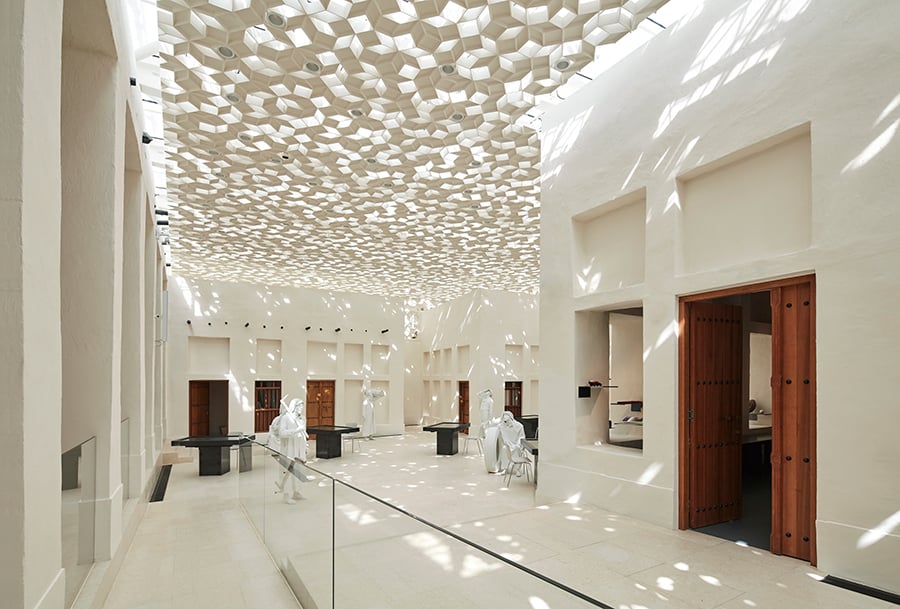 ---
The construction sites for the Msheireb Museums were, as one might expect, occupied by a workforce primarily composed of migrant staff—a fact that raises an inevitable question. "The conditions on the site," which is administered by the construction services company Turner International Middle East, "have been as we would expect to see anywhere else," McAslan states. "There has been an almost universal acknowledgment that to address issues surrounding slavery head-on was a brave and important decision." And this decision came from Sheikha Moza bint Nasser, consort to Qatar's former emir; chairperson of Msheireb Properties, an investor in the project; and someone who is, by most accounts, a progressive figure in the country's ruling elite. "They could have [run the project] far more commercially, but didn't, and this helped us to feel a sense of ownership."
In this context McAslan has managed to create an approach to building the city that bridges time and attitude. By interpreting, translating, merging, and sometimes resurrecting architectural languages from within Qatar and beyond, this project represents a comparatively quiet triumph of soft-power diplomacy. Above all, the Msheireb Museums signal a new way of thinking about place-making and preservation in the region. Civic developments of this character—sensitive, self-effacing, and contextually charged—indicate that a certain reorientation of values is afoot, a shift that could, and should, ripple far beyond the old city of Doha.
You may also enjoy "BIG Releases New Smithsonian Master Plan."