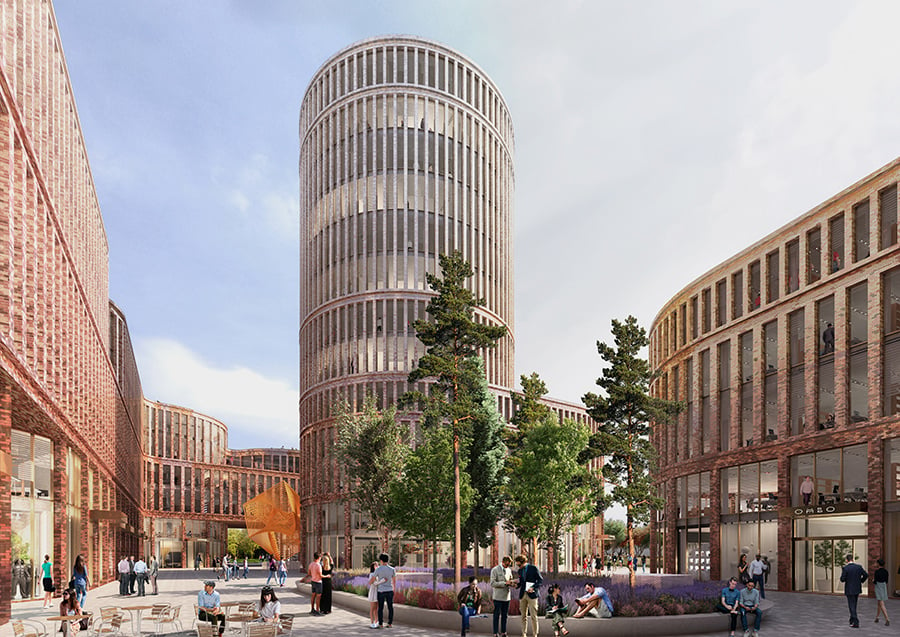 February 14, 2018
MVRDV Reveals 13-Story Office Design in Łódź, Poland
The Fabryczna offices, clad in multi-colored brick and glass, are part of a wider initiative to revitalize the downtown of the Polish city.
---
Planned for the center of downtown Łódź, Poland, the Fabryczna offices are inspired by the city's industrial textile heritage, according to Dutch architecture and urban planning practice MVRDV. Commissioned by Invest Company, the 13-story, 577-foot-tall building is located across the street from a new railway station and a stone's throw from the Alexander Nevsky Cathedral, a striking late 19th-century Byzantine Revival structure. The offices are the latest development for Łódź New City Centre, a city initiative to regenerate development in a .39-square-mile area once home to textile manufacturing. "This building will help to bring back more density and urbanity right in the heart of Łódź," says Nathalie de Vries, co-founder of MVRDV. "We have created with our design an ensemble with the tower, referring in proportions to the mansions of the industrialists, surrounding a new public court." The project further nods to its surroundings with an exterior glass and glazed-brick facade whose "color scheme…blends from red to metallic grey [and] refers both to the past and the city's future ambitions," says de Vries.
---
The Fabryczna offices also include a private green roof and ground-floor courtyard designed by LOLA Landscape Architects. The four-story, 180-foot-tall plinth houses over 290,000 square feet of retail space on its ground floor, with over 43,000 square feet of offices spread across the project overall.
This development is the second project by MVRDV in Poland. (Last year, the firm completed the Baltyk tower in Poznan.) Construction on the Fabryczna offices will begin during the summer of 2018 and will be completed in 2020.
---
More from Metropolis
---
You may also enjoy "MVRDV Creates Happy, Reconfigurable Hotel for Dutch Design Week."