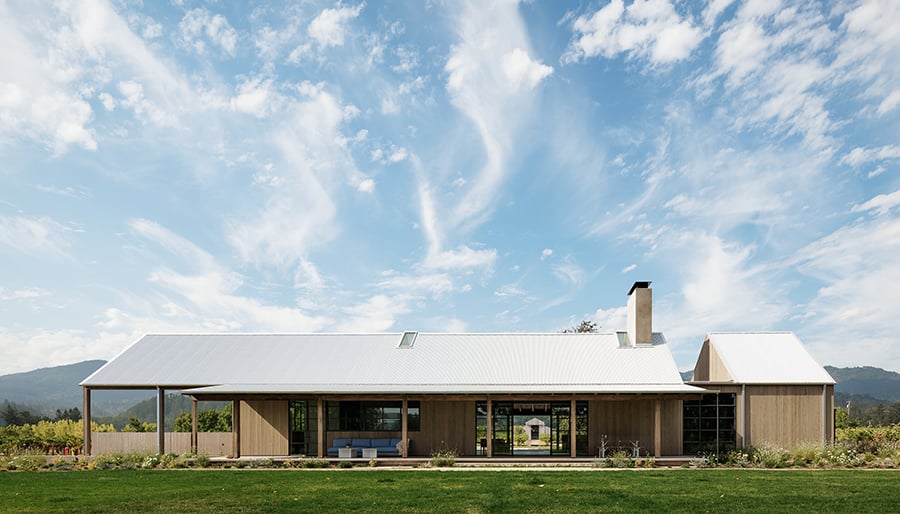 January 4, 2019
This Napa Valley House Blends Modern Design with Farmhouse Vernacular
Located on a 17-acre former vineyard, the project—designed by Field Architecture—combines steel, concrete, and glass with pitched roofs, overhangs, and other barn-like features.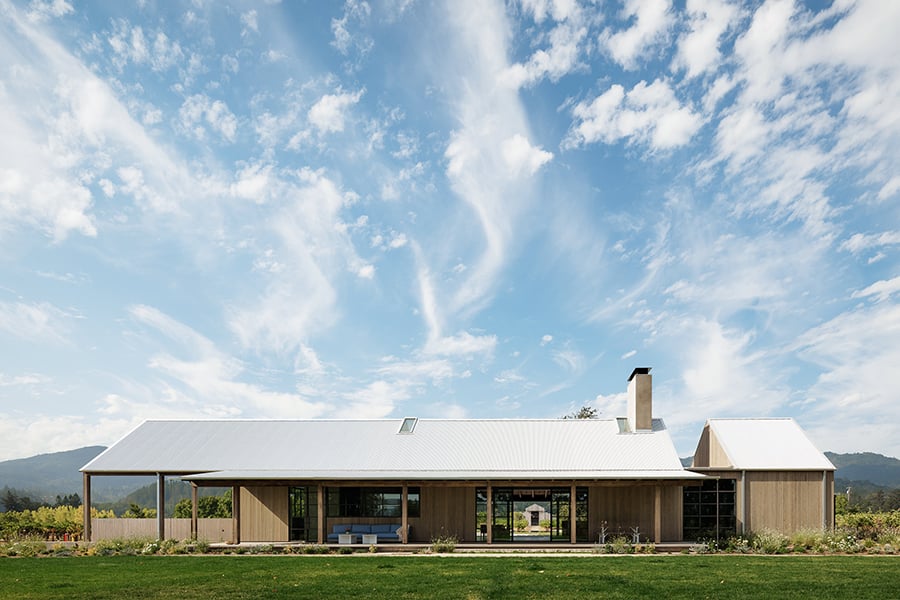 The Napa Valley has a storied agricultural legacy that includes grains, cattle, fruits, and (of course) wine. That history comes with an architectural component as well: centuries-old structures that reflect their hardy, functional past. This makes introducing modern design to Napa's landscape a challenge, but it was one that two executives wanted to tackle. The couple was relocating their family to a seventeen-acre Napa Valley former vineyard and their requirements were simple enough: to create a grounded space for entertaining and gathering whose modern styling didn't clash with its bucolic surroundings.
The couple tapped Palo Alto, California–based Field Architecture to lead the project. "Since this was an old Zinfandel parcel, there was a lot of development and cultivation of the land," says architect and firm principal Jess Field. "We had to peel back the layers of what had been accumulated over time and try to see what the underlying character of the land was so we could get the architecture to respond to that original form."
Seeking an appropriate site for the house, Jess and his father (fellow architect and Field Architecture principal Stan Field) found themselves gravitating toward a U-shaped enclave of trees on the northeast corner of the expansive plot. "We saw this U-shape as an embracing protective element, [one] that functions like a layer of building within the layer of landscape," Jess tells Metropolis. The result is a family of structures—also shaped in a U formation—with a courtyard and pool at its center. The five-bedroom, six-bathroom compound condenses the living room and kitchen areas into its central wing, with the bedrooms flanking each side.
---
More from Metropolis
---
---
The project's relationship to its landscape doesn't stop at the placement of the house itself. The house showcases classic elements of farmhouse architecture—a gabled roof, lean-to overhanging roofs, and an elongated front porch and back patio. The material palette includes wood (recycled from old livestock corral boards) and corrugated steel. "We questioned the elements that make up farmhouse architecture and elongated those iconic details," says Jess.
For the interior, Field Architecture worked closely with Shawback Design to carefully pick tones, fabrics, and furniture that would integrate the house's decor with the landscape. Most notably, the deep hues of blue throughout the residence were meant to mirror the vast azure sky that often stretches above the house. The designers left the ceilings completely unobstructed by light fixtures to keep the focus on the pitch of the roof and skylights. The furniture is largely inspired by the idyllic images of a farmhouse, with an unfinished picnic table acting as the primary eating area.
In the end, says Jess, "we wanted to create a highly contemporary piece of architecture but to do so while preserving that farmhouse heritage of the site … the new family could, rather than replace the old story of the land, add their own layer to that existing narrative."
You may also enjoy "In Tokyo, a Formidable Concrete Shell Protects an Intimate Family Dwelling."