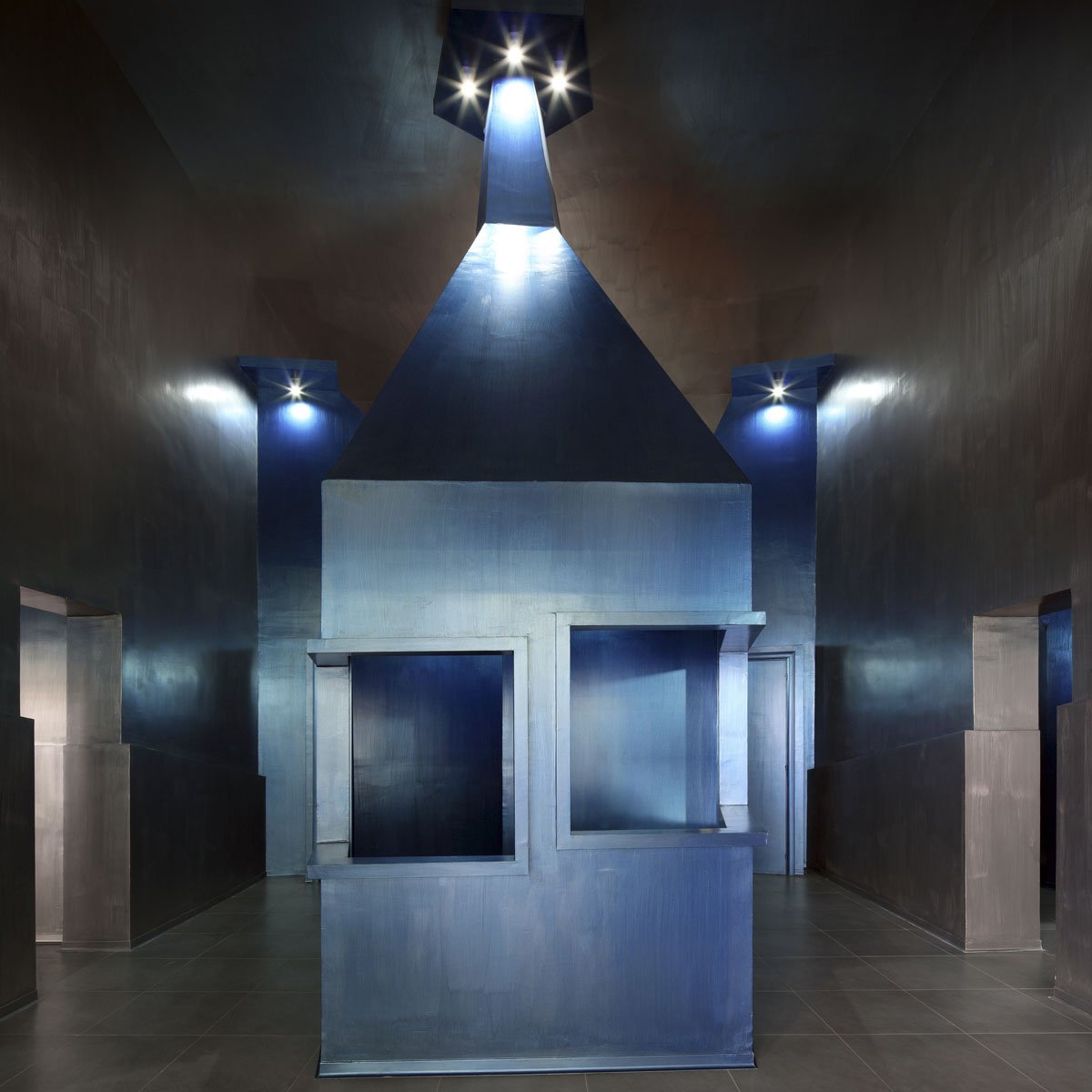 February 16, 2015
In Naples, a Theatrical Medical Center That Evokes Seaside Grottoes
Evoking the mysterious underworld of seaside grottoes, a theatrical health-care center in Naples provides a palate-cleansing experience for passengers taken ill aboard cruise ships.
The atmosphere inside the Neapolis Medical Center isn't quite what you'd expect from a health-care facility. The project, which was a finalist for the 2014 ARCHMARATHON Awards, was designed by architect Cherubino Gambardella, in collaboration with Alfonso Mattia Berritto, Augusto Bosco, and Alessandro Marotti Sciarra.
Photos courtesy Peppe Maisto
---
For architect Cherubino Gambardella, every project is a battleground. In his work, most of which is located in and around Naples, one finds the exhortation of old adversaries. Modernism is often invoked, as are the various offshoots it inspired, from Neorealism and Neorationalism to Postmodernism and even Pop Art. Familiar combatants, Aldo Rossi and Robert Venturi among them, are marshalled forth, only to be roundly negated in a volley of rhetoric—or, as the drawings show, blended together in a soup of references and fragments.
Despite these reprisals, Gambardella maintains he isn't interested in the past, or even the future. The present is the thing. "Nobody looks to the present, nobody looks to things without time. My idea is to pull all things from an inventory like an incredibly big supermarket."
---
More from Metropolis
---
Such Warholian pragmatism—the objective mining of culture in all its forms, including, if the impulse strikes, soup cans—can produce strange, but captivating results. This ambiguous quality is common to Gambardella's projects, such as the Neapolis Medical Center, whose program is not eminently clear. Its metallic blue and gray walls, coupled with the conspicuous lack of medical equipment, betray no intended usage. "The problem was to design a space for health care that didn't seem like a space for health care," says Gambardella. "Instead, I imagined not a doctors room but a theater space
Situated at the edge of the Naples port, on the bottom floor of a dull Fascist-era building, the center is, in fact, a pit stop for ailing cruise-ship tourists. The small 753-square-foot quarters are framed by three follies, fashioned like dramatic oversize portals.
To the architect, their figural shape suggests the influence of John Hejduk, Gambardella's former teacher whose own architecture progressed from imaginary Corbusian villas to board-game-like pieces. To beleaguered travelers, the silvery hues glisten in the light like the littoral grottoes that surely feature on every Neapolitan itinerary.
These ethereal effects, achieved using mere partitions, low-cost materials, and some paint cans, represent a different, "secondary" kind of beauty, suggests Gambardella. "This is democratic beauty—it is not perfect beauty, but it is necessary for us today." Insistent, he says buildings should be endearing, able to embed themselves in the minds of passersby. "When people see something like the Chrysler Building, they can immediately understand it. This is the same with the Neapolis Medical Center, whose physiognomic form is totally secondary and comprehensible."
The center's interior spaces, arranged around three pavilion-like rooms, are framed by theatrical portals whose shape recalls the Roman ruins of a Naples landmark, House of the Spirits.
Gambardella's study sketches emphasize the centrality of the stage-like portals, which share a formal affinity with the designs of John Hejduk, particularly the latter's "Memorial to Jan Palach" (1993).
Courtesy Cherubino Gambardella
Metallic paints were used to achieve a shimmering lighting effect in the interiors—a resourceful move (the project's budget was admittedly "paltry") that Gambardella says was inspired by Naples's famed Blue Grotto. The partitions enclose three doctors rooms, plus one for drawing blood, a reception and waiting area, and a public restroom.