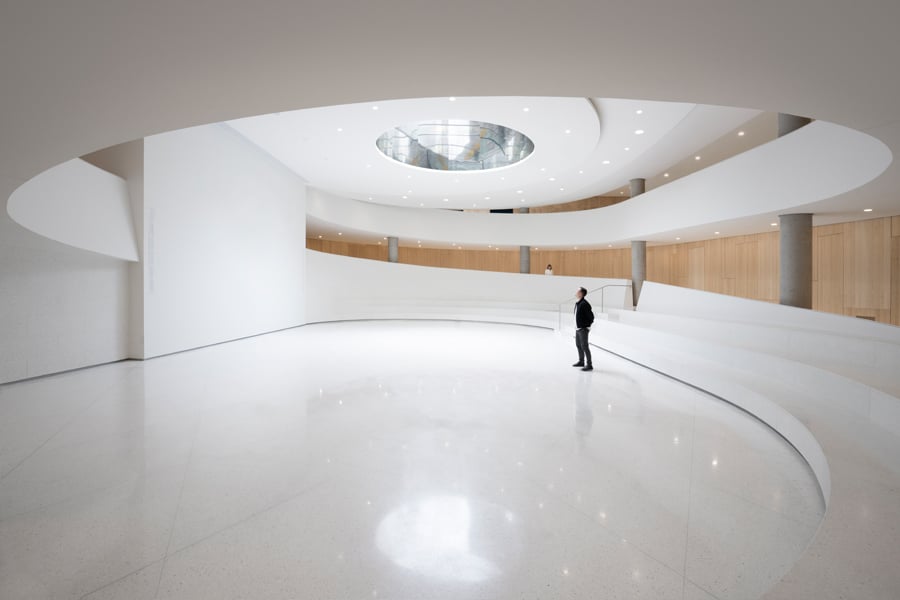 February 21, 2020
As Above, So Below: The Reception Pavilion for the National Assembly of Quebec Digs Deep
Montreal firm Provencher_Roy inserted a new underground pavilion that aims to make the parliamentary complex more accessible and transparent than ever.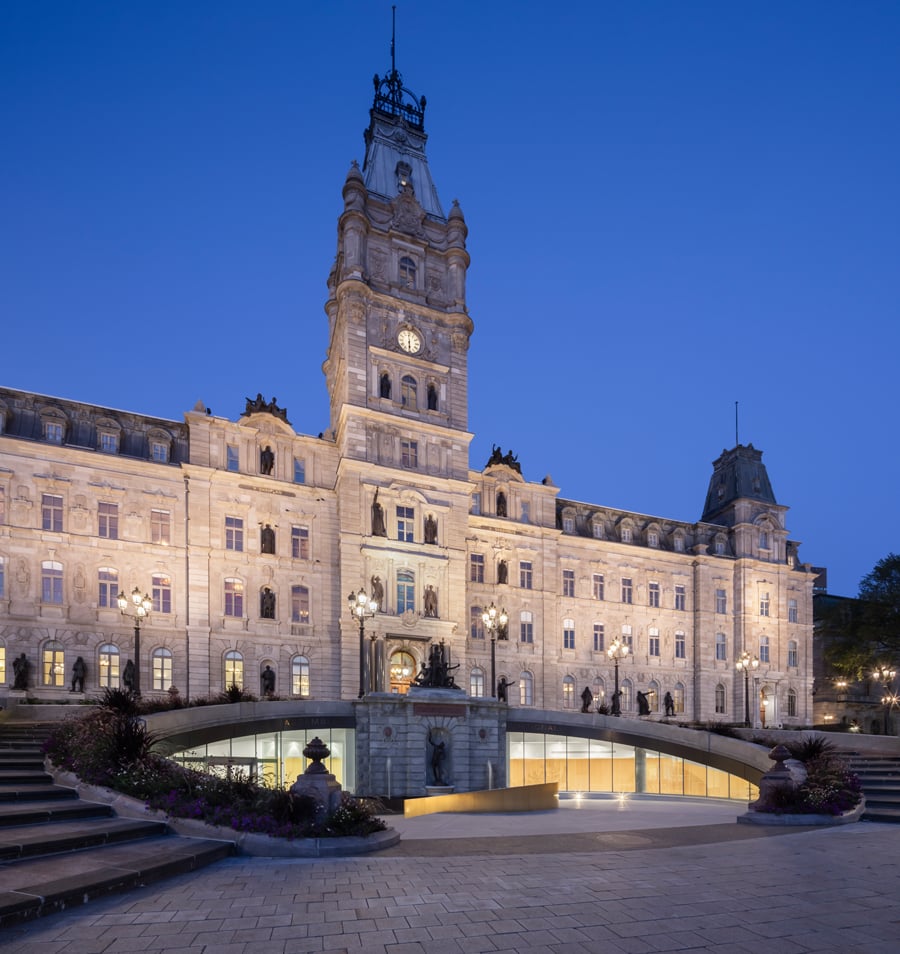 When Montreal practice Provencher_Roy was selected to design a new visitor center and entrance for Quebec's historic Parliament Building, the architects knew that just adding an external pavilion to the storied site was not going to pass muster.
The team was adamant that any additions to Eugène-Étienne Taché's 1886 building not interfere with the original; an external entrance pavilion would obscure the front of the landmark structure. "The existing facade is highly iconographic as a means of communicating democracy's history in Quebec to the public," says Nicolas Demers-Stoddart, a partner at Provencher_Roy, referencing the 20-odd statues of Quebecois leaders that adorn it. "Instead of building this pavilion far out front, we decided the entrance should value the initial architecture and the heritage that comes with it."
The solution, then, was to go underground.
---
More from Metropolis
---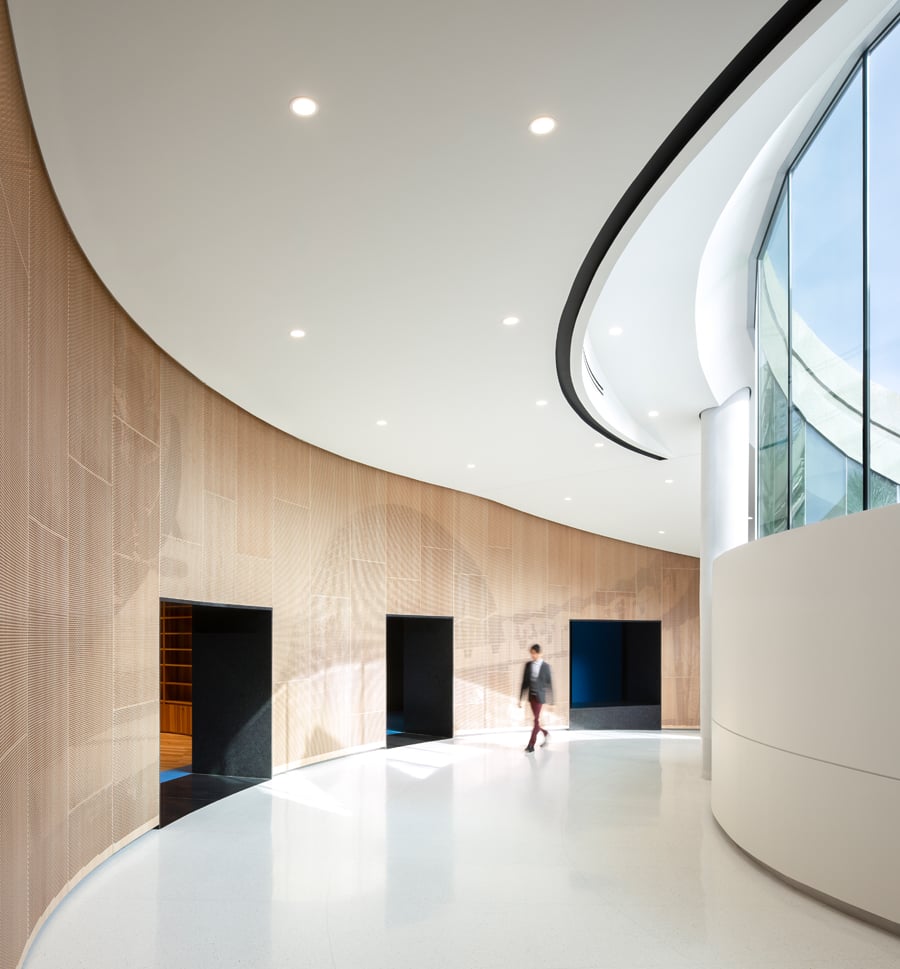 From the new addition's glass doors, a white circular ramp sweeps out and strings together commission rooms and an array of public spaces, such as those dedicated to security, reception, and services. The swirling ramp—lined by a wood wall engraved with symbols of democracy in modern Quebec—encircles a new atrium, all bright white and topped by an oculus that looks up toward the Parliament Building's tower. The imagery was chosen specifically to add to the visual narrative of the Parliament Building, but with more modern figures that reflect Quebec's diversity, such as First Nations leaders and women activists. It's a thoughtful addition to the assembly that structurally mirrors the building above: "We chose a language and an architecture that was very minimalist in terms of its materiality. There are really just two textures, white and wood," says Demers-Stoddart. "Because it's underground, using a lot of white reflective surfaces allowed us to amplify the feeling of being in a very light space."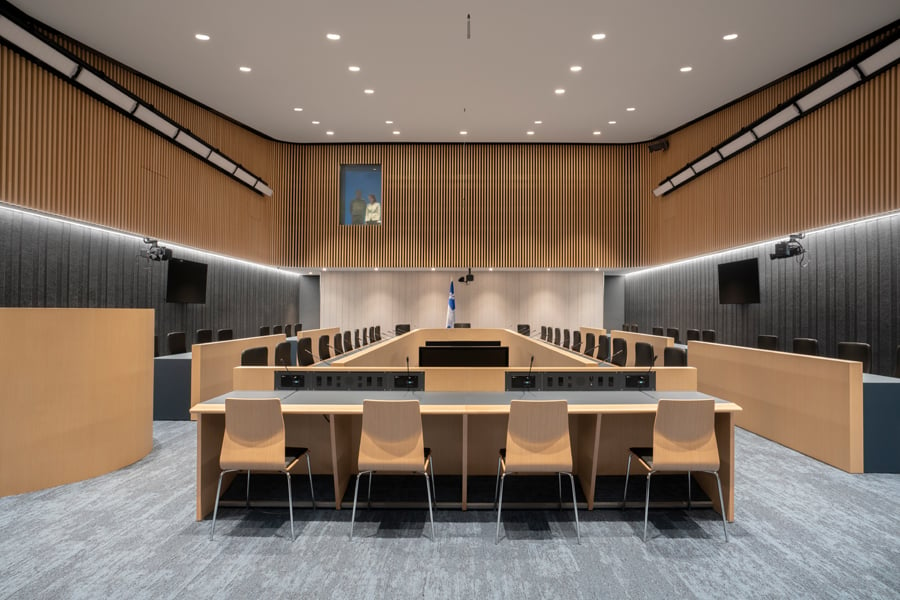 A central requirement of the new building was that it encompass state-of-the-art broadcast and security technology, and vitally, include viewing galleries that help bring the public into the day-to-day of democratic politics. Also in service of that aim are classrooms and pedagogical spaces, painted in shades of red and blue to mimic the Legislative Council and National Assembly chambers in the original parliament above.
Delivered on time and within the Can$65 million budget, the new 55,000-square-foot pavilion is in the process of gaining LEED certification. More importantly, however, it succeeds in providing residents with greater access to their nation's political workings, both literally and metaphorically.
You may also enjoy "The Melbourne Conservatorium of Music Strives For Openness."
Would you like to comment on this article? Send your thoughts to: [email protected]