April 9, 2021
Boasting New Exhibitions and a Renovation, the National Building Museum Reopens Today
New displays include a showcase of MASS Design Group's socially-oriented work and the Gun Violence Memorial Project.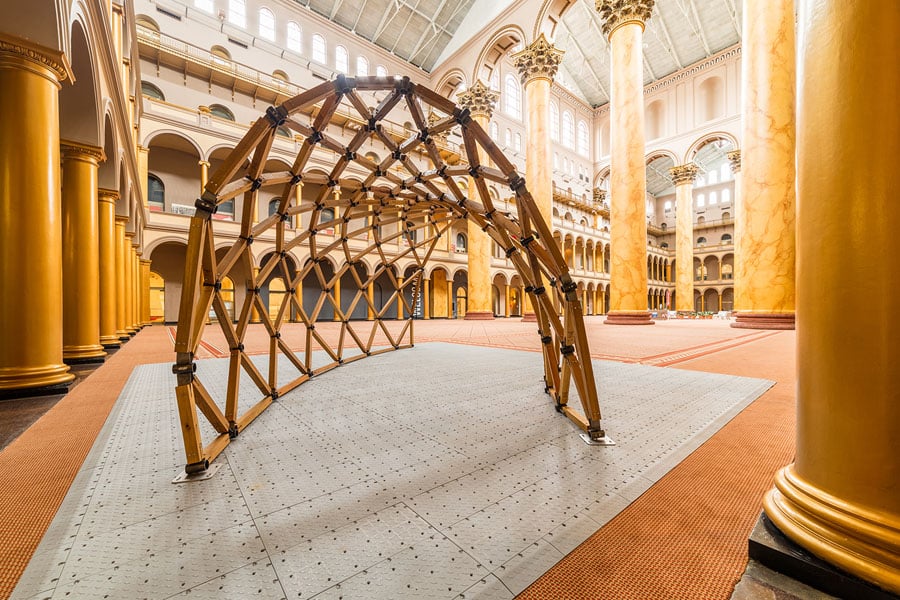 ---
The National Building Museum in Washington will reopen Friday, April 9, after being closed since December 2, 2019, to have its concrete floor replaced with a modern foundation designed to preserve its landmarked home, the late 19th-century U.S. Pension Bureau.
It was slated to reopen March 13, 2020, once work on the floor was completed, but could not because of the pandemic.
Also slated to open in April 2020 were two exhibitions developed in collaboration with MASS Design Group, a Boston-based architecture and design collective that works in over 20 countries, and researches, builds and advocates for architecture that promotes justice and human dignity. MASS Design Group rose to prominence in 2018 for its first major U.S. project, the National Memorial for Peace and Justice in Montgomery, Alabama, which commemorates over 4,000 victims of racially-motivated lynching.
---
More from Metropolis
---
---
The two exhibitions—Justice is Beauty:  The Work of MASS Design Group and Gun Violence Memorial Project—also will open April 9; a panel on COVID redesign for hospital wards has been added to the former.
Justice is Beauty is organized around five themes that reflect qualities embedded in MASS Design Group's work: engaging, healing, fostering, conserving, and marking. It also highlights the firm's active research projects in the United States, Liberia and Rwanda, illustrated by large-scale models, photographs, videos, raw materials, furniture, drawings, and murals. The museum's Great Hall will feature the firm's Lo-Fab Pavilion, an experimental grid shell structure created for the 2015 Design Boston Biennial that merges traditional craftsmanship with computationally-driven manufacturing processes.
---
Having its Washington, D.C., debut at the museum will be the Gun Violence Memorial Project, four glass houses that contain mementos of people killed by gun violence, created in partnership with conceptual artist Hank Willis Thomas and gun violence prevention organizations Purpose Over Pain and Everytown for Gun Safety Support Fund. The project launched at the 2019 Chicago Architecture Biennial.
Michael Murphy, co-founder and chief executive of MASS Design Group, said he hopes the memorial project will mark the "beginning of a multi-year initiative to collect objects from across the country" that eventually will be displayed in 52 houses—symbolizing 52 weeks in a year, as well as 50 states and two U.S. territories—on Washington, D.C.'s National Mall, similar to the display there of the AIDS Memorial Quilt, which first took place in 1987.  Julie Rhoad, former president and chief executive of the NAMES Project Foundation, caretaker of the AIDS Memorial Quilt, is now a senior director of MASS Design Group, leading the Gun Violence Memorial Project.
---
Discussing MASS Design Group's work, Cathy Frankel, vice president of exhibitions at the museum, praised its efforts, particularly in Africa, to train locals and "create buildings and spaces" that use local materials. In addition, she cited its hospital designs in less developed countries that feature open-air arcades and beds that face windows, concepts she said "make excellent sense in the current environment."
Also noteworthy, she added, are the exhibition's collages, which feature images not only of MASS Design Group's architecture but also faces of architects it works with globally.
You may also enjoy "Herzog & de Meuron Completes the Colossal M+ Museum in Hong Kong"
Would you like to comment on this article? Send your thoughts to: [email protected]
---
Register here for Metropolis's Think Tank Thursdays and hear what leading firms across North America are thinking and working on today.