July 16, 2020
Nelson Chow Creates an Oasis of Calm in a Busy Shopping Center
Taking cues from Zen landscape design, the designer carves out a sumptuous retreat for weary shoppers.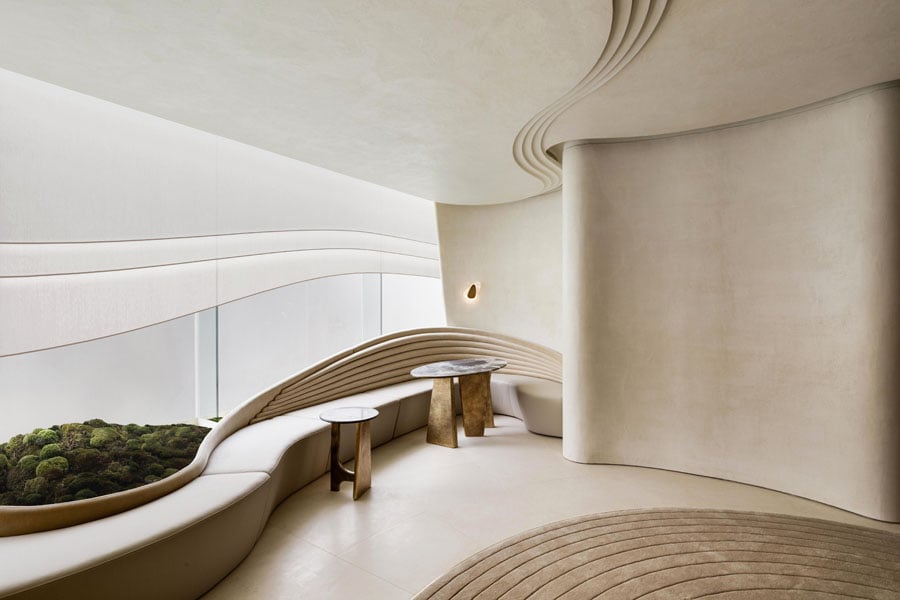 A new VIP Lounge in Hong Kong offers an intriguing insight into how the city's luxury retail landscape is changing with well-heeled shoppers valuing privacy and intimacy as much as comfortable seating and a reviving tea or coffee.
Hong Kong designer Nelson Chow has a reputation for creating original interiors for restaurants and homes. His standout designs include Hong Kong speakeasy bars Foxglove and PDT, a communal space for WeWork with interiors inspired by the city's iconic trams and ferries, and a postmodernist, candy-colored dessert salon. With his new VIP Club Avenue Lounge, which opened in May, he creates a contemporary garden-within-a-garden retreat that combines the soothing visual narrative of a minimalist Zen garden with the relaxed comforts of home.
The result is a perfectly proportioned, spacious, sumptuous yet intimate sanctuary in the heart of Hong Kong's busiest shopping districts.
---
More from Metropolis
---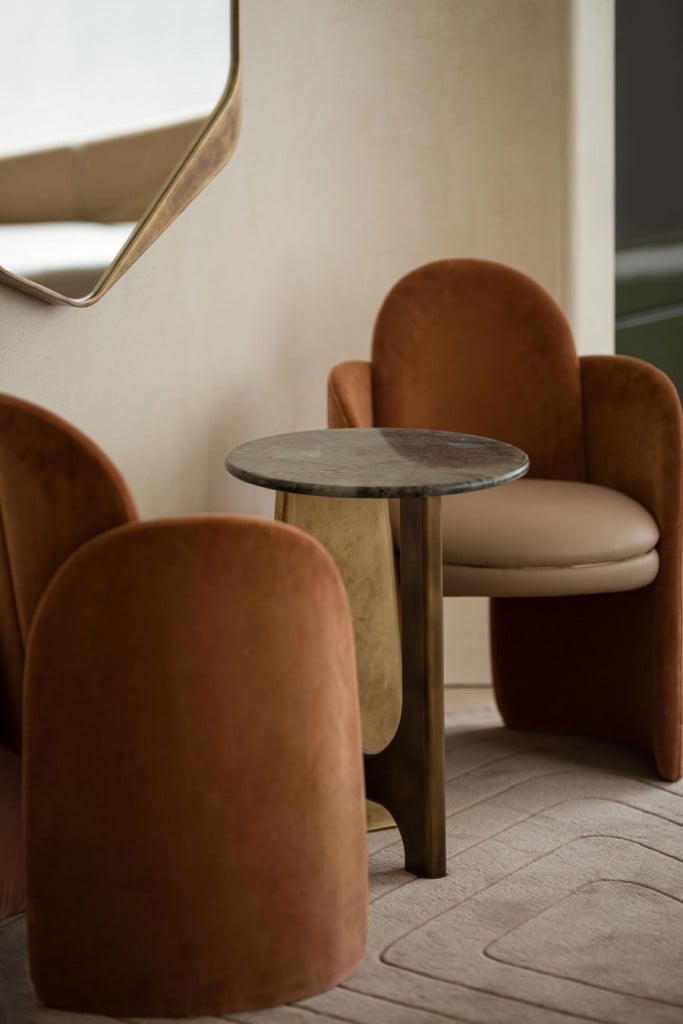 "I think we need comfort more than ever before, so I wanted to infuse the lounge with a sense of hospitality that retail environments do not typically provide," Chow explains. "Somewhere seductive and sensual with a touch of the flamboyant, but at the same time very restrained and sophisticated. It's a delicate balance of Zen-like austerity and luxury."
The entrance to the lounge sets the tone with an enormous sculptural steel sliding door, a nod to the traditional gateway that is a feature of many Japanese gardens. The hand-painted metal has an aged, oxidized finish that adds a subtle wabi sabi touch.
Inside, the designer plucks elements from traditional Japanese gardens to shape the contours of the walls and furnishings, framing views and adding elements of discovery. The gentle contours of manicured shrubs are reflected in a flowing suite of rooms, the curved walls suggesting meticulously raked sand. Sinuous velveteen sofas, plump leather armchairs, and richly hued marble tables pay homage to perfectly placed rocks and stones in Kyoto gardens. Lighting throughout is diffused, and the peaceful earthy tones and muted color palette allow rich marble and geometric brass detailing to dominate.  The reception counter and door handles—made from French Four Seasons marble, so named for its statement-making peach blossom color—provide an abstract echo of nature.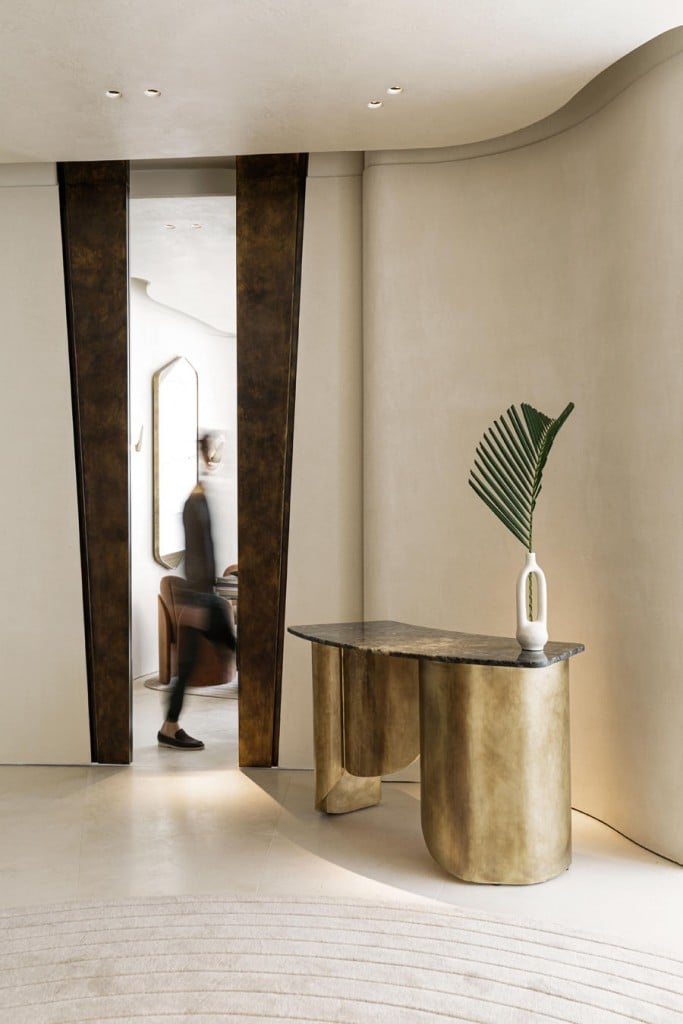 Simple layers of diaphanous, horizontal window sheers that diffuse natural daylight give a sense of slipping inside another dimension, and the designer also makes use of techniques such as shakkei, a "borrowed scenery" proportional effect, by adding a miniature moss garden and ikebana-style floral displays. Lines cut in patterns in the ceiling plaster suggest rippling water.
In addition to the series of lounges that unfold in the 2,000-square-foot space, there are a circular private room with seating for four, several kitchenettes from which staff serve snacks and beverages, an elegant dressing room with a custom marble and brass clothes rail, and a powder room with a mirrored dressing table, integrated shelving lined with leather, and exceptionally good lighting for touching up makeup mid-shopping. The space and furnishings have also been designed for maximum flexibility to accommodate special events such as VIP brand launches and cocktail parties.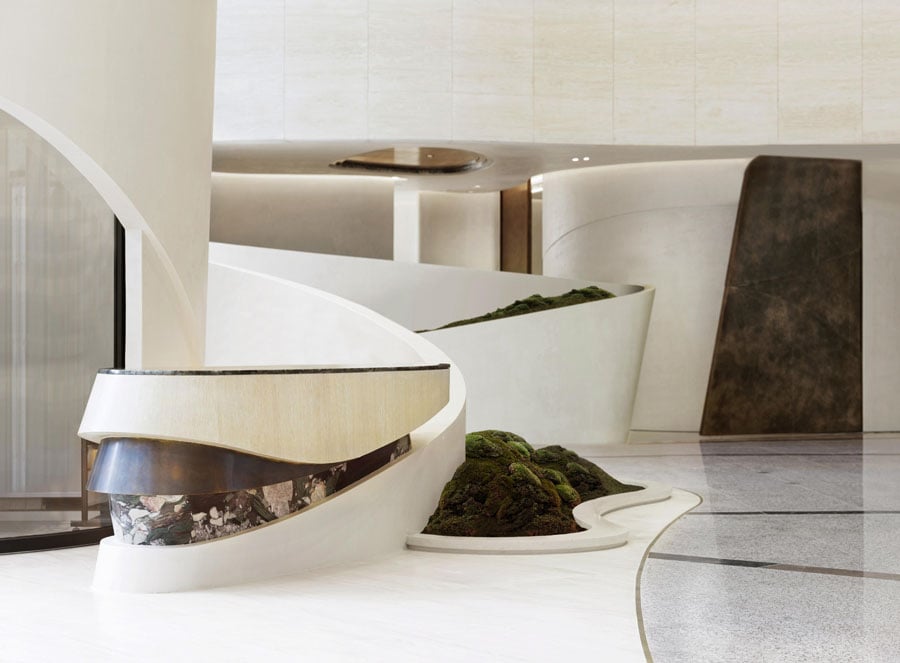 This carefully considered mood extends beyond the VIP Lounge to the adjacent 1,400-square-foot mall lobby, which Chow has transformed from a cavern into a clean-lined, airy garden-like setting with sculptural walls and space for a florist and seasonal exhibitions.
"The recent health crisis has transformed the retail landscape in Hong Kong, accelerating the need to think innovatively about how to make the shopping experience easier, safer, and more enjoyable," Chow says. "Customers prefer a more personal experience within a calm and serene environment, and our garden-within-a-garden provides that with a new, mindful sense of luxury."
You may also enjoy "A Pyramidal University Campus Towers over a Japanese City."
Would you like to comment on this article? Send your thoughts to: [email protected]
---
Register here for Metropolis Webinars
Connect with experts and design leaders on the most important conversations of the day.