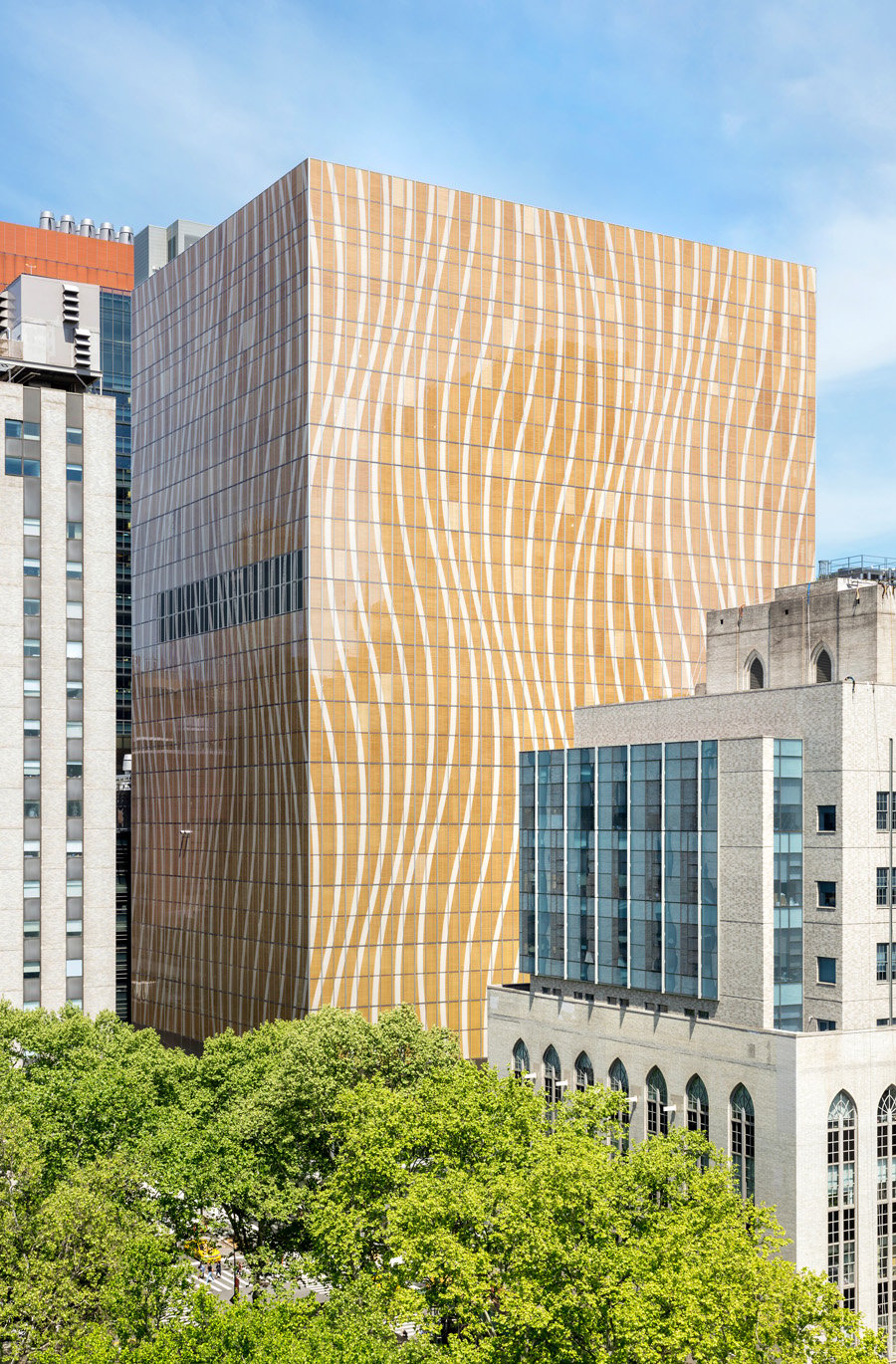 September 13, 2018
This New Clinic in New York Leverages the Tools of Hospitality Design to "Feel Human"
The recently opened NewYork-Presbyterian David H. Koch Center foregrounds the patient experience, with light-filled spaces and a wealth of amenities.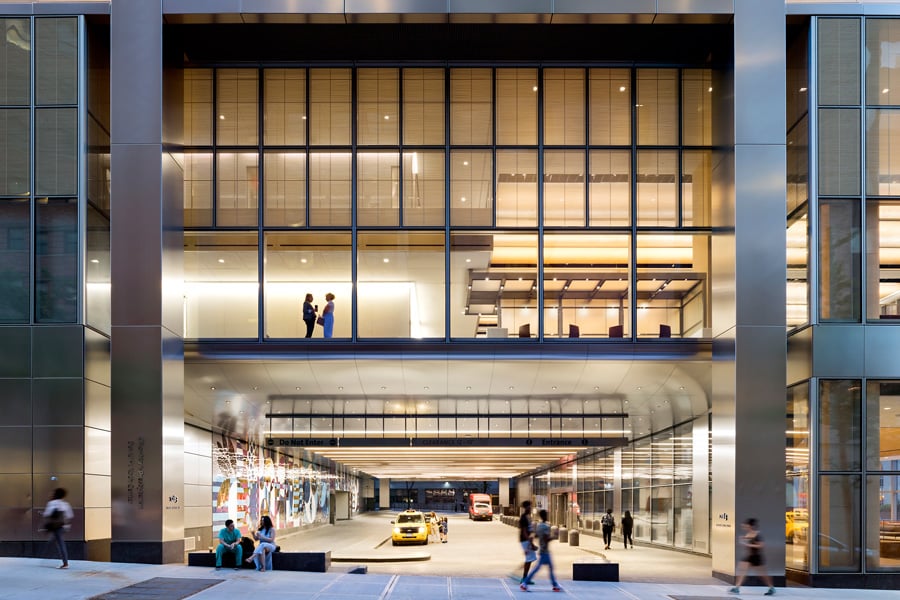 ---
The far eastern reaches of Manhattan's Upper East Side form a Tetris grid of health-care facilities, with emergency-room signs and clinic entrances marking the lines of boxy metal-and- glass facades.
But on York Avenue between 68th and 69th Streets, a different kind of health-care building has taken shape. From the street, the facade of the David H. Koch Center—the NewYork-Presbyterian ambulatory care facility, which saw its first patients at the end of April—glimmers with ribbons of fritted white glass. Inside, the lobby's ceilings stretch over 40 feet tall. Curiously, there's not a wheelchair in sight.
"They're behind there," says Christine Vandover, a senior interior design manager at HOK, pointing to an opaque glass screen that conceals a stash of medical equipment. Vandover is part of the Koch Center's multi-firm design team, which includes medical architects Ballinger and Pei Cobb Freed & Partners, the consulting architects for the building envelope and atrium lobby.
---
More from Metropolis
---
On a recent evening, a small group of the firms' designers— there to tour the new facility—gathered near the lobby's marble reception kiosk. Across the airy space and near the building's covered drive-through, a pair of greeters said goodbye to the last patients of the day. With its dark-gray granite floors, beechwood ceilings, and recessed lighting—not to mention its sociable staff and atmosphere—the Koch Center's entrance feels more hotel than health care. This hospitality quality, increasingly common in health-care spaces, is by design, Vandover explains. "We took a lot of lobby tours: 11 Madison, Goldman Sachs, Hearst."
---
But in the floors above this front-facing welcome area, a state-of-the-art ambulatory center sees up to 1,000 patients a day for procedures like chemotherapy, radiation, and minor surgery. Within its nearly 740,000 square feet, the 18-story building houses 29 operating rooms and dozens of private prep and recovery rooms that act as home bases for patients during their visit. By 2020, when a women's hospital will open on the top five and a half floors, the center will be one of the largest health-care facilities in New York.
The Koch Center's opening comes as the health-care industry is awakening to the power of thoughtful design, with studies showing that design decisions—both good ones, like an abundance of natural light, and bad ones, like unclear wayfinding—can affect patient recovery times and staff efficiency. And what patients have come to expect from their health- care experiences has also changed. "Individuals are taking control of their health care and actually choosing where they go," says Amy Beckman, a principal at HOK who led the Koch Center project. "Design is playing a bigger role in that."
Health-care centers are often challenging commissions for designers, with a plethora of safety regulations and spatial constraints to consider. In the case of the Koch, to fit the program to the site, the building had to be a simple box, keeping clinical functions on the inside of the floor plan and patient circulation on the outside, near sunlight. "The question was, How do you bring this volume to life?" says Henry Cobb of Pei Cobb Freed & Partners. "How do you make it feel human?"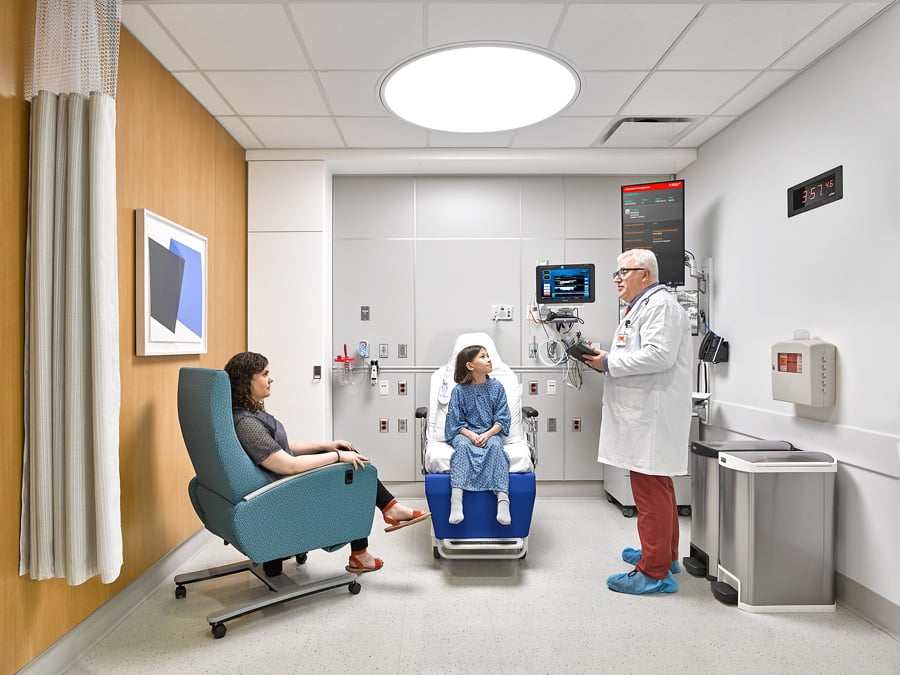 ---
In many ways, the answer lies in certain design details that are rare in an industry that must prioritize technical efficiency. Both the architecture and hospital teams believed certain touches hold the potential to transform the patient experience. For the facade, for example, Cobb and his team designed a glazing unit with an obeche wood screen that sits between the outer and middle panes of glass. The screen provides shading while casting geometric shadows onto the floor. "We've worked really hard to create an environment where you're less frightened and anxious and feel safe when you walk in the building," says Joe Ienuso, NewYork-Presbyterian's group senior vice president of facilities and real estate.
That aim manifests in "patient-centered" design choices at the finish and product scale: clinical rooms with sofas large enough to seat two, so family members can comfortably accompany patients; dimmable overhead fixtures that double as exam lighting, reducing clutter and the need for additional equipment. More intimate spaces like imaging and radiation areas, usually relegated to the underground levels of medical centers, here occupy well-lit, wood-look-paneled rooms on the fourth floor. And the chemotherapy infusion center gives patients the option of sitting in either shared or private spaces, offering patients an ability to manage their treatment that is often ignored in health-care settings.
Ultimately, the designers say, the objective in hospital design is to create humane spaces and moments that empower patients, maintain their dignity and agency, and are just a little more calming and comfortable. "Design is really about improving the human experience," Beckman says. And at the Koch Center, that axiom seems to have been taken seriously.
You might also like, "New Nursing School Heralds the Rebirth of Camden, New Jersey."