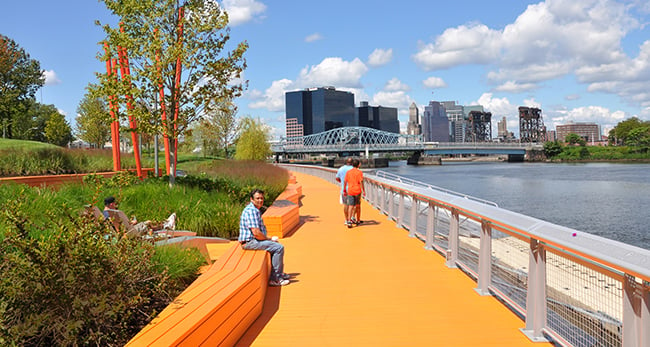 September 3, 2013
Newark Reconnects With Its Long-Abused Waterfront
This gritty industrial city is reconnecting with its long-abused waterfront.
The new 12-acre Essex County Riverfront Park in Newark was designed by Lee Weintraub Landscape Architecture LLC.
Courtesy Newark Riverfront Revival
---
More from Metropolis
---
My scenic voyage up New Jersey's Passaic River departs from a sewage treatment plant. Our boat pushes off from the Passaic Valley's Sewerage Commission's sprawling Newark Bay facility. The waste of the Passaic sewage-shed's 1.4 million residents is processed here. The ride, on a rectangular pontoon boat known as an Aqua Patio, is revelatory; it is an exploration of an environment I've caught glimpses of from car and train windows my entire life, without once thinking of it as nature. Indeed, the purpose of this Saturday afternoon cruise is to demonstrate that the Passaic River, shunned since it became a dumping ground for industrial effluvia back in the nineteenth century, is not a wasteland, but a real river.
My fellow day-trippers, mostly residents of Newark or surrounding towns, listen as the city's planning director and chief urban designer, Damon Rich, points out the human-made landmarks along the way: the mighty Pulaski Skyway, one of the world's first elevated highways, completed in 1932; an enormous former Western Electric manufacturing facility; the Covanta waste-to-energy incinerator; and the Darling International plant, where animal fat is rendered into an ingredient used in pet food and cosmetics.
Rich's narrative is occasionally interrupted by Captain Hugh Carola, who normally pilots this boat on a neighboring New Jersey river, on behalf of an organization called Hackensack Riverkeeper. "There's an egret!" cries Captain Hugh. "There's a cormorant!" The great birds are at the leading edge of the Passaic's revital-ization. (Unlike the humans, they never abandoned it in the first place.)
The boat rides, which take place most weekends through the end of September, and weather permitting, into October—along with riverfront Zumba and yoga classes—are part of a city-sponsored movement to reconnect Newark to its river. It becomes obvious from the water why this reintroduction is necessary. While many of the old industries used the river—mostly, detrimentally—the newer buildings, including glassy office complexes housing insurance companies, law firms, and government agencies, simply ignore it. There don't appear to be any private balconies or decks where office workers could contemplate the water as they lunch or smoke. Last month, however, Newark's city council voted to require new riverfront developments to provide public access.
The disconnect between city and river is glaring, which is not surprising since Newark is a city of disconnects. The stretch of Market Street from Penn Station to the heart of downtown should be a vibrant boulevard, but instead is lined with the lifeless backsides of parking garages. Those who commute to Newark by rail generally exit Penn Station via elevated walkways leading directly to office complexes—no need to walk on the streets. As Rich later tells me, "When you go in those tubes there's a light-up board that says, 'One stop to the airport. One stop to New York City.'" No mention of Newark. "All of these things are very much embedded in an understanding of Newark as a place that's a non-place, a place you want to get out of quick," he continues. "I read this as part of the historic stigmatization of Newark in particular, and American downtowns in general."
The boat rides are part of an ongoing project to build a constituency for the Passaic, one that will push hard for the construction of recreational areas along its banks, and for the ongoing cleanup of the water. In May 2012, with assistance from the Trust for Public Land, the city opened the 12-acre Essex County Riverfront Park in the Ironbound district. Last month, just upstream, the city debuted another four-acre expanse (designed by Lee Weintraub Landscape Architecture LLC) marked by a fabulous orange boardwalk.
Rich, who arrived as Newark's first urban designer in 2008, decided that reclaiming the waterfront, something that's been in and out of the city's plans since the 1920s, could succeed if approached incrementally. "The riverfront has held this promise of being a new civic public shared space in Newark, that maybe has the chance, in some modest way, of going beyond the traditional boundaries." You know: Race. Class. Ethnicity. "Maybe it could be a place that could be equally welcoming to your corporate lawyer on lunch break at the Gateway Center as well as to your longtime Newark working-class resident." Rich assumes that once residents can actually see their river, and spend time on its banks, they will become its strongest advocates.
Rivers everywhere need advocates. But that may be especially true in north Jersey. Rich tells me a story about the exercise he did when he first arrived in Newark. He asked local kids who'd grown up in housing projects near the river what they thought of the Passaic. One of them, according to Rich, said, "I heard there was demons that live in the river who call your name." Last year naturalist Mary Bruno, who'd grown up in North Arlington, five miles upstream from Newark, self-published a book called An American River: From Paradise to Superfund, Afloat on New Jersey's Passaic. "I didn't really know the river," she wrote. "I just knew that it gave me the creeps."
I, too, grew up in Jersey and recall that most of the nature we encountered in our daily lives was so damaged that we learned to regard it with suspicion. My hometown, Palisades Park, bordered Overpeck Creek, a tributary of the Hackensack River, which joins the Passaic at Kearny Point, the site of the old Western Electric plant. When I was a kid, the meadowlands surrounding the creek were routinely used as a garbage dump. From the windows of my Hebrew school classroom in a synagogue built on the edge of the swamps, I watched fire engines race to the scene of underground fires—fueled by methane, I guess—that burned nonstop at the dump.
Bruno tried to rehabilitate the Passaic (in her own mind, at least) by kayaking the length of it, 90 miles, from its pristine origins to its end point in Newark Bay. Along the way, she gives a spectacular account of the damage done to the river by the industries that sprung up along it, most notably a Newark company called Diamond Shamrock that manufactured DDT until the 1960s and switched to the notorious herbicide used by the Pentagon during the Vietnam War, Agent Orange. The by-product of Agent Orange production was dioxin, a deadly substance that turned the plant and its surroundings into a Superfund site. What remains of the plant is still at the river's edge, buried in a concrete tomb, and the dioxin lingers in the mud at the river bottom waiting for someone to clean it up. The kid from the projects wasn't too far off; there are demons in the river.
"I would say we have a truly metropolitan version of nature, at least in this part of New Jersey," Rich says, crediting the environmental justice movement in Newark and elsewhere with the awareness that north Jersey has natural resources worth restoring. "It's about trying to make a place within the mainstream environmental movement for urban people," he adds, "and especially urban people of color, in a vision that was mostly perceived to be about pristine forests."
This is not a new idea. Abandoned, contaminated industrial sites, most notably Germany's Ruhr Valley, have been rehabilitated and remade into destinations. Newark's waterfront is complicated, in part, because it's not abandoned. There are active industries that the city wants to preserve. Then there's the New York City model, where a working waterfront gave way to parks backed (sometimes financially) by luxury housing. That's unlikely to be Newark's model.
Rich's approach involves giving residents a little taste of the waterfront in hopes that it makes them hungry for more. He's attempting to fuel that appetite with incredibly dense, charming informational signage that, in words and illustrations, explains everything from how swinging bridges open to let boats pass, to how the dioxin contamination occurred, to the kinds of birds and fish that frequent the river. The new boardwalk is orange for any number of reasons (it's the official color of Weequahic High School; the color of Mayor Cory Booker's favorite tie), but what the expanse of screaming color does is send a signal that this damaged place is approachable and exciting.
Rich's most compelling argument is the boat ride: From the surface of the Passaic, it's possible to both see hardscrabble Newark as it once was and imagine how, by embracing and cleaning the river, Newark could stop being a "non-place" and start becoming a destination. (Overpeck Creek, it turns out, has been cleaned up enough that it's now favored by rowing teams.) For a Jersey girl like me, it is thrilling to realize that the water beneath the Pulaski Skyway and the New Jersey Turnpike is as much a river as the Delaware or the Hudson.