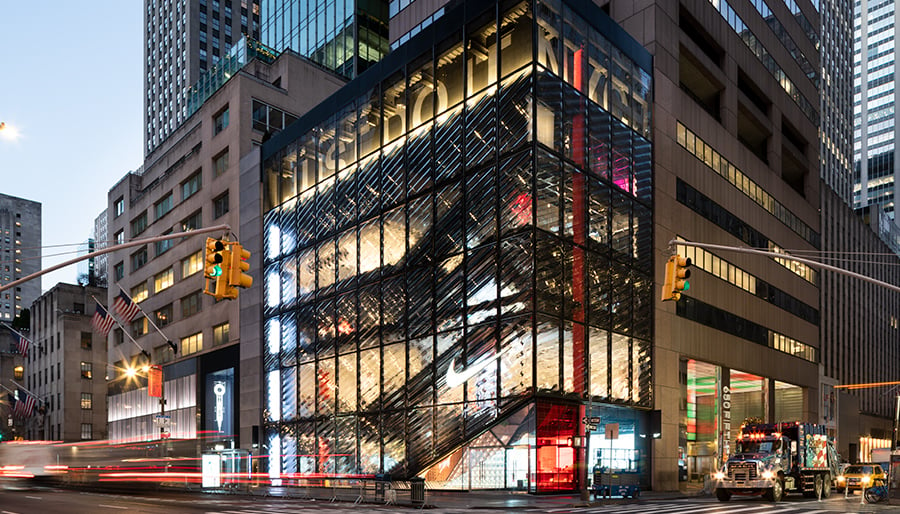 February 7, 2019
Nike's House of Innovation Flagship Is a Temple to Shopping in the Digital Age
The Manhattan flagship, the first of its kind in the United States, is not only a shrine to sportswear but an homage to Nike's unique design process—past and future.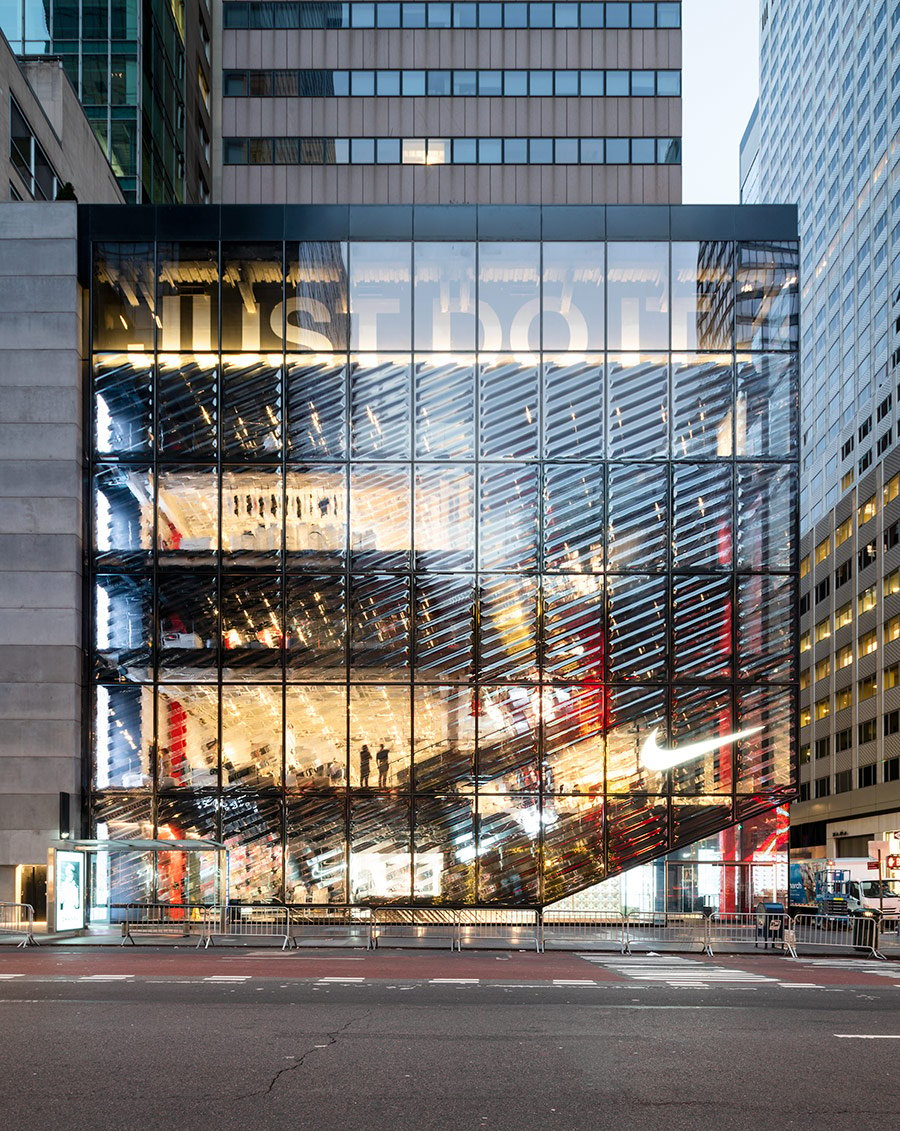 ---
One morning in 1970, track coach Bill Bowerman took the family waffle iron into the garage and poured urethane into it in lieu of batter. Something in that gridded pattern told him that, if affixed to the sole of a running shoe, it could provide the knife's edge separating winners from losers. The molten material welded the appliance shut, but the experiment helped a fledgling company called Blue Ribbon Sports metamorphose into the multibillion-dollar empire we know as Nike.
Nearly 50 years later, the brand's do-or-die spirit still prevails. In November, Nike opened a 68,000-square-foot store devoted to it on Manhattan's Fifth Avenue, calling it Nike House of Innovation 000. The flagship, the first of its kind in the United States, is not only a shrine to sportswear but an homage to Nike's unique design process—past and future.
"Innovation isn't about the final product in a jewel case," says Nike's Sean Madden, a senior director of product who helped oversee the project. "It's about the process and the failures and the iteration, and the obsession with the athlete along the way."
---
More from Metropolis
---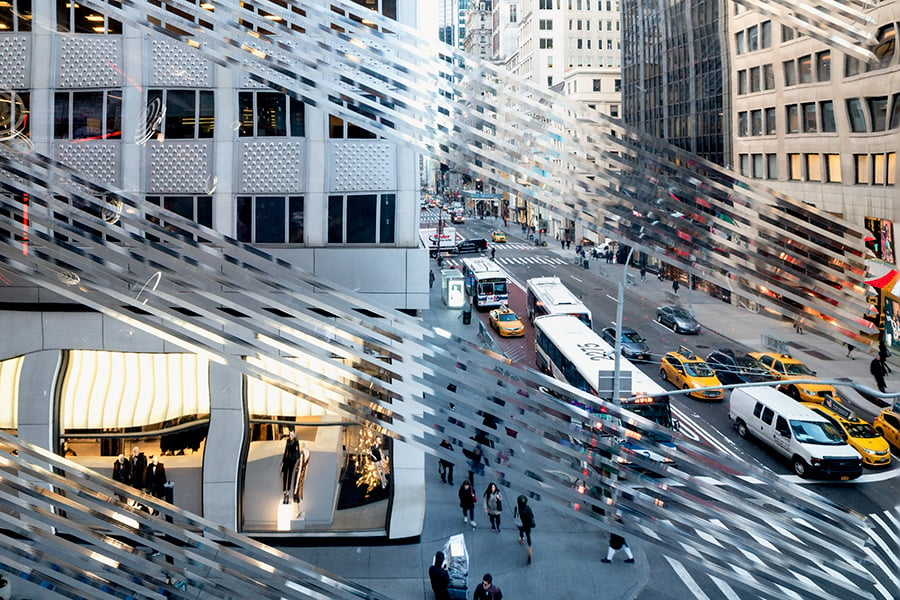 ---
"Obsession" and "iteration" accurately describe the building's exterior—a gleaming six-story grid of undulating glass. The facade is an innovation in itself, a multidisciplinary effort helmed by Nike's Beaverton, Oregon–based design team with input from Rockwell Group, Mode Lab, CallisonRTKL, and Heintges Consulting Architects & Engineers. The designers wanted to convey a sense of movement across the building, so they turned to slumping, a technique for bending red-hot glass beneath its own weight to lend strength and beauty. Each glass panel ripples with uniform etched waves angled at 23.5 degrees—the precise angle of Nike's iconic Swoosh. It's the sort of building Mies would have created had he gotten hold of a pair of Air Force 1s.
Upon entering the flagship's buzzing three-story atrium, a visitor will first be tempted to look up—partly because doing so reveals a tempting retail layer cake, and partly because of a temporary tractor-beam installation broadcasting footage above. This is the "Arena," which anchors the store, as Nike senior creative director of global store design Andy Thaemert explains: "You take the energy that's happening here on the ground level and you transfer it throughout the entire floor." In the center of this hive of activity, you indeed feel as if you are about to be beamed up to Planet Nike.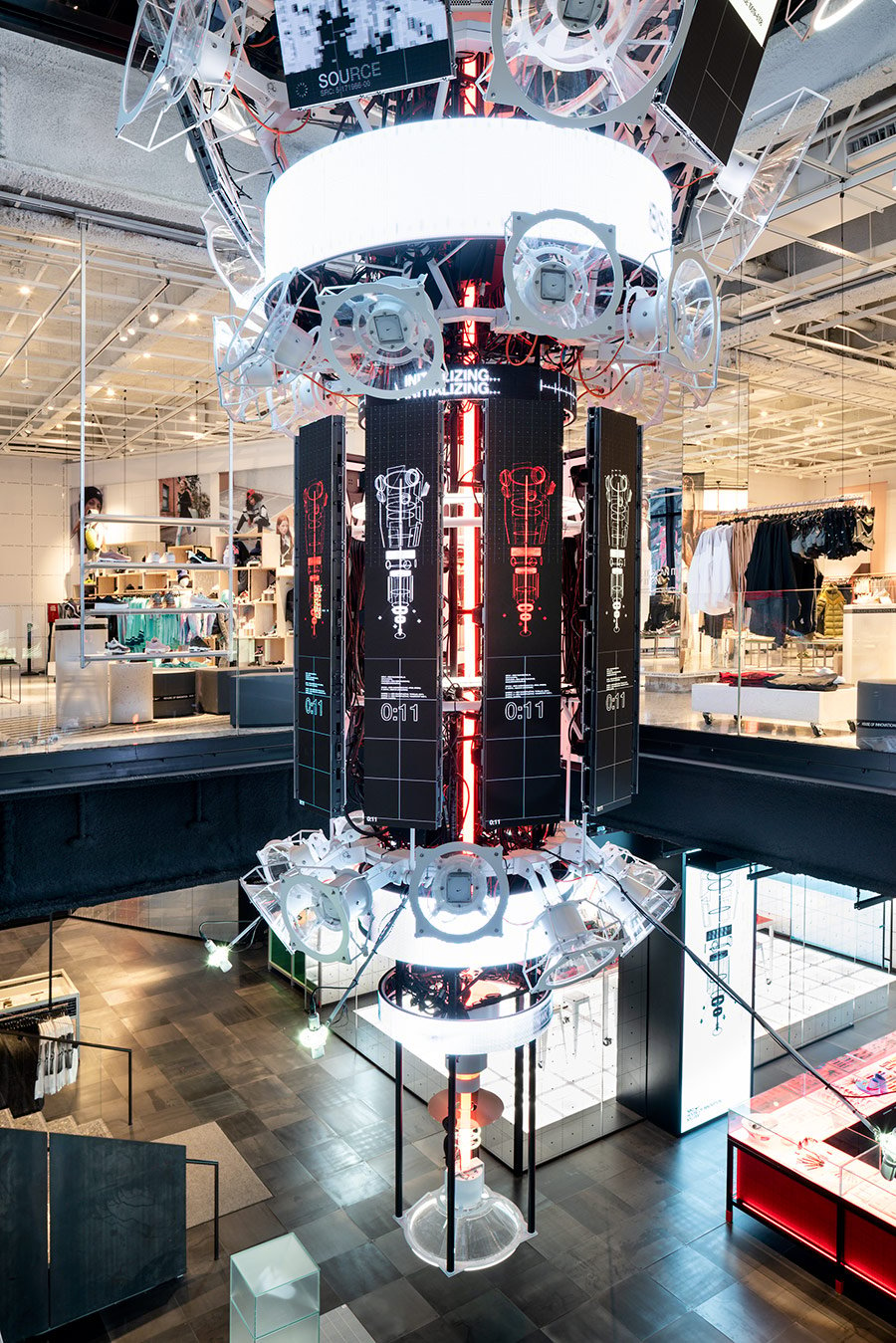 ---
But storegoers don't crane their necks for long. Just beyond, at the back of the space, a glowing counter is set against a video backdrop. Customers gather here to customize their kicks however they please—from a faux ostrich Swoosh to a rainbow of laces. In a separate, glowing cube next to this counter, store employees in white lab coats (internally referred to as "Athletes") dip-dye, stencil, and embroider the shoes. There's not a waffle iron in sight.
A brawny steel stairway (also at the angle of the Swoosh) brings shoppers from the central atrium to the primary retail levels. The designers conceived each story as "one floor, one world," according to Thaemert. On floors two and three, which house women's, kids', and men's apparel, it's evident those worlds are very much Nike's: Everything, from the mirrored pedestals elevating mannequins to bespoke clothing racks suspended from Swoosh-emblazoned straps, references the company's DNA. Even the gleaming terrazzo-based flooring includes Nike Grind, a durable surfacing material that makes use of recycled Nike footwear.
Thaemert and his team relied on a neutral material palette of black, gray, white, and metallics that is picked up in the flooring, furnishings, and finishes. Grids are a prominent motif throughout, turning up on the walls, the track ceiling system, and even retail packaging. Like drafting paper, the pattern telegraphs that the store is a work in progress. In fact, every floor—the lobby included—has the capability to change at a moment's notice. "Gone are the days of the 400-pound table," says Thaemert. "This space will evolve as we evolve."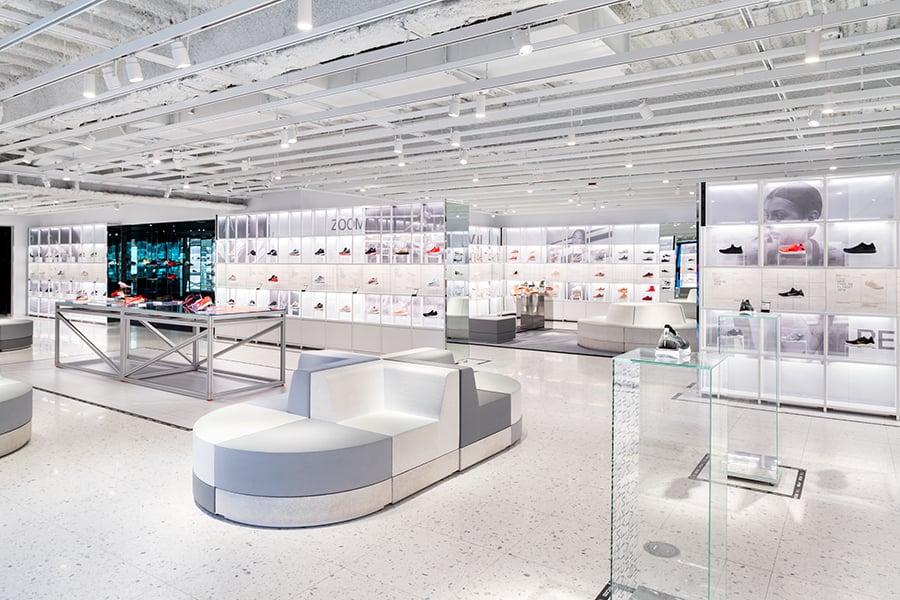 ---
The fourth floor marks a dramatic shift in the store's design language and hosts what to many will be the main attraction—the Nike Sneaker Lab, home to the largest collection of the brand's footwear in the world. Its pristine white inner sanctum is a nod to Nike's "canvas," the triple white sneaker. Such design moves recall Snarkitecture's work for Kith (the New York sneakerhead mecca) and undoubtedly intend to capture a similar hypebeast clientele. But at the House of Innovation, Nike places its status as a footwear originator and innovator front and center, from a sculptural knitting machine (similar to the tractor beam downstairs) to the guts of a Nike Zoom Vaporfly Elite splayed out on a table.
Are such bells and whistles enough to draw an audience beyond tourist-laden Fifth Avenue? The designers hope so. The building's top floor hosts the Expert Studio. Here, in a loungelike setting, members of NikePlus (a free service available through Nike's app and website) can schedule one-on-one apparel consultations for a big race or for a night out. Here too, as on the first floor, shoppers can work with specialists to customize and remix their clothing. "As stores moved from transaction to experience, we are also moving from transaction to relationship," explains Madden.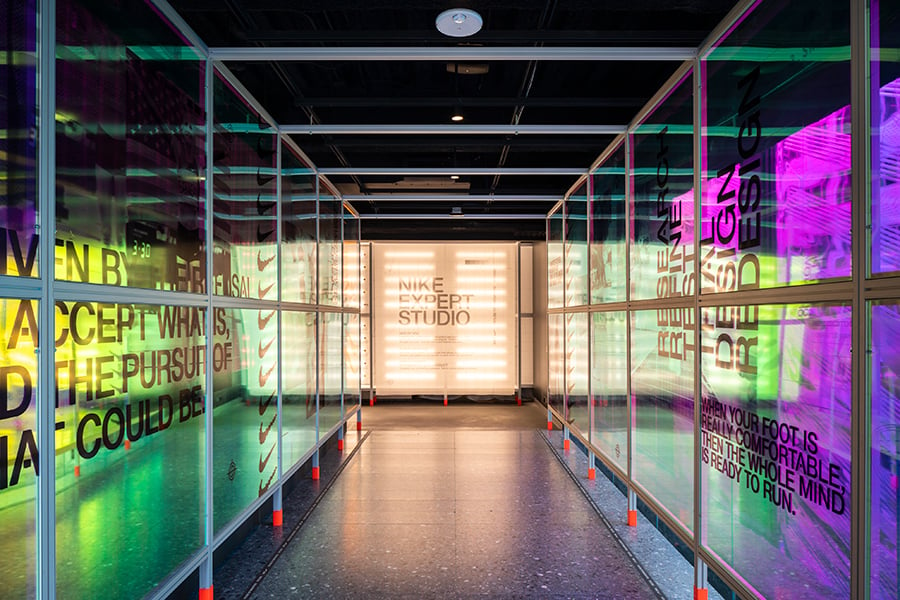 ---
Nike recognizes that customers are used to shopping on the internet, and it is banking on a set of in-house app capabilities to make in-person shopping a seamless, almost digital experience, rather than a hassle. Visitors add garments via QR codes to a virtual dressing room list; when they're finished with browsing, they can head to a fitting room where their items will be waiting. Grab-and-go shoppers head to the store's basement Speed Shop for Nike mainstays (Air Force 1s, running tights) and storage lockers for fast pickup service. Here and throughout the rest of the building, shoppers check out with their phones without once, in theory, having to interact with an employee.
The most radical idea inherent in all of this is absolute trust in the consumer. In a retail climate rife with surveillance, here ink tags, security guards, and flashing gates are conspicuously absent. It was Nike fans, after all, who propelled the company to some $36 billion in sales annually. Says Blaine Samsair, an especially ebullient store Athlete, "We put the trust in our customers because at the end of the day, they trusted us."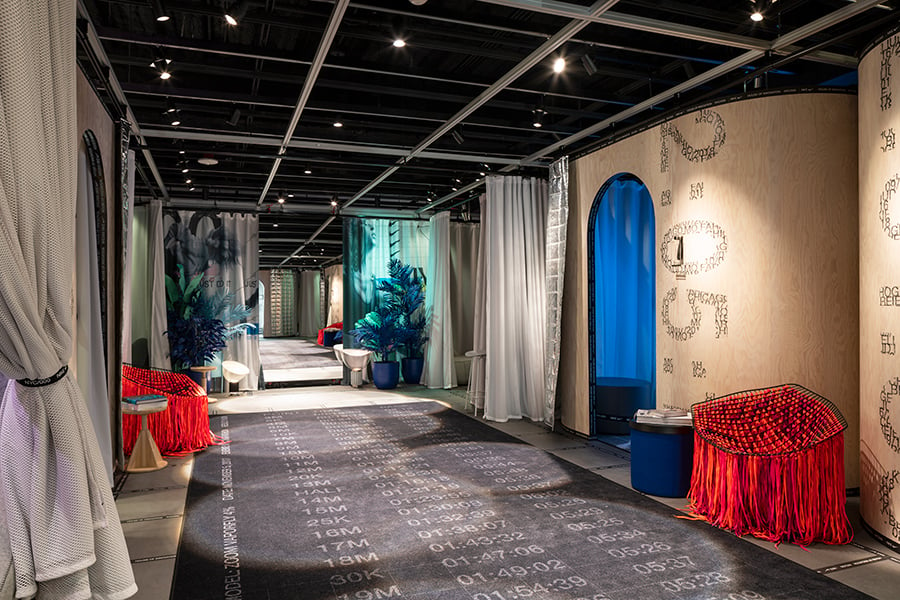 ---
It remains to be seen whether such innovations will be picked up in retail generally (Puma, for its part, inked a deal for a flagship just two blocks away) or readily embraced by customers, but that's not hampering Nike devotees from flooding in. On a particularly miserable, damp day in Manhattan, people milled throughout the store—trying on shoes amid heaps of shopping bags, or pausing to watch Athletes customize apparel within their glowing workshops. "It's like Project Runway," one woman remarked, peering into the Expert Studio.
Amid the humming temple to consumable, fashionable fitness, a surprising moment of calm: Along the main stairway, the facade's etched channels evoked rivulets streaming across a windshield at highway speeds. The rainy world outside, meanwhile, seemed to stand still.
You may also enjoy "In Mexico City, a 13-Foot Installation Explores a New High-Tech Approach to Casting Concrete."
Would you like to comment on this article? Send your thoughts to: [email protected]