July 1, 2020
Meet the Nike Space Hippie, a Cannibal Sneaker Made from Trash
The futuristic-funky sneaker collection, which launches this week, is a step toward sustainability and material circularity for the footwear industry.
With its embrace of foams and plastics and a hype-driven culture that encourages disposability, the sneaker industry is not exactly known for sustainability. But a new skunkworks project by Nike proves that kicks made primarily out of recycled trash can reduce waste—and look really cool, too. The Nike Space Hippie collection, dropping this month, comprises four raw-but-futuristic shoe designs, manufactured with over 50% recycled materials by weight—Nike's lowest carbon footprint ever. "Space Hippie is rebelliously optimistic," says John Hoke, chief design officer at Nike. "It is about figuring out how to make the most with the least material, the least energy, and the least carbon."
Spearheaded by Noah Murphy-Reinhertz, sustainable design lead at Nike's Innovation Kitchen, the Space Hippie project draws its inspiration from in-situ resource utilization (ISRU), the self-sufficiency practices pioneered by NASA on long-term space expeditions, where resupply shipments aren't feasible. While in the case of a Mars mission, ISRU might mean creating building materials from planetary dust or fuel from solar rays, at Nike, it means leveraging waste as a resource.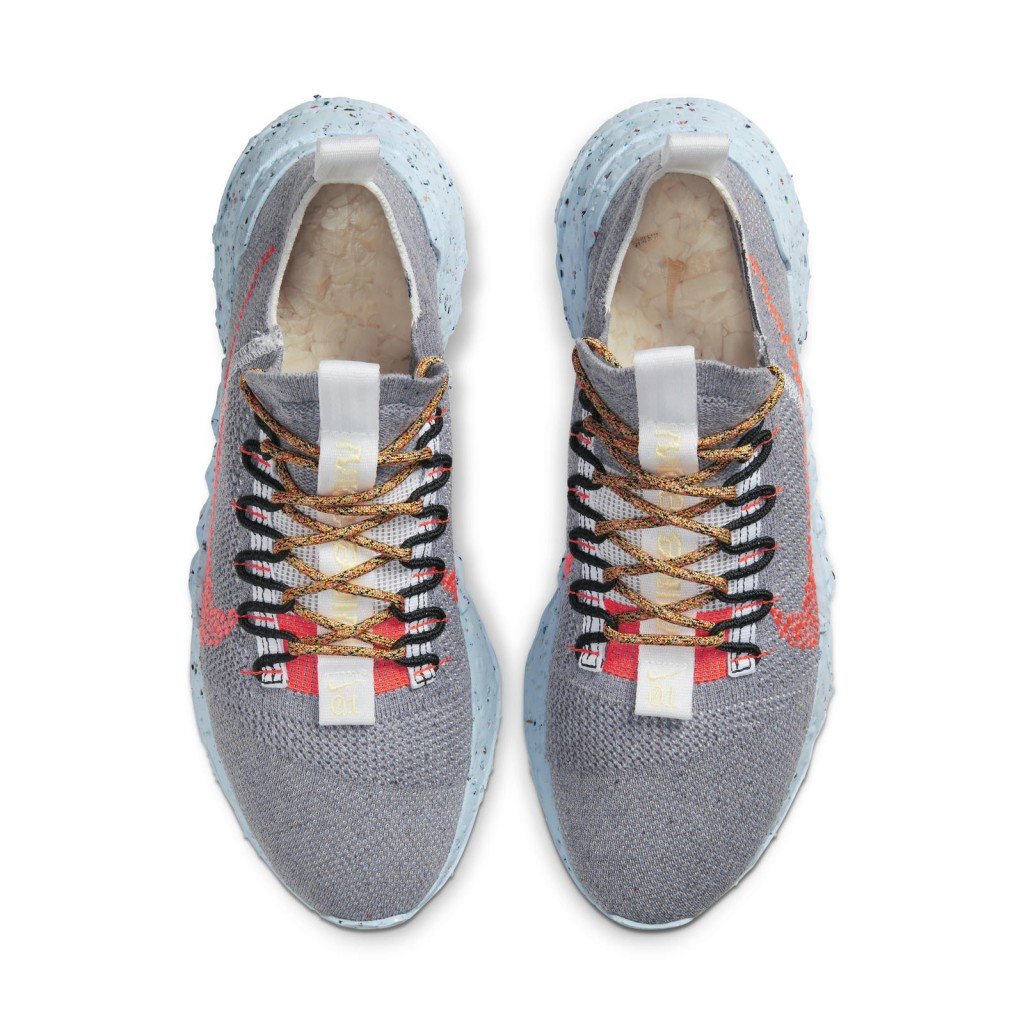 The Space Hippie team reexamined the company's sneaker design and manufacturing process, developing ways to transform off-cuts, discarded shoes, and other post-consumer materials into a hyper-efficient product that not only diverts trash from landfills, but also requires minimal processing and energy consumption to produce.
---
More from Metropolis
---
It's this resourcefulness that gives the sneakers in the Space Hippie collection their distinctive look. All four styles feature a sock-like upper, woven from Space Waste yarn—a gray mélange of 100% recycled plastic bottles and used t-shirts. Because it needs little heat and no dye to spin, Space Waste can be made with 70% less carbon emissions than Nike's recycled polyester Flyknit yarn.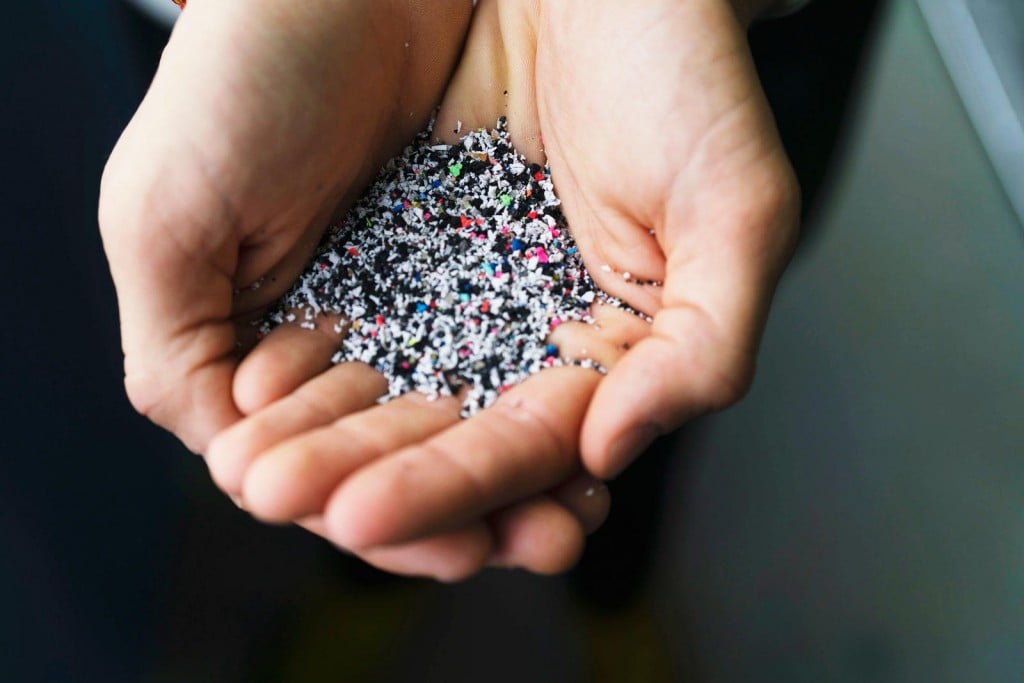 The terrazzo-esque flecks of color in the Crater Foam midsole reveal the addition of Nike Grind, bits of rubber recaptured during the sole-molding process (imagine the excess batter that oozes from a waffle iron). By incorporating 15% of this salvaged material, less virgin foam is used and each shoe emerges from the mold with a color pattern that's totally unique. Another move toward circularity for the sneaker is Space Hippie's Zoom X Eco cushioning, which is made from compressed high-performance foam scraps left over from the manufacture of running shoes for elite marathoners. Even the brand's signature Swoosh is embroidered in order to avoid the waste of a cut-and-sew pattern.
Environmentally conscious design at Nike is nothing new (true heads will recall the brand's eco-friendly Considered collection from the early aughts), but the Space Hippie line takes sustainability to the next level by setting a new standard for circular product design. Challenging industry sourcing conventions and creating more energy efficient manufacturing methods, it's a step in the right direction for the footwear industry, proving sustainable sneaker design is possible on a mass scale.
You may also enjoy "Paola Antonelli and Alice Rawsthorn's Instagram Live Series Examines COVID-19 Designs"
---
Register here for Metropolis Webinars
Connect with experts and design leaders on the most important conversations of the day.