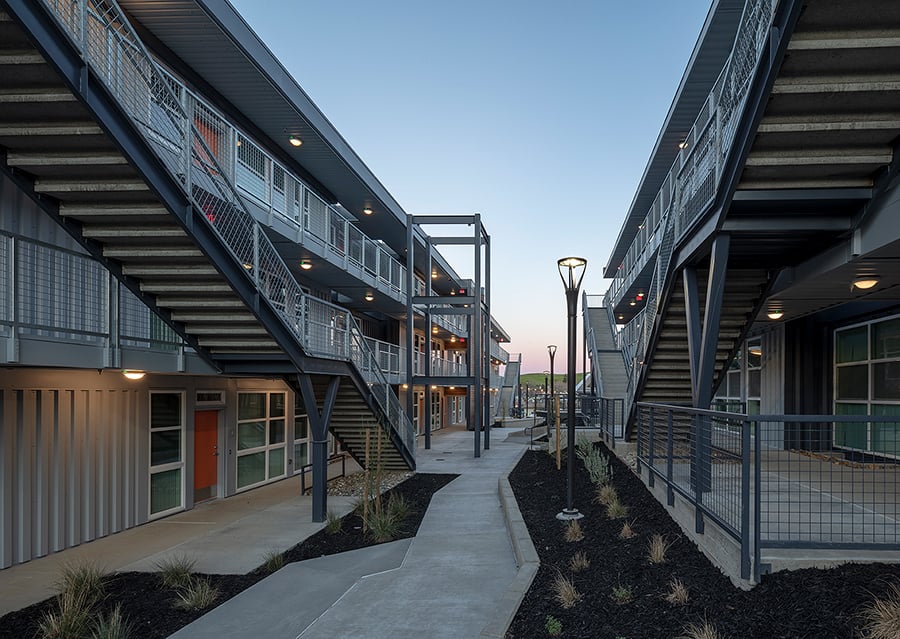 March 8, 2019
NOMA-Nominated: Rocky Hill Housing by G7 Architecture
To start our new NOMA-Nominated series, we highlight an affordable housing project for veterans that mixes modular and wood-frame construction in northern California.
---
Introducing "NOMA-Nominated," an ongoing Metropolis series that spotlights exceptional projects nominated by the National Organization of Minority Architects (NOMA). This first project, Rocky Hill Housing by G7 Architecture, was named by June Grant, president of SFNOMA for 2018-2020 and founding principal of blink!LAB architecture in San Francisco.
Designed by San Francisco–based G7 Architecture (G7A), Rocky Hill Housing provides 39 affordable rental units for veterans and their families in Vacaville, about an hour's drive north of San Francisco. The project began as a collaboration with David Baker Architects, who worked with G7A during the conceptual design phase. G7A then refined and executed the project through construction, cleverly mixing modular shipping container construction with traditional wood framing in order to meet budget.
G7A, founded in 1988, is best-known throughout California for its affordable housing. The four-person firm has become a go-to partner for community-based nonprofits, as well as housing developers. Irving Gonzales, the firm's founding principal, is active in local architecture and housing communities; he sits on the board of directors of Mission Housing Development Corporation, one of San Francisco's largest nonprofit housing organizations, and was the board president of AIA San Francisco in 2015.
---
More from Metropolis
---
Here, Gonzales describes the design process behind Rocky Hill Housing, which was designed to LEED Gold standard and recently welcomed its first residents.
---
The biggest challenge was trying to fit the called-for 39 units, on a site that was mandated to have more parking than was really needed, and still create a sense of community. That included creating a courtyard site plan with a community center—a gathering space to bring people together.
The other challenge was that there are over 10,000 veterans in Vacaville alone, and probably close to 50,000 that live within the region. There is a dire housing shortage. As designers, we wanted to meet the range of needs of veterans, who may live alone or have large families. That's why we designed a mix of one-bedrooms as well as three- and four-bedroom units.
We had a very tight budget, hence the reason for working with cargo containers. By going partly for modular construction—working with Growth Point Structures—for a residential building with 15 units and for the community building, we could eliminate some expense. The containers are also a recyclable product that's long-lasting—so sustainability was built into the project—and it cut construction time and cost. We switched to wood-frame construction for the remaining 24 units.
All the residential buildings are three stories. We created a green roof on the community building, so that there was something nice to look at from the units' windows, as opposed to a whole bunch of mechanical equipment and a flat roof.
We wanted the community center to be small and intimate and street-facing. It provides an edge to the development, partitioning off the private outdoor space—the courtyard—that includes picnic tables, seating areas built into planters, and a little play structure for children. Vacaville can get very, very hot during the summer, so there is abundant planting of deciduous trees to shade the building and to create a bit of an oasis in an otherwise very dense area.
With any housing project, good design can be achieved at an affordable price and still look really great and be a catalyst for improvements to the community and the neighborhood at large. Affordable housing is subsidized, but it's just as good as—if not better than—most other rentals out there. We're looking to not just meet the minimum requirements but exceed them and provide wonderful homes, to give people something that is equal to or better than what most other people would get at market rate.
—Irving Gonzales, G7 Architecture, as told to Metropolis.
Project Team:
Developer: Trower Housing Partners, LP
Architect: G7A (Concept: David Baker Architects)
Structural: Murphy Burr Curry, Inc. and Harris & Sloan
MEP: Sugarpine Engineering
Civil: CAB Consulting Engineers
Landscape: KLA Landscape Architects
Modular: Growth Point Structures
LEED: Partner Energy
GC: Precision General Commercial Contractors
You may also enjoy "Facing a Tight Budget, a California School Transformed Its Architecture With Color."
Would you like to comment on this article? Send your thoughts to: [email protected]