May 1, 2019
NYCxDesign 2019: A Kinetic "Human-Actuated" Pavilion Is Coming to Brooklyn
Studio INI's Urban Imprint installation at the A/D/O design center will invite visitors to push back—quite literally—on reality.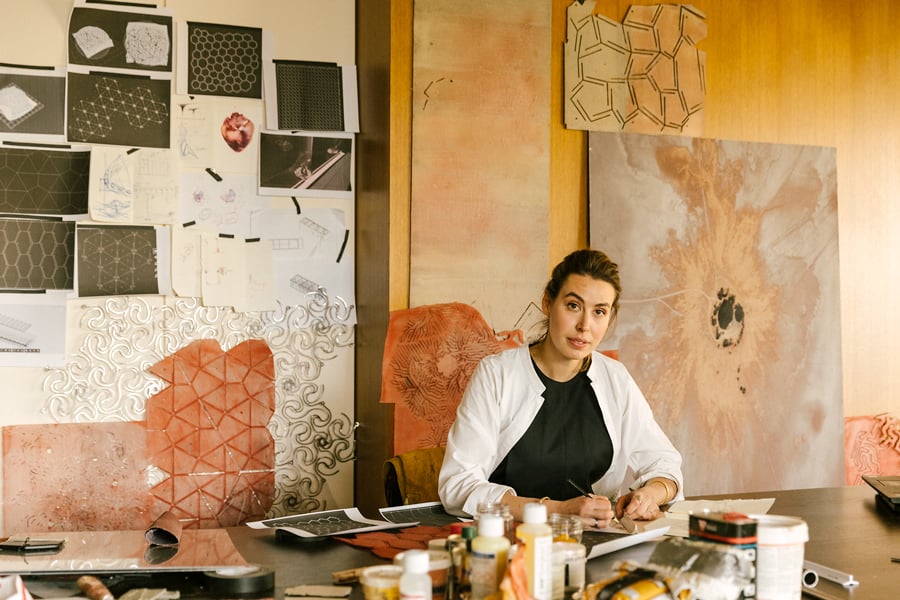 ---
Last fall, London's Somerset House was home to a peculiar pavilion. Visitors who dared to venture into the metal-and-recycled-plastic structure, whose articulated ivory walls evoked a snake's skeleton, would discover that the weight of their footsteps caused the ribs to swell out, making room for the interlopers. Called Disobedience and created by the London- and Athens-based Studio INI, the design went on tour following its debut, traveling to Greece, India, and Saudi Arabia.
This spring, the creative minds behind Disobedience will arrive stateside for a new immersive, interactive project, set to debut during NYCxDESIGN. Starting May 17, the installation, Urban Imprint, will be on exhibit in the courtyard of the A/D/O by MINI design center in Greenpoint, Brooklyn, and will invite visitors to push back—quite literally—on reality.
Back in London, Studio INI's founder, Nassia Inglessis, has spent the past several months prototyping at-scale modules for the work, which will stretch approximately 26 feet long by 8 feet wide. The form the final version will take is something like a sandwich, minus filler: two parallel horizontal elements, one of them suspended nearly at the height of an adult person. Visitors who explore the void between might find themselves surprised at how the structure behaves.
---
More from Metropolis
---
---
Rather than relying on technology like sensors or lasers to trigger the movement of the installation, Inglessis explains, Urban Imprint is fully analog. Which is not to say there isn't an important techno- logical component; indeed, Studio INI employs engineers and designers to visualize how the piece will react to its inputs. (Inglessis herself is a former researcher at MIT Media Lab's Mediated Matter Group.) "We embed new capability into traditional materials," she says. "We combine traditional mechanisms with new ones, and new fabrication methods."
Inglessis began exploring what she calls "augmented materiality," a concept at play in both Urban Imprint and Disobedience, as a reaction to a phenomenon she witnessed within design. While many have touted the potential applications of virtual and augmented reality, the designer noticed that the world itself has remained static and unenhanced. The wider implications of augmented experience simply haven't translated into meatspace.
With her studio, Inglessis sought to create "human-actuated" environments, where people could interact directly with their surroundings, rather than a rendering on a screen. "We try not to break the link between the experience and what occurs," she says.
On display through September 2, Urban Imprint will offer New Yorkers plenty of time to do just that, and step into the surreal.
Want more information about NYCxDesign 2019? See our ever-growing collection of previews, events coverage, profiles, and more, here.
Would you like to comment on this article? Send your thoughts to: [email protected]