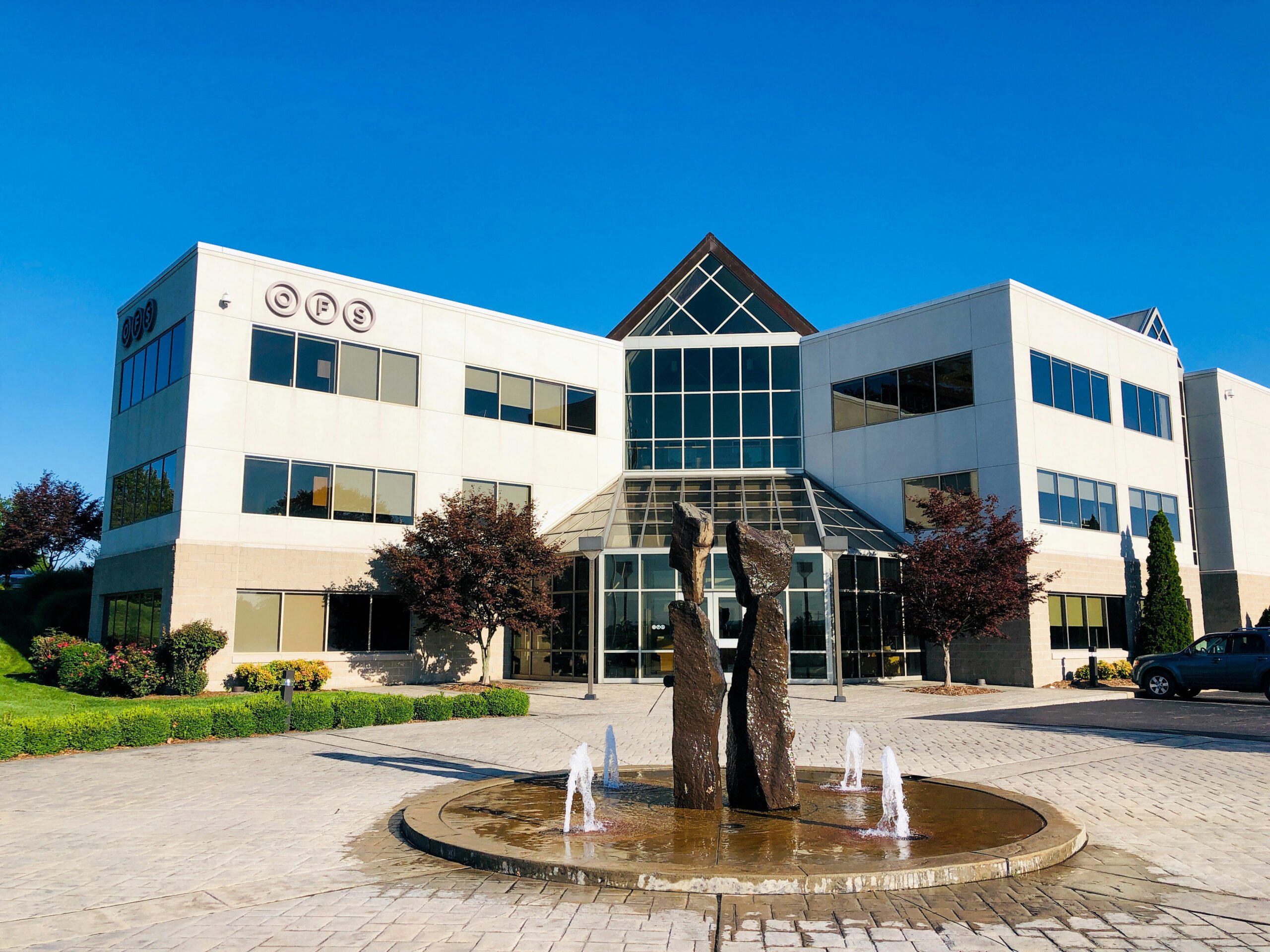 February 3, 2021
With Health and Wellness Prioritized, OFS's HQ Earns WELL Platinum Certification
The family-owned manufacturer's office is the first in Indiana to receive the certification and the second-largest WELL v2 Platinum building in the country.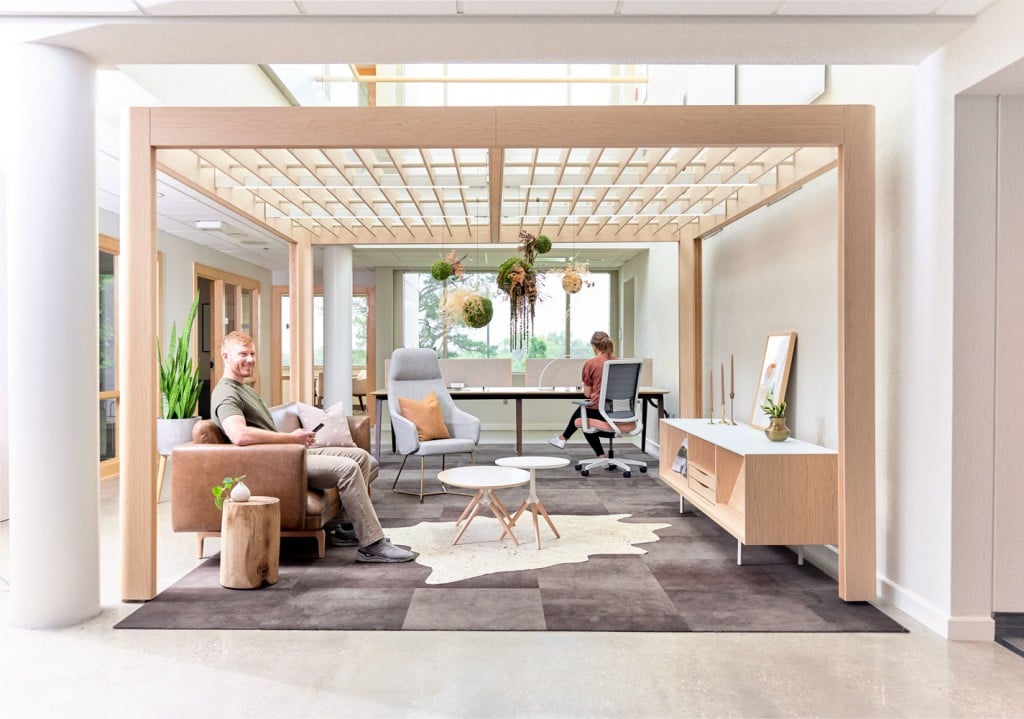 When OFS, a legacy manufacturer of modern furniture for workplace, hospitality, and healthcare settings, first built their Huntingburg, Indiana, headquarters in 2005, the focus was on their employees. "From the beginning, we wanted to create an environment that would improve people's physical and mental wellbeing," says the brand's CEO Hank Menke.
OFS has taken this human-centered mandate even further with renovations that recently earned the corporate office a Platinum certification from the International WELL Building Institute. The 49,000-square-foot facility is the first in Indiana to receive WELL certification and the second-largest WELL v2 Platinum building in the country. OFS's retrofitted structure exemplifies a larger shift in workplace design which has accelerated during the pandemic: the need to prioritize employee health.
"We saw several years ago that health and wellness were becoming a growing trend in the built environment," says Jarod Brames, OFS's director of sustainability, who helped lead the internal team carrying out the renovations. "At OFS, our approach to sustainable design is focused on people."
---
More from Metropolis
---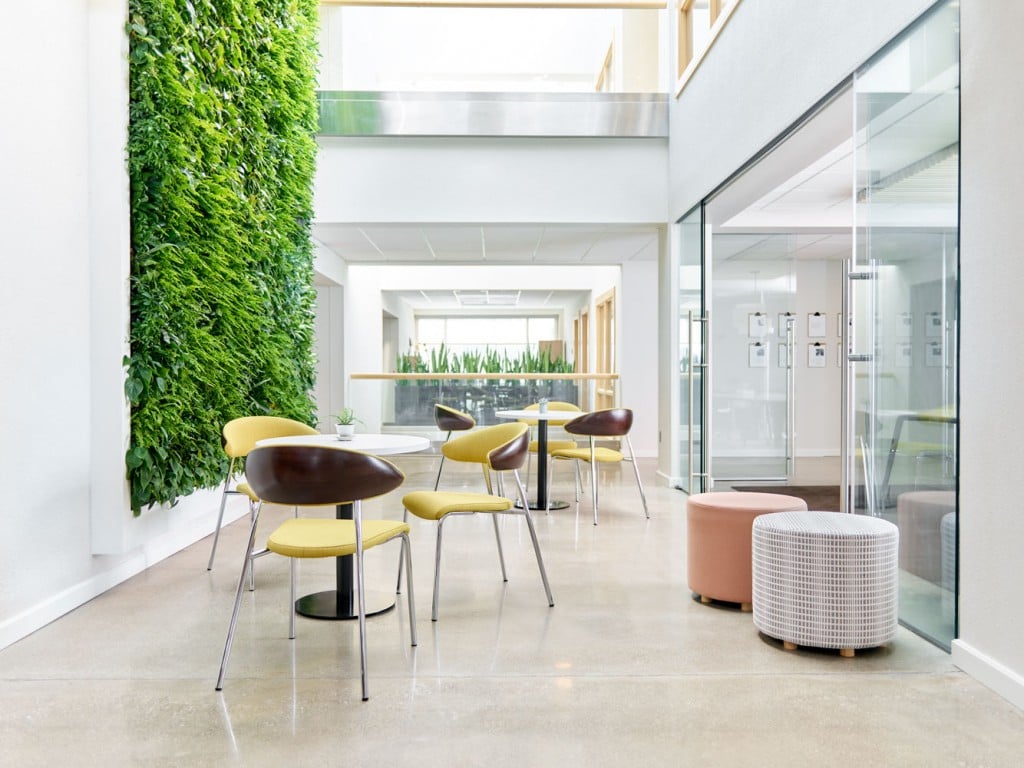 The renovations followed WELL's ten categories of building performance, scoring highest in the areas of air, nourishment, movement, and community. Comprehensive updates to the HVAC systems including new Steril Aire UVC fixtures improved ventilation and air quality, allowing OFS to bring 85 percent of its 200 employees back to work through a phased process.
Along with the addition of private wellness rooms and upgrades to existing fitness facilities, a new 3,300-square-foot social hub and café provides a central location for staff to gather and enjoy healthy meals. "Before, each floor had its own breakroom, meaning you rarely saw people outside your department," says Nicole Giesler, OFS's director of interiors. "Now, the social hub is a place for spontaneous interactions."
With a variety of ergonomic seating options and kitchen amenities, the social hub occupies an area that previously held three private offices. Democratizing this space had the added benefit of allowing more daylight to reach the building's core. The new 25-foot-tall living wall beneath the central atrium has become another staff favorite. "Many employees have told us that our WELL journey has changed their lives," says Brames. "Our staff see things we've prioritized, like healthy eating and access to nature, and have brought them home to apply to their own lives."
You may also enjoy "Woods Bagot Designs a State-of-the-Art Training Facility in Melbourne"
Would you like to comment on this article? Send your thoughts to: [email protected]
---
Register here for Metropolis's Think Tank Thursdays and hear what leading firms across North America are thinking and working on today.