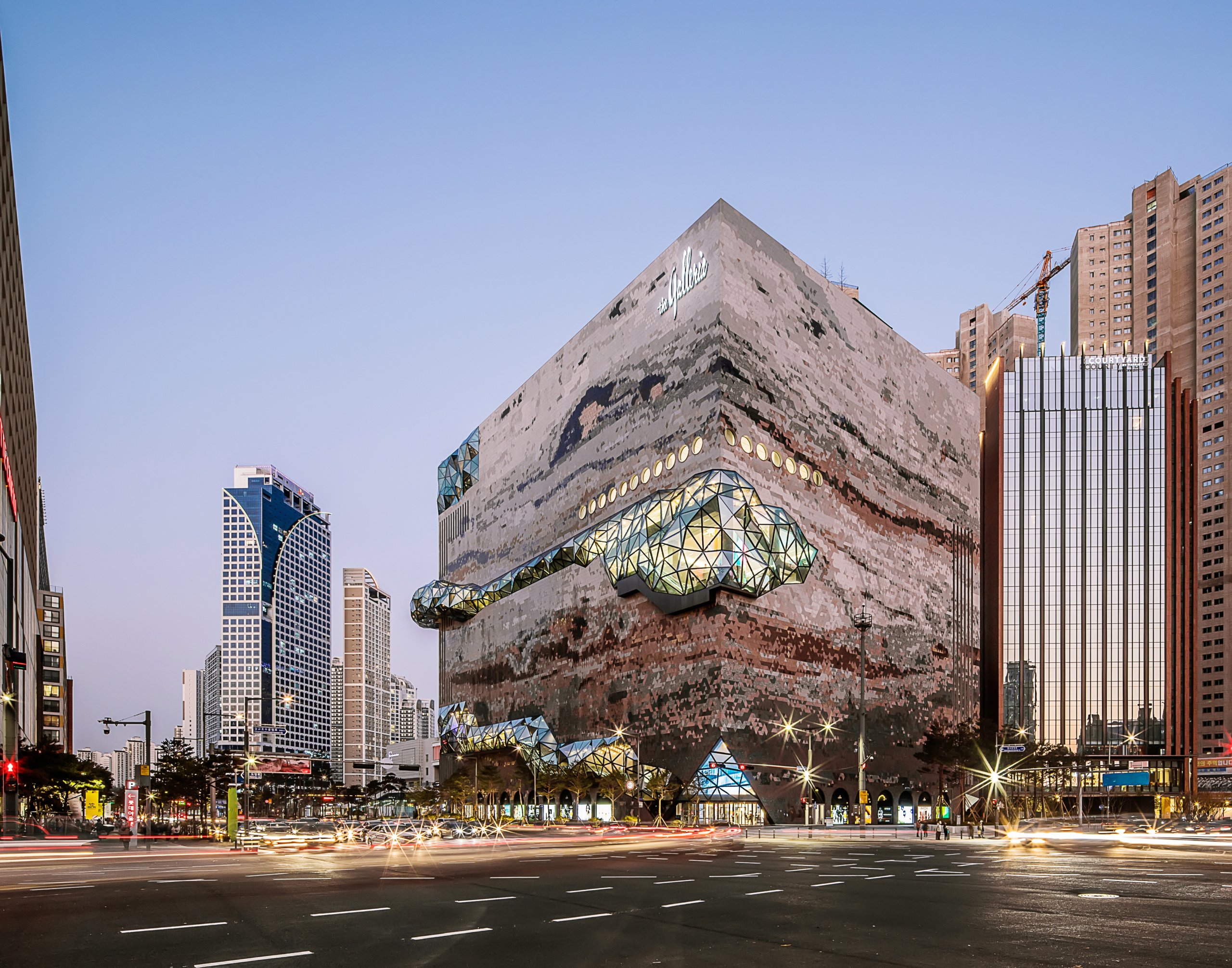 April 21, 2020
OMA's High-Drama Galleria Adds an Anchor to Gwanggyo
Looking like a meteor that has fallen to earth, the 18-floor structure features a craggy, nearly geological facade.
While new towns are indisputably more efficient than older ones, they often lack the character that emanates from cities that have had decades, if not centuries, to develop their patina. Gwanggyo, a new South Korean city about an hour's drive from Seoul, is a satellite for relatively well-off young families who work in the capital, but until recently most of its streets were lined with tall, bland commercial and residential units. Now a new luxury department store building designed by OMA has disrupted that monotony, looking like a meteor that has fallen to earth.
The drama is deliberate. "Normally a city gradually builds up around a center, adding layers over time, but Gwanggyo had nothing and it needed an anchor," explains Chris van Duijn, a partner at OMA.
Although the building's owners, Hanwha Galleria, wished to make a powerful visual statement—the store is their newest and largest outpost in a 50-year history— they also wanted a traditional department store layout that would be efficient to operate and quick to build.
---
More from Metropolis
---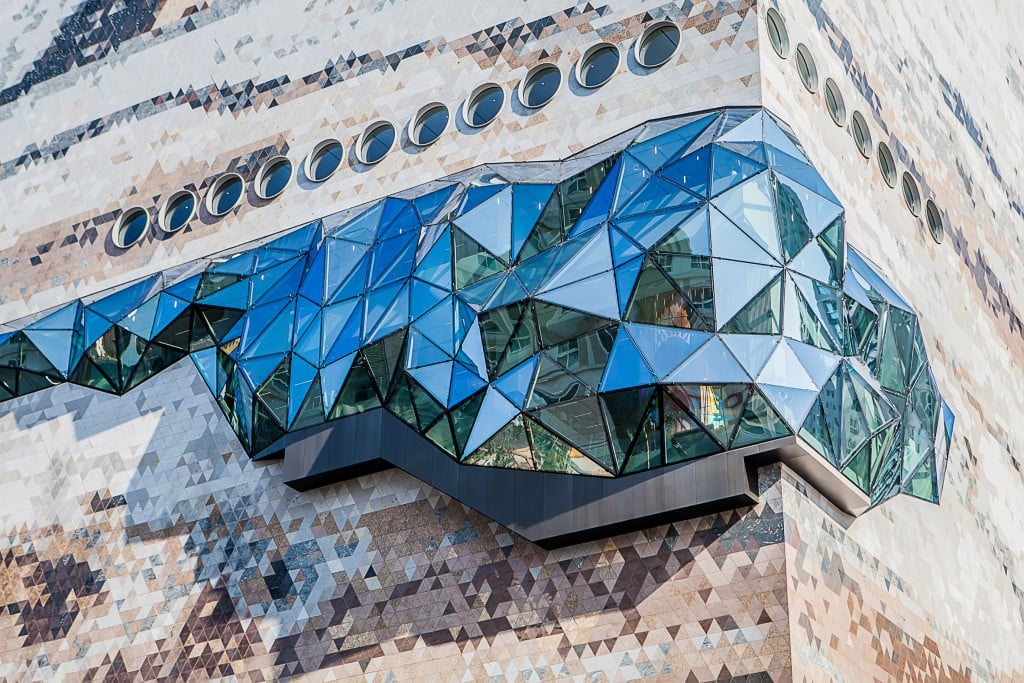 OMA's solution was to clad a simple square concrete-and-steel structure in a spectacular mosaic facade of 138,000 pieces. Those pieces, which use 14 different types of granite, lend the exterior an organic, textural quality that alternates between smoothness and roughness. A geometric glass-and-steel walkway rises from the sidewalk around the entire edifice and up to a rooftop park. In places, the loop forms part of the 1.6 million square-foot building; elsewhere it extrudes as cantilevered space that can be used for pop-ups and events.
Inside, retail is stratified along traditional lines on different floors. The building comprises 18 floors total: Twelve above ground, six below, inclusive of five levels of parking. In addition to retail, there is a VIP lounge, a cultural center (which offers cooking and art classes), and several YouTube studios on the highest floor.
"Almost half of the building is sunken, so it is almost like an iceberg. When it and retail floors come together, something very interesting—a new possibility—comes about without compromising each other," van Duijn explains. "It also offers a different way of relating traditional retail with the outside and injects a different energy on every floor."
A central core of escalators runs through the structure, oriented around a series of voids. These serve to establish a relationship between each escalator and floor, so that the building is easy to navigate.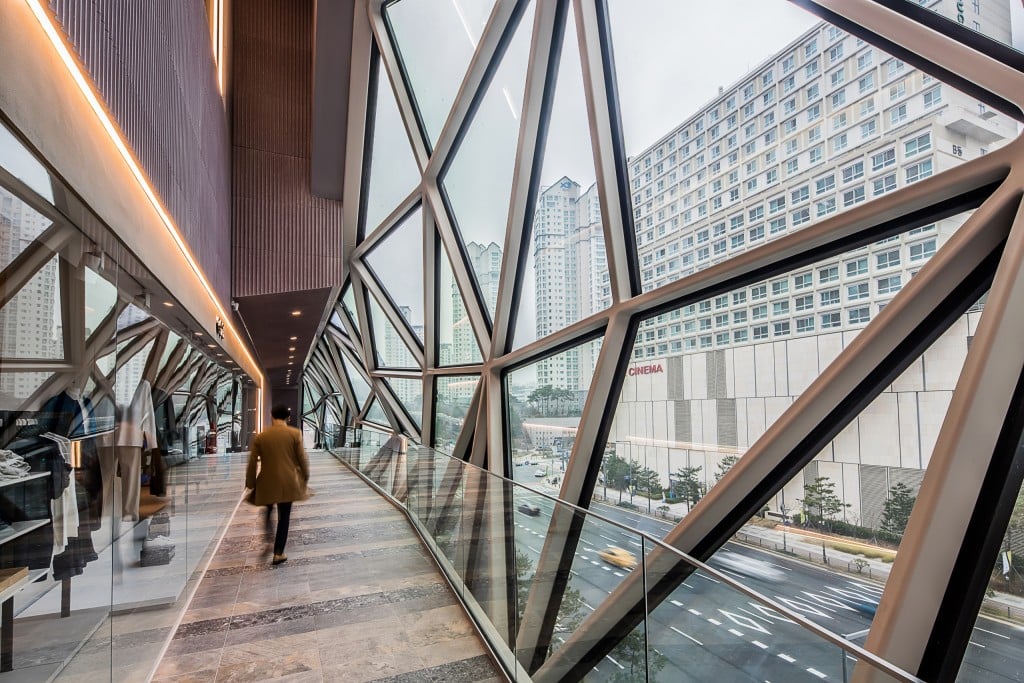 Particular attention was paid to making the loop feel light and transparent with a seamless connection to the building. Each 3D-printed steel node in the facade is unique to maintain an irregular volumetric expression, and integrate the facade and primary structure into one element.
Although the design of the mosaic was developed using Rhino modeling, van Duijn says that first his team and their client stood on the rooftop overlooking nearby Suwon Gwanggyo Lake Park and examined a selection of different granite blocks from around the world to ensure their tones would evoke the feeling of the architecture that had existed since the city was first built.
"We looked at the colors of the city, which are pale—from white and gray to beige—and tested different types of stone against real skyline and color combinations and to ensure the density of veining would be appropriate," says van Duijn. "We wanted it to look as if the building had exploded, and the colors can all be found in the surroundings."
You may also enjoy "A Walkway Down Under Becomes a Destination in Its Own Right."